The Migrant Traffic Jam in Hungary Is Over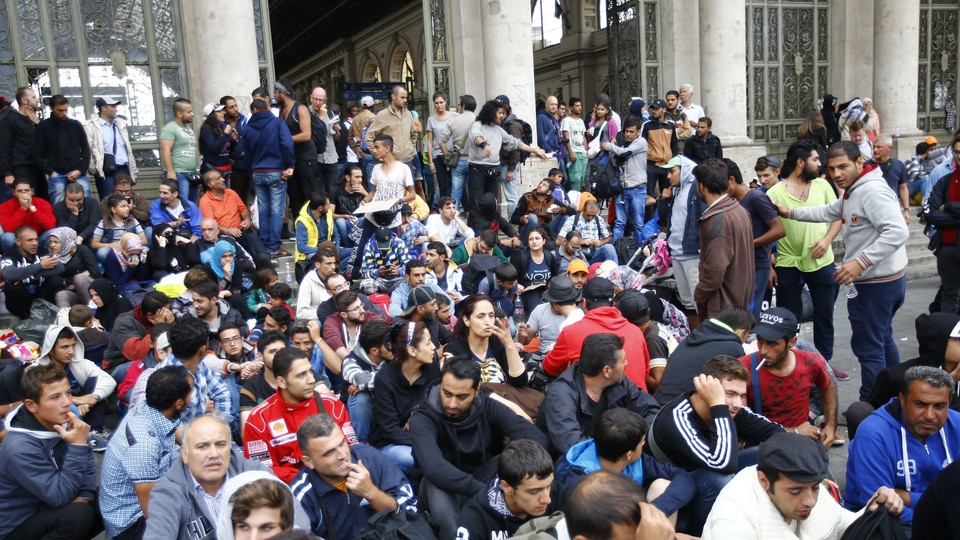 Editor's Note:
This article previously appeared in a different format as part of The Atlantic's Notes section, retired in 2021.
For now, at least. Thousands of migrants who were holed up in Budapest's Keleti railway station this week arrived at the Austrian border early Saturday, the AP reports. By the afternoon, 5,000 had made it to Austria and Germany.
The train station looks very different now, but hundreds more, fleeing their homes to escape war and poverty, are expected to cross into Hungary this year.
By Thursday of this week, more than 3,000 people crowded the transportation hub in Hungary's capital. Hungarian officials suspended train service from the station to Austria and Germany—the countries that most migrants are trying to reach—and attempted to move people to government-run refugee centers in Hungary. The migrants refused to go anywhere but west, and by the end of the week, Hungarian officials were overwhelmed. On Saturday, Austria and Germany agreed to open their borders to the refugees in "an attempt to solve an emergency situation," the AP reports.
Hungarian buses transported thousands of migrants to Austria this morning. Many boarded trains there, bound for Austrian and German cities, including Vienna, Salzburg, and Munich.
Here's the welcome they received in Vienna, per the AP:
When the first 400 migrants and refugees arrived in Vienna, charity workers offered a wide choice of supplies displayed in separately labeled shopping carts containing food, water and packages of hygiene products for men and women. A mixed crowd of friends and Austrian onlookers cheered their arrival, with many shouting "Welcome!" in both German and Arabic. One Austrian woman pulled from her handbag a pair of children's rubber rain boots and handed them to a Middle Eastern woman carrying a small boy.
Here's the scene captured by the BBC's Ron Brown:
And here's a breakdown of the migrants' westward travel, per the AP again:
About 4,000 migrants crossed into Austria from Hungary by mid-morning, according to Austrian police spokesman Helmut Marban. Vienna city official Roman Hahslinger said 2,300 had arrived in Vienna by midday. And officials in both Austria and Germany said the unregulated flow of migrants Saturday from Hungary meant that up to 10,000 might cross by nightfall.
German officials said Saturday that Hungary, as a member of the European Union and an early stop on many migrants' journeys to other nations, needs to do more to persuade people to file asylum papers there. German Chancellor Angela Merkel said that her country would not impose a legal limit on the number of asylum seekers it might accept.
Earlier this week, Hungarian Prime Minister Viktor Orban called the refugee crisis "a German problem." Hungarian officials said Saturday they won't be providing bus services for migrants again.