Mariah Carey and the Tragedy of the SodaStream Debate
The Israeli company, which was targeted by activists for operating in a West Bank settlement, opened its new headquarters in southern Israel.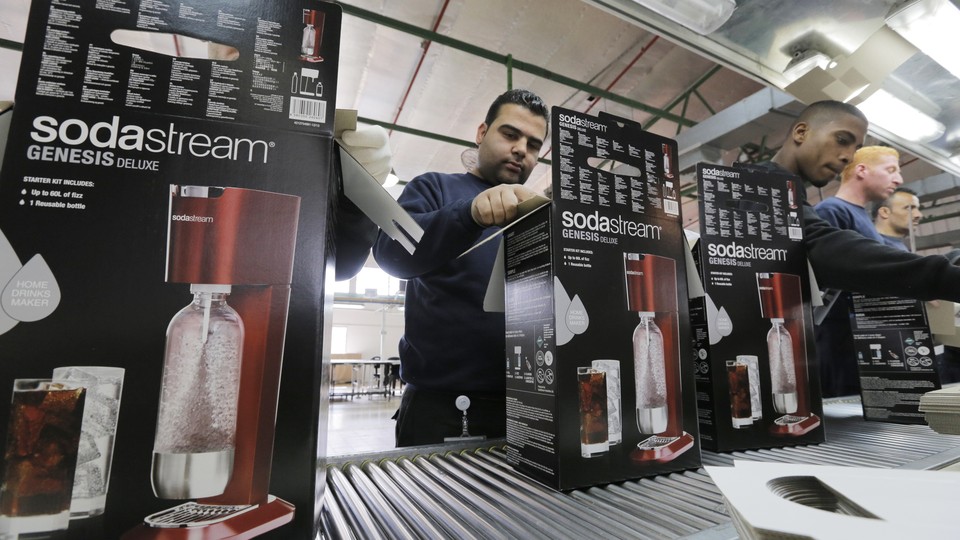 On Thursday, Mariah Carey made a trip to the new SodaStream plant in southern Israel. Carey hadn't visited to launch a signature SodaStream line called DreamBubbler, but rather to advocate for coexistence between Israelis and Palestinians.
In theory, the opening of the SodaStream factory in the Negev Desert should have made for one sweet day: SodaStream employs both Israeli and Palestinian workers and makes a product that, despite recent struggles, has been wildly popular across the globe.
But the opening of the new plant comes after a years-long campaign by the Boycott, Divestment, and Sanctions Movement (BDS), which sought to vilify SodaStream for operating in the West Bank settlement of Mishor Adumim. The controversy fizzed its way into the mainstream after Scarlett Johansson was forced to leave her post as a global ambassador for Oxfam for endorsing SodaStream in a Super Bowl ad.
In October, the company announced it would disengage from the West Bank and open a new factory in southern Israel. As we pointed out at the time, SodaStream said that its decision to move the factory was "purely commercial." However, the relocation was hardly devoid of a political context. The Financial Times noted:
The SodaStream move comes just ahead of an EU decision expected by the end of the year setting guidelines for member states on labeling products made in the occupied West Bank and East Jerusalem, which the international community does not recognize as part of Israel.
With BDS activists declaring victory, missing in much of this conversation has been the Palestinian workers the company employs, some of whom backed Johansson as she faced criticism for endorsing the company last year.
"All the people who wanted to close (SodaStream's West Bank factory) are mistaken. … They didn't take into consideration the families," Ali Jafar, a Palestinian shift manager from a West Bank village, told the AP last week.
The report added that "due to security issues," only 130 of the 600 Palestinian workers at the West Bank factory have been issued permits to work inside of Israel, meaning that a number of Palestinian jobs will be lost.