What Mahmoud Abbas Really Said at the United Nations: Not Much
By announcing the end of Palestinian commitment to agreements with Israel, the leader confused more than disrupted.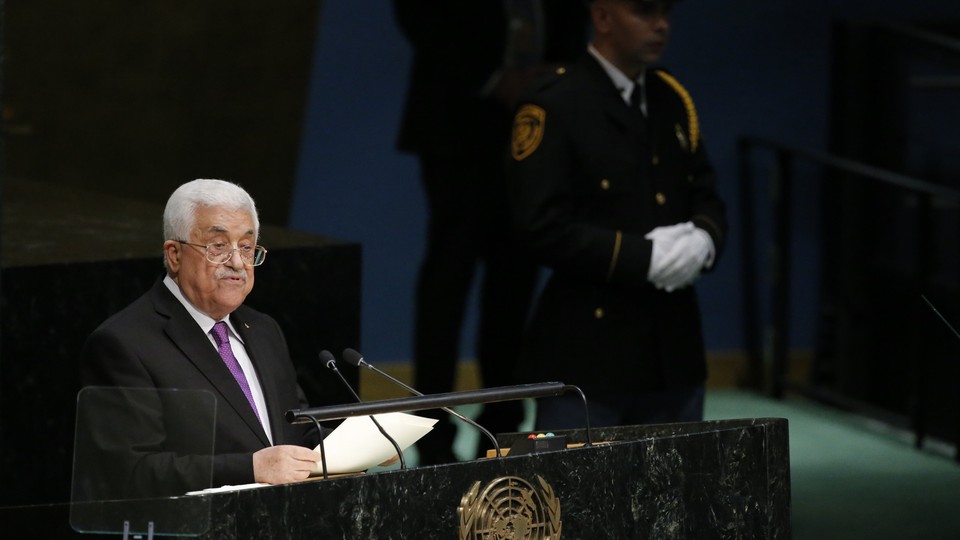 On Wednesday, as previously promised, Palestinian Authority President Mahmoud Abbas delivered a headline-grabbing speech at the United Nations General Assembly. The address was notable not because of Abbas's penchant for bombast—a trait he shares with his Israeli counterpart—but for its vagaries.
Here is the paragraph that launched a thousand head-scratches (emphasis mine):
Thus, we declare that as long as Israel refuses to commit to the agreements signed with us, which render us an authority without real powers, and as long as Israel refuses to cease settlement activities and to release of the fourth group of Palestinian prisoners in accordance with our agreements, they leave us no choice but to insist that we will not remain the only ones committed to the implementation of these agreements, while Israel continuously violates them. We, therefore, declare that we cannot continue to be bound by these agreements and that Israel must assume all of its responsibilities as an occupying power, because the status quo cannot continue and the decisions of the Palestinian Central Council last March are specific and binding.
Here's how this was interpreted:
BREAKING: Palestinian leader declares he is no longer bound by agreements signed with Israel.

— The Associated Press (@AP) September 30, 2015
But what does it actually mean? ¯\_(ツ)_/¯
Earlier this year, Abbas entered the 11th year of what was meant to be a four-year term as president of the Palestinian Authority. Throughout his extended term, frustrated by an elusive peace process along with his feuds with both Hamas in Gaza and Israeli Prime Minister Benjamin Netanyahu, Abbas has continued to issue a few threats:
He would resign as PA president, leaving the Palestinian Authority without a leader.
He would dissolve the Palestinian Authority and leave Israel to govern the West Bank again.
That Abbas's speech was previewed as a stunner led many to believe he would finally follow through one of those threats and potentially upend political order among Palestinians and end security cooperation with Israel. Instead, he did neither explicitly and offered no way forward.
Some on Twitter pointed to this paragraph in The New York Times write-up of the speech as telling:
There had been speculation fed by Mr. Abbas's aides that he would drop a "bombshell" announcement in his speech. While the announcement sounded serious, the practical effects were not immediately clear.
"In the end it wasn't so much a bomb; at most — as Arab media had guessed in advance — it was a stun grenade," wrote Avi Issacharoff in the Times of Israel. "The speech was intended to generate apprehension on the Israeli side as well as in the international community. And similar to a stun grenade, perhaps it managed to achieve that purpose momentarily."
Israeli Prime Minister Benjamin Netanyahu responded to the speech by calling it "deceitful" and denied the charges made by Abbas, which ranged from the reasonable (Israel's counterproductive settlement policy, "price-tag" attacks by Jewish terrorists in the West Bank) to the less reasonable (genocide, apartheid).
Shortly after the speech, Abbas attended a ceremony at which the Palestinian flag was raised for the first time outside the United Nations. (The Palestinian Authority and the Vatican have "observer state" status at the United Nations.) In a brief speech, Abbas declared that the flag would soon be raised in Jerusalem, which he dubbed "the capital of our Palestinian state."
But if his United Nations speech is any indication, that day isn't getting any closer.