The ISIS Economy: Crushing Taxes and High Unemployment
How the Islamic State uses economic persecution as a recruitment tactic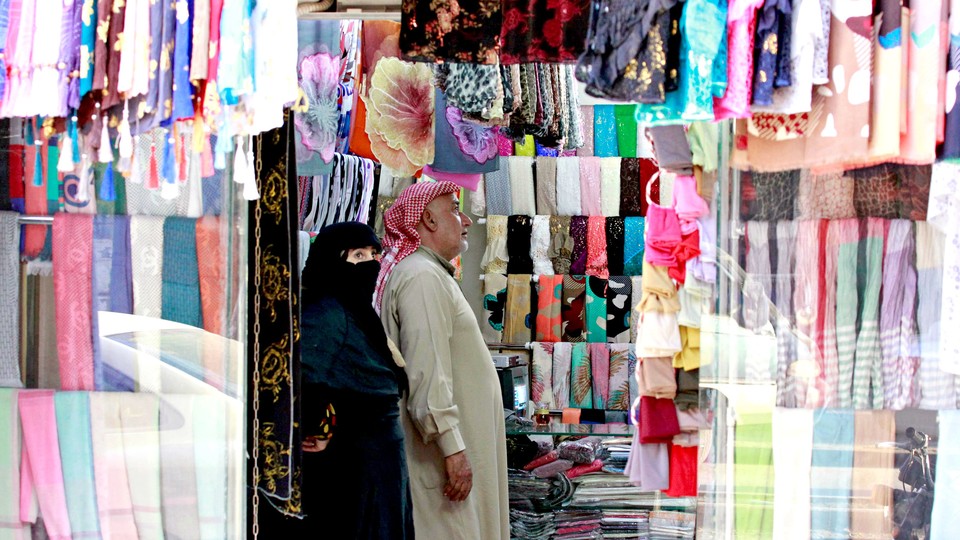 Before Islamic State militants overran her hometown of Mosul in June 2014, Fahima Omar ran a hairdressing salon. But ISIS gunmen made Omar close her business—and lose her only source of income. Salons like hers encouraged "debauchery," the militants said.
Omar is one of many business owners—male and female—who say ISIS has forced them to shut up shop and lose their livelihoods in the process. The extremist group has also prevented those who refuse to join it from finding jobs, and has imposed heavy taxes on civilians.
"ISIS controls every detail of the economy," says Abu Mujahed, who fled with his family from ISIS-controlled Deir al-Zor in eastern Syria. "Only their people or those who swear allegiance to them have a good life." When they took over Deir al-Zor, ISIS gunmen systematically took control of the local economy, looting factories and confiscating properties, says Mujahed. Then they moved in, taking over local business networks.
In Raqqa, the Islamic State's de facto capital, a group of traders loyal to the gunmen have imposed a stranglehold over the local economy, locals and activists say.
Together with the ISIS-controlled Syrian provinces of Deir al-Zor and Hasakeh, Raqqa has been described as a "breadbasket" for Syria. But it is now traders loyal to ISIS who control all transportation of agricultural goods from Raqqa to other areas under Islamic State control—including places in Iraq.
And it is ISIS traders, not local merchants, who control the prices of goods in the markets, activists say.
"The traders are the masters now," says Hamoud al-Moussa of anti-ISIS activist group Raqqa Is Being Slaughtered Silently. "They are the ones who decide on prices and people have to accept that and deal with it."
ISIS has inflicted particularly cruel persecution on businesswomen, forcing female-run businesses like Omar's hair salon to close and making it impossible for professional women to continue working. Dr. Suham Mahmoud, an eye specialist, says she had to close her private clinic in Mosul after militants forced her to wear a burqa—even while she was performing intricate eye operations.
After losing her income from her private clinic, Mahmoud also had to stop treating people at hospitals in Mosul because ISIS gunmen harassed her so much that she was unable to do her job.
In addition to closing businesses and preventing people from making a living, ISIS has imposed heavy taxes on those living under its rule, locals and activists say. "Only the air people breathe is not taxed," says Mujahed, adding that the cost of utilities like water and electricity has soared under ISIS rule.
The Islamic State has boasted in its propaganda videos that the markets in cities under its control are full of goods. But Syrians from Raqqa and Deir al-Zor say that while there are indeed goods in the market, prices are so high that only ISIS militants can afford to buy them. The sky-high prices—the cost of basic foodstuffs in Deir al-Zor has shot up by as much as 1,000 percent, according to one resident—coupled with heavy taxation and high unemployment, mean local people are struggling to buy everyday items.
"You can find everything there, but people do not have enough income to be able to buy what they need," says Umm Ahmed, a woman from Raqqa. "We can only buy cucumbers, tomatoes and potatoes. Meat and chicken are only for ISIS."
The dire economic situation, the closure of businesses, and the lack of employment are pushing some people to join ISIS out of desperation, local people report. "Many young people are joining ISIS because this is the only way to get an income," says Abu Mutassem, who is from the town of Al Raie near the Turkish border. Activists say ISIS's economic persecution is a deliberate tactic to force people to capitulate and support the extremists.
"ISIS used every means to strangle people on the economic level hoping this will push them to join it," says al-Moussa.
The tactic is working well in areas that ISIS has controlled for a year or more—and in cities that the militant group has taken over more recently. In Palmyra, as many as 1,200 young men have joined ISIS since the extremists took over in May, according to local resident Nasser Mohammad.
"In Palmyra, people cannot find jobs," adds another resident, Abu Younis al-Tadmuri. And in ISIS-controlled Iraq the only solution for some businesspeople has been to risk their lives to flee.
Deprived of her only source of income after the militants closed her hair salon, businesswoman Fahima Omar escaped from Mosul and now lives in Irbil in Iraq's Kurdistan region.
---
This post appears courtesy of Radio Free Europe/Radio Liberty.