'I Want to Become President Precisely Because I'm Not a Thief'
Jimmy Morales, a former comedian, is now Guatemala's presidential frontrunner.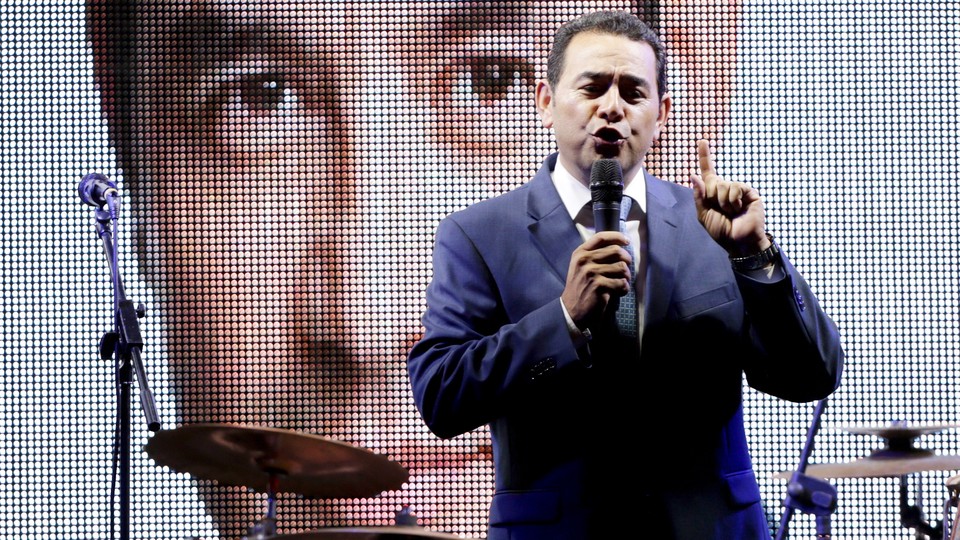 On Sunday, Jimmy Morales, a Guatemalan comedian, scored nearly a quarter of the vote in the country's presidential election. The first-round result secured him a place in a run-off, which will take place in October.
Morales's surge was a surprise even to him, after a sluggish start to his campaign.
"I'm nervous and a little bit scared … but ready to serve," he said, according to The Wall Street Journal. Here's more from the newspaper:
When he told his mother, she recalls answering with disdain: "President? I don't believe in thieves. I raised honest men."

According to his mother, Mr. Morales replied: "I want to become president precisely because I'm not a thief."
Morales's campaign theme—"Not corrupt, not a thief"—might have the hallmarks of comedy, but is particularly poignant given the country's most recently elected president, Otto Pérez Molina, stepped down last week after months of anti-corruption protests amid a major fraud scandal that implicated numerous government officials.
Despite expectations of voter apathy, turnout for the election broke 70 percent, a new record.
Morales will face whomever is determined to be the second-place finisher, either Manuel Baldizón or Sandra Torres, a businessman and the former first lady, respectively. Both Baldizón and Torres finished with nearly 20 percent of the vote.