Britain, Jamaica, and the Looming Battle Over Reparations
Jamaica is pressing British Prime Minister David Cameron for reparations for slavery. So far, Britain hasn't shown any willingness to go along.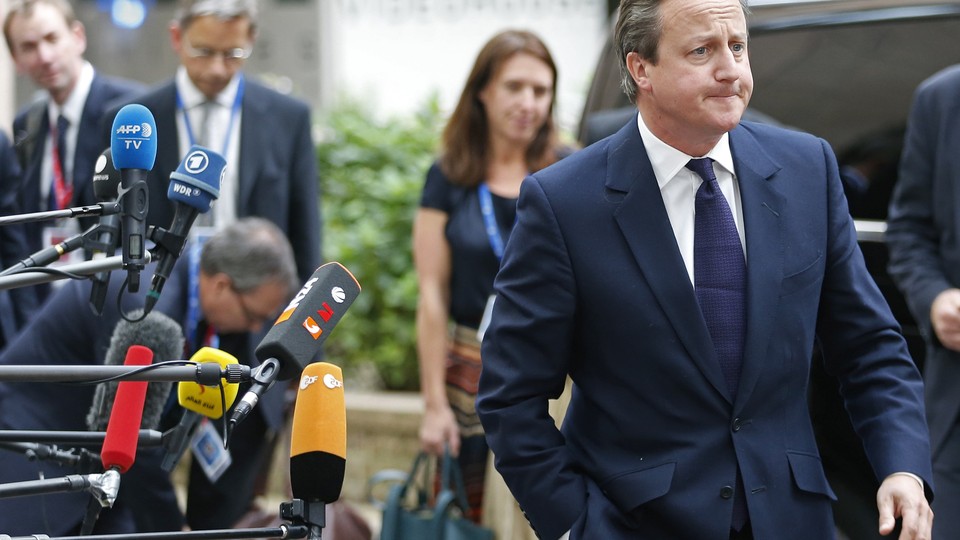 The British prime minister's jaunt to Jamaica isn't likely to be a pleasant island sojourn or an easy respite from the refugee crisis plaguing Europe. For David Cameron, who arrived Tuesday and speaks to parliament on Wednesday before leaving, the trip is shadowed by a debate over reparations for slavery and colonialism.
The debate over reparations in the United States remains largely on a theoretical level. When my colleague Ta-Nehisi Coates wrote on the idea last year, he noted how embryonic the conversation was: "A crime that implicates the entire American people deserves its hearing in the legislative body that represents them. … No one can know what would come out of such a debate."
In the Caribbean, however, the conversation is far past that. In March 2014, a panel commissioned by the Caribbean Community (CARICOM) delivered a plan for seeking reparations, and called on Britain, France, Spain, Portugal, the Netherlands, Norway, Sweden, and Denmark to begin negotiations. The preamble states that European governments:
Were owners and traders of enslaved Africans
Instructed genocidal actions upon indigenous communities
Created the legal, financial and fiscal policies necessary for the enslavement of Africans
Defined and enforced African enslavement and native genocide as in their 'national interests'
Refused compensation to the enslaved with the ending of their enslavement
Compensated slave owners at emancipation for the loss of legal property rights in enslaved Africans
Imposed a further one hundred years of racial apartheid upon the emancipated
Imposed for another one hundred years policies designed to perpetuate suffering upon the emancipated and survivors of genocide
And have refused to acknowledge such crimes or to compensate victims and their descendants
From there, the report lays out 10 points, ranging from a full, formal apology to literacy education to debt cancellation.
It's a remarkable document, especially from a U.S. perspective. There are a couple reasons why the reparations push is so much more developed in the Caribbean. First, the states involved in the reparations discussion are overwhelmingly black, sidestepping a major political barrier stateside. Second, the claim is not being made by citizens on their own national government, but by citizens on the former colonial governments.
It's also not an especially realistic document, at least in the short term. Sir Hillary Beckles, an academic historian who led the commission, has been a leading voice for reparations. He has spoken at the UN and to the U.K. House of Commons, but hasn't gotten much traction in Britain. Cameron has rejected the idea of even an apology, much less reparations, and when former Prime Minister Tony Blair offered "regret" in 2007, rather than a full apology, it only infuriated Jamaican leaders. There's also the matter of money—Cameron has overseen sweeping austerity measures in Britain, while estimates of the reparations tab for Jamaica alone might be range as high as £7 trillion. The issues are heavily connected. As Jeremiah Wright puts it, "Confession means repentance, and repentance means you gotta pay." The CARICOM nations have vowed to go to the International Court of Justice if necessary.
On Tuesday, Jamaican Prime Minister Portia Simpson Miller said she raised the issue during a formal meeting with Cameron. But the British leader merely said his visit was about trade. Jamaican lawmakers have discussed boycotting Cameron's speech to parliament in Kingston on Wednesday.
Whether Cameron address the issue on this trip or not, it will not go away, but the matter holds a special piquancy with this prime minister—for reasons Beckles laid out in an open letter to Cameron:
I join with the resolute and resilient people of Jamaica and their Government in extending to you a warm and glorious welcome to our homeland. We recognise you, Prime Minister, given your family's long and significant relationship to our country, as an internal stakeholder with historically assigned credentials.

To us, therefore, you are more than a prime minister. You are a grandson of the Jamaican soil who has been privileged and enriched by your forebears' sins of the enslavement of our ancestors.
The fact that Cameron's ancestors were slaveholders on Jamaica affords one particularly ironic twist in the story. When the British government abolished slavery, it compensated plantation owners like Cameron's family for forfeiting their property—reparations, some might call it.