Hillary Clinton's Iran Policy Is Like Improv Comedy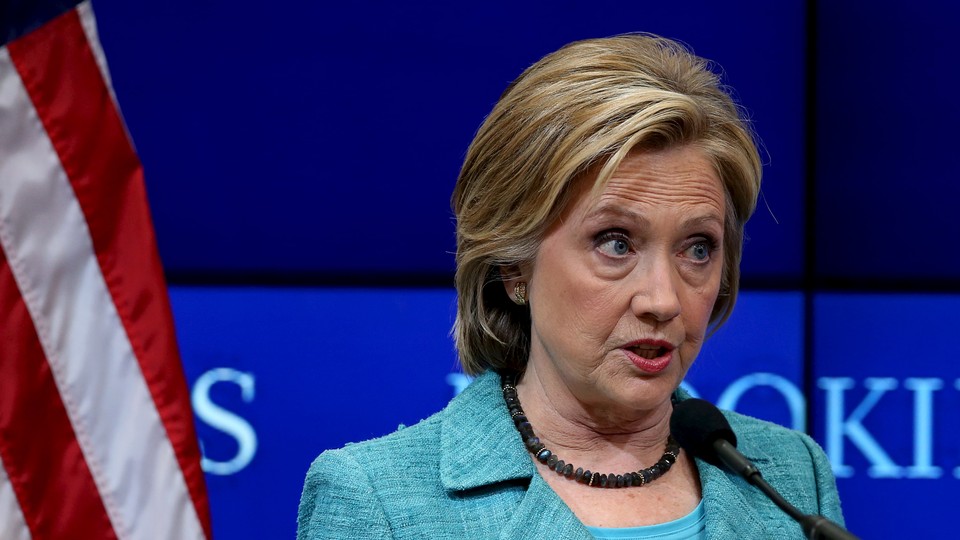 Editor's Note:
This article previously appeared in a different format as part of The Atlantic's Notes section, retired in 2021.
You may have heard that Clinton's campaign is in the midst of reboot. As my colleague David noted this morning, her White House bid is now "universally seen as a listing campaign." To remedy this, in the past 24 hours alone, Clinton has danced on Ellen and finally apologized for using a private email server during her tenure at the State Department.
On Wednesday morning, she delivered a lengthy speech in support of the Iran nuclear deal at the Brookings Institution. Like many of the deal's public supporters, Clinton covered her bases by conceding that the agreement isn't perfect.
"Diplomacy is not the pursuit of perfection," she said, "it's the balancing of risk." But an interesting thing happened when she reached the part about how to balance the risk:
It's not enough to just say, 'yes' to this deal, of course it isn't. We have to say: 'Yes, and...'

'Yes, and we will enforce it with vigor and vigilance. Yes, and we will embed it in a broader strategy to confront Iran's bad behavior in the region.'
After Clinton finished, her Brookings host Martin Indyk suggested it be dubbed "The 'Yes, and...' Speech."
If you search that term, especially on YouTube, you'll likely see that "Yes, and..." is the first principle of improvisational comedy. In her autobiography Bossypants, Tina Fey trumpets the virtues of the rule:
If I start a scene with 'I can't believe it's so hot in here,' and you just say, 'Yeah…' we're kind of at a standstill. But if I say, 'I can't believe it's so hot in here,' and you say, 'What did you expect? We're in hell.' Or if I say, 'I can't believe it's so hot in here,' and you say, 'Yes, this can't be good for the wax figures.' Or if I say, 'I can't believe it's so hot in here,' and you say, 'I told you we shouldn't have crawled into this dog's mouth,' now we're getting somewhere.
How would it work in Iran diplomacy? In outlining her Iran policy on Wednesday, Clinton laid the groundwork for the most vicious-seeming improv sketch ever. "The starting point," she noted, "is distrust." Here are some other would-be scenes as they pertain to Iran:
Say yes to the deal and "not hesitate to take military action" if Iran pursues a nuclear bomb.
Say yes to the deal and "hold the line against Iranian noncompliance" by enacting snapback sanctions.
Say yes to the deal and strengthen Israel and bolster the Gulf states.
Say yes to the deal and build a "coalition to counter Iran's proxies" like Hamas and Hezbollah.
Say yes to the deal and "raise the cost for Iranian action" in the region.
The alternative, of course, is to say "no." Elsewhere in Washington, D.C. on Wednesday, Donald Trump and Ted Cruz were rallying against the deal at a gathering outside the U.S. Capitol with Sarah Palin.
For the naysayers, Clinton asked ahead of her speech on Wednesday, "What's our better alternative?"