A 'Clear Mandate' in Greece
Alexis Tsipras's Syriza party won a little more than 35 percent of the vote—short of a majority.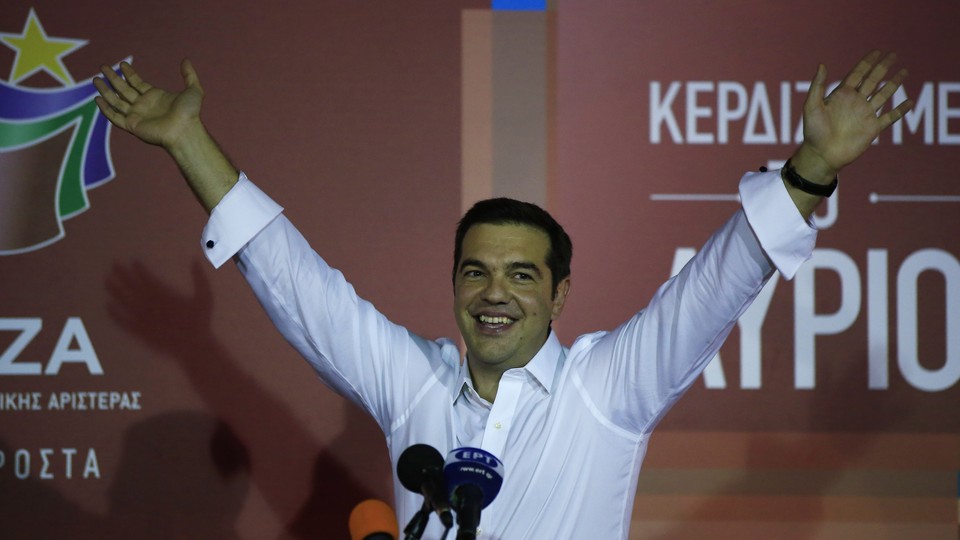 Alexis Tsipras is back as Greece's prime minister—just months after his Syriza party lost its majority in parliament after he secured a controversial bailout from his country's creditors.
In election results announced Sunday, the far-left Syriza won more than 35 percent of the vote—short of a majority. It will rule in a coalition with the Independent Greeks, a nationalist party that won 3.6 percent. The opposition New Democracy, a conservative party, gained 28 percent and the far-right Golden Dawn was third with 7 percent.
The results are a dramatic turnaround for Tsipras, who was first elected in January by campaigning against the austerity measures imposed on Greece by its creditors. He was vilified across Europe for taking Greece to the brink of an exit from the euro zone, the group of European countries that uses the common currency, and then criticized at home for securing a deal with Greece's creditors in the EU, the European Central Bank, and the International Monetary Fund—a deal that caused a rift in his own party.
"I feel vindicated because the Greek people have a clear mandate to carry on fighting inside and outside our country to uphold the pride of our people,"  Tsipras told supporters in Athens.
The BBC adds:
They expected victory, but not by this kind of margin. Only days ago, pollsters and pundits were predicting a tight-run contest, Syriza neck-and-neck with its conservative rivals, New Democracy. Instead, Syriza can comfortably form a coalition government with its previous partner, the nationalist Independent Greeks.

Critics wondered whether it was worth holding a contest which left Greece with the same government as before. But Syriza's leader, Alexis Tsipras, is now in a stronger position, his decision to accept austerity measures in return for bailout cash apparently vindicated by the result.

Yet celebrations have been muted - hundreds not thousands gathering to sing, dance and wave flags. This country has more tough times ahead - tax rises, perhaps further cuts to wages and benefits. The re-elected prime minister has an in-box that no-one could envy.
The EU congratulated Tsipras on his victory, and pointed out that much work had to be done to overhaul Greece's recession-hit economy, which has not recovered from the global economic crisis on 2008.
"There is a lot of work ahead and no time to lose," Margaritis Schinas, a spokesman for the European Commission, said.
Indeed, as The Guardian notes:
The new government's first task – with a new €3bn tranche of aid at stake – will be to revise the 2015 budget to take into account major pension and income tax reforms. It must also finalise a procedure to recapitalise Greek banks by December and move fast to remove capital controls imposed this summer to prevent a full-blown bank run.