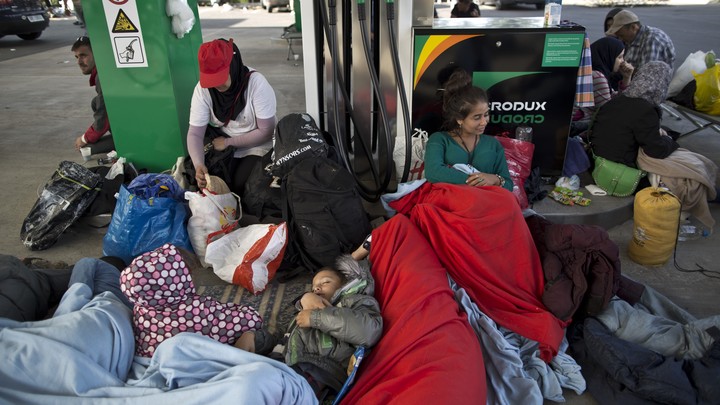 Croatia says it is unable to cope with the flow of migrants entering the country, and won't register any more asylum-seekers.
Croatian PM to #refugees: You can pass through Croatia. Go on through. Not because we don't like you but because your destination is north.

— Vlada R. Hrvatske (@VladaRH) September 18, 2015
Croatian PM Milanović: We can't register people anymore. What else to do but to let them go where they want to go? #refugeescrisis #refugees

— Vlada R. Hrvatske (@VladaRH) September 18, 2015
Around 14.000 #refugees entered Croatia by 9 AM http://t.co/iWCb9yk195 #refugeescrisis

— Vlada R. Hrvatske (@VladaRH) September 18, 2015
The tweets are from the government's official Twitter account.
Earlier Friday, Prime Minister Zoran Milanovic said: "Croatia cannot and will not accept this burden anymore."
This week Croatia promised free passage to migrants after neighboring Hungary closed its borders to the asylum-seekers. But that move has resulted in as many as 14,000 people entering the country of 4.2 million people. Most of them are trying to reach Germany, which expects 800,000 asylum-seekers to enter the country this year.
"Croatia's plan B is to no longer register and accommodate migrants," the prime minister said.
Europe's most severe refugee crisis since World War II has bitterly divided the EU. Countries like Germany and Sweden have been more welcoming of the migrants; newer EU members such as Hungary have not. EU ministers were unable this week to agree on a plan to distribute up to 160,000 migrants among the bloc's member states—a failure that German Foreign Minister Frank-Walter Steinmeier emphasized in an interview with Passauer Neue Presse daily.
"It just cannot be that Germany, Austria, Sweden, and Italy carry the burden alone," he said, according to a translation by Agence France-Presse. "That's not how European solidarity works. And if there is no other way, then we should seriously consider to use the instrument of a qualified majority."
Here's how AFP explains the qualified majority:
The 28 EU members usually aim for compromise and consensus on policies. But under the tool of a qualified majority vote, binding decisions can be taken if 55 percent of nations representing 65 percent of the total population agree.

A number of eastern European countries, notably Hungary, Poland, the Czech Republic and Slovakia, have rejected the idea of accepting a share of migrants, under national quotas that reflect populations and economic strength.
You can read the rest of our coverage of the refugee crisis here.
We want to hear what you think about this article. Submit a letter to the editor or write to letters@theatlantic.com.