Germany's Record on Asylum
Editor's Note:
This article previously appeared in a different format as part of The Atlantic's Notes section, retired in 2021.
As we detailed for you this morning, German Vice Chancellor Sigmar Gabriel says his country will accept 500,000 asylum-seekers a year for the next several years.
But this does not mean all of those migrants will be allowed to stay in Germany. Here is EU data on Germany's record on first-instance decisions, which are decisions made in response to an initial asylum application:

In other words, Germany grants asylum to about 41 percent of all first-time applicants.
But those rejected can appeal the decision. Here are the figures for final decisions:
So, Germany grants asylum to about 16 percent of those who appealed their initial rejection.
But we should note here that the asylum-seekers come from a variety of countries, including some that aren't in the throes of conflict. Here are the top sources of asylum-seekers in Germany in the first quarter of this year: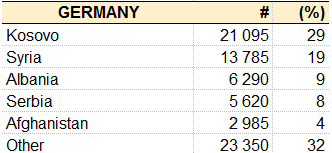 Syrian applicants have a better chance of getting asylum in Europe: 94 percent of applicants were granted asylum across the EU in the first quarter of this year. That figure was even better in Germany: Of the 13,785 Syrians who applied, 13,775 were granted asylum—a more than 99 percent success rate.