The Devil Wears a Dirndl
Oktoberfest has inspired modern variations on a traditional German dress. The fashion police are not pleased.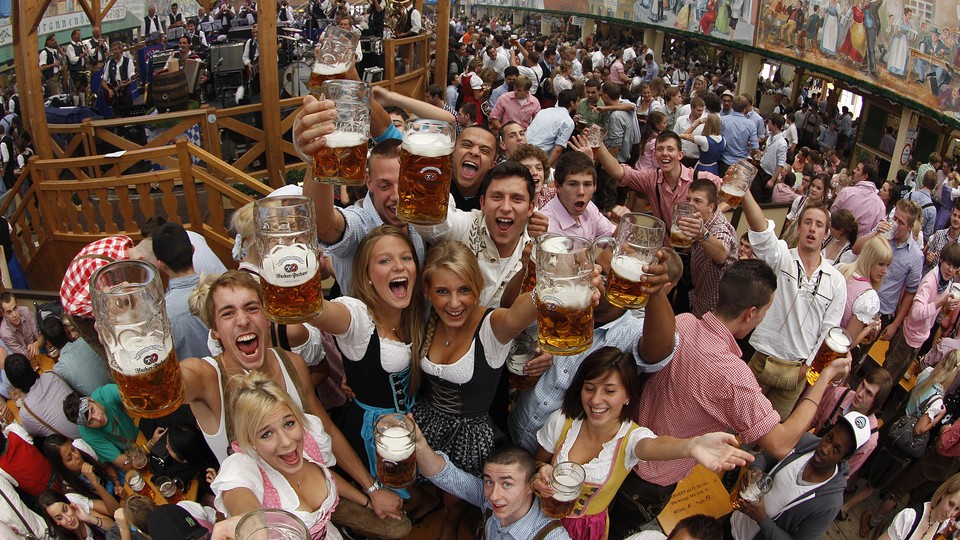 Oktoberfest has officially begun, and the dirndls are out. Munich's two-week beer festival may be more famous for its hoppy amber drafts, 600 to 800 pass-out-drunk bodies, and impressive but steadily decreasing number of brawls—but in recent years it has also become a fashion event, briefly diverting the attention of Germany's style writers from international runways to folk costume, and turning magazine websites into the mother lode of 16-part slideshow tutorials for dauntingly complicated, hauntingly beautiful braided updos that make DIY bridal hair this side of the Atlantic look like amateur hour.
The dirndl, a dress traditionally made from loden cloth and consisting of a close-fitted bodice over a blouse, with a full skirt and apron, is one of the female iterations of the Alpine folk costume native to southern Germany, Austria, Switzerland, and the Italian province of South Tyrol. Somewhat more widely recognized is the commensurate male attire: lederhosen. While it's not uncommon for such Trachten to make an appearance at other special occasions throughout the year, Oktoberfest brings them out in force, with tourists frequently donning the garments as well.
This year, most style-watchers agree, "traditional" is in fashion. That may sound obvious, but in fact it's a shift from the modern styles floating around over the past decade, which included a hemline falling to the thigh rather than the calf or ankle, an off-the-shoulder, low-cut blouse, and aprons adorned with contrasting and equally bright embellishments. Now the pendulum has swung back in the other direction, both in size and sensibility. "Mini is a no-go," one young saleswoman told the Berliner Zeitung last Sunday.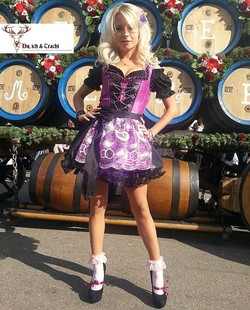 "Rhinestones, ruffles, and other bling-bling has had its day," wrote Jana Stegemann in the Sueddeutsche Zeitung. "The fashion-conscious dirndl-wearer this season will rely on optical understatement, quality material, and solid workmanship." Trends affect even the composition of the fabric, which this season mainly features cotton and linen, according to Stegemann. But high-end companies are also offering combination dirndls—not the "glitter aprons" customers wanted in prior years, according to one designer Stegemann talked to, but bodices of leather or velvet and skirts of cotton. Colors flit in and out of style as well. Another designer told Stegemann that this year's colors were split into two groups: "the classical costume colors dark green, navy, and Bordeaux, and on the other hand pastel shades like apricot and vanilla."
Even traditional fashion can be costly: Rather than loosening strictures, the dirndl boom is, if anything, resulting in more exacting and expensive expectations. When The New York Times covered the dirndl resurgence in Germany in 2013, Claudia Nowka, whose Alpenmädel designer dirndls start at $540, actually praised lower-end, mass-produced dirndls, then selling at $40 to $90 in department stores: "Not everyone can afford a designer dirndl, so it helps introduce young people with little money to the tradition," she told Melissa Eddy. "Once they have a job, they buy a higher-end dirndl."
The assumption that anyone would buy a designer dirndl "once they have a job" might not be an exemplar of socioeconomic sensitivity, but it looks lavishly charitable next to some of the commentary in this year's coverage. While rejoicing over the return to tradition during an interview with the Frankfurter Allgemeine Zeitung ("A lot of chi-chi cheap lace and fabric—that's gone now, thank God"), the Trachten procurer for Lodenfrey in Munich, Gabriele Hammerschick, got in a jab at "tourists' impulse buys." The article explained that these individuals are frequently responsible for "mini-dirndls from shiny fabric with all kinds of ornaments, or even disposable plastic lederhosen."
Other outlets have echoed this message—suggesting that tourists aren't the only ones flouting dirndl fashion. "Stay away from supposedly traditional but inexpensive outfits you can now buy at every street corner," the tabloid Bild recently instructed its readers. And wherever you procure the costume, there are stylistic rules one simply mustn't break, according to Hammerschick. "What absolutely will not do: to wear no blouse under the dirndl, a petticoat that peeks out, and a dirndl that doesn't sit perfectly. When you think you can't get any air, then it's right," she advises. German-language Elle concurs: "It is imperative that, if you buy a dirndl off the rack, you take it to a seamstress." The magazine also reminds readers that dirndl bodices shouldn't involve zippers, and nixes various blouse trends such as the off-the-shoulder look: "Not every upper arm is suited to a short, delicate sleeve."
Or, as the Sueddeutsche Zeitung style writer rather scathingly put it: "Neon-colored mini-dirndl from poly-whatever with glitter aprons are only something for Carnival. In the Rhineland. The same goes for Carmen-blouses that give a free view of the shoulders, platform heels, and peep toes." (To be fair, the footwear recommendations are meant, in part, to be practical.)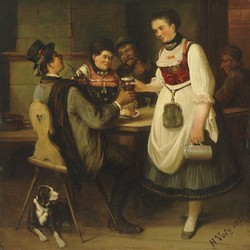 Not everyone's buying the appeals to tradition. The University of Innsbruck history and ethnology lecturer Simone Egger, who is ubiquitously quoted in dirndl trend pieces, has dismissed the designers' prescriptions as "elitist gossip" and "half-knowledge." "When someone talks of an authentic dirndl or original Tracht, I lose it," she told the Frankfurter Allgemeine Zeitung. She also debunked the "urban myth" that how you tie your apron indicates whether you're married or single. Egger dated the dirndl resurgence to 2000, suggesting it might have something to do with a yearning for stability in an increasingly global world: "The dress is the perfect homeland costume, onto which one can project every longing."
This isn't the first time there's been a spike of interest in the dirndl. In fact, in the 20th century, the dirndl was popular not just in Germany, but in France, England, and the United States. The history is complicated: Folk costumes played an uncomfortably large role in Third Reich propaganda. Specifically, as the University of Houston history professor Irene Guenther detailed in her 2004 book on female fashion in Nazi Germany, the idealization of the dirndl—preferably stitched by hand from handwoven fabrics—was about presenting the ethnically German farm woman as a model of femininity, fertility, and folk vigor.
But the dirndl craze in the 1930s had other origins as well. As Christianne Weber and Renate Möller tell it in their dual-language, coffee table-worthy tome on mid-century German fashion, widespread adoption of dirndls was at least partly facilitated by the general mid-30s switch to a silhouette the folk costume happened to fit: higher hemlines, broader shoulders, tailored waists, and full skirts. (Whether one looks at publications in the 1930s or 2010s, the dirndl's "figure-flattering" effect for both the lithe-limbed and voluptuous is almost always its top-cited draw.)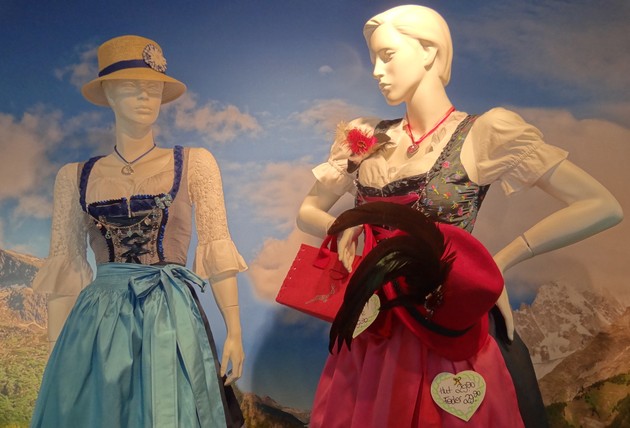 The primary driver of the multi-continent trend, in fact, may have been star power, according to Guenther. The German actress and singer Marlene Dietrich, despite opposing National Socialism and adopting the United States as a home, stimulated international demand for the dirndl by spending a summer decked out in traditional dress by an Austrian company that had just opened a store in Manhattan. Meanwhile, writes Guenther, "trendsetting Americans attending the renowned summer festivals in Salzburg clothed themselves in fashionable Trachtenkleidung, and then brought their dirndls home with them." Others have pointed to the popularity of the Johanna Spyri novel Heidi, which came out as a film with Shirley Temple in 1937.
The international trend was abruptly interrupted by Hitler's invasion of Poland in 1939. American and English consumers began rejecting all things German, while popular culture generated new fashion models—for example Gone With the Wind, which premiered on the silver screen less than three months after the fall of Warsaw.
"The dirndl, a dress which was a 'must' for every woman in 1937, is only a memory now that the wasp waist of 1940 is here," wrote Dorothy Vilven in the journal American Speech in 1941, citing the example of Scarlett O'Hara. The garment even lost traction in Germany, according to Guenther: Urban women experiencing Allied bombings and food shortages resented the rural ideal, while farmers' wives who "had not regularly worn the traditional dirndl for decades" weren't in a position to spend hours at the loom or with the needle, as the purists wanted, constructing an impractical garment from scarce raw materials.
Judging by the recent trend pieces, dirndls are now flourishing both because these darker memories have faded, and because new generations are struggling to maintain a sense of place and constancy. In this context, the drive toward traditionalism in cloth and cut makes a certain amount of sense.
As for the digs at "poly-whatevers" and "cheap lace," though? Let's hope it doesn't keep any mini-dirndl-lovers from the neon Renaissance Tinkerbell outfit their hearts desire. It does seem a shame to spill Märzenbier on 800 dollars' worth of embroidered natural fibers.