Auf Wiedersehen to Germany's Top Migrant Official
Manfred Schmidt, the head of the Federal Office for Migration and Refugees, cited "personal reasons" for his resignation.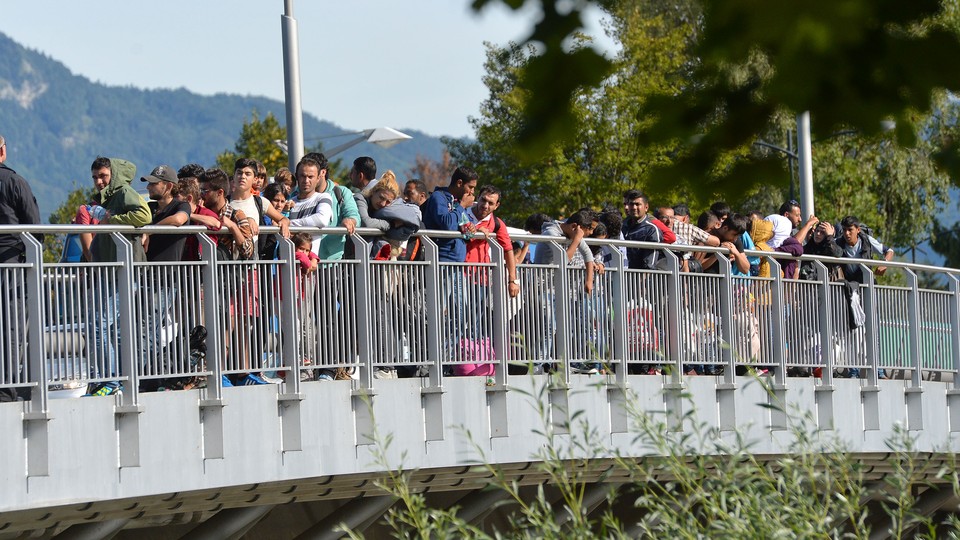 The German official in charge of the office that handles migration and refugees has stepped down from his job, citing, in the words of the country's Interior Ministry, "personal reasons."
Manfred Schmidt's resignation comes as Europe faces the region's worst refugee crisis since World War II. The country says it expects 800,000 asylum-seekers to enter the country this year alone—four times last year's total.
Deutsche Welle, the German external broadcaster, reported that Schmidt's agency, the Federal Office for Migration and Refugees—which is known by its German initials BAMF—was criticized for the pace at which it handled the applications from asylum-seekers. The broadcaster adds:
The BAMF is said to have more than 250,000 unprocessed asylum applications with the average turnaround time averaging more than five months, a stark difference to Germany's neighbor the Netherlands, which handles cases in an average of eight days.
Schmidt had headed the agency since 2010, and Interior Minister Thomas de Maiziere thanked him for his "extraordinary work."
Germany is the favored destination for many of the asylum-seekers fleeing civil war in Syria and unrest elsewhere. That, as The New York Times points out, may have been a result of a tweet sent out by Schmidt's agency.
The migration office posted a message on Twitter on Aug. 25 stating that Syrians refugees would be granted asylum in Germany, regardless of how they had reached the country.

The tweet, based on a technical decision circulated in Mr. Schmidt's office, was aimed at speeding up the decision time for new asylum applications. But it quickly went viral in the Arabic-speaking world, where the decision was interpreted as Germany throwing open its doors.

But within days, tens of thousands had gathered at Budapest's Keleti station, chanting "Germany, Germany," and seeking to travel west and leading Hungarian officials to criticize what it saw as Berlin's unilateral rescinding of European Union policy.

That effectively rescinded Germany's pledge to abide by an agreement that requires migrants to apply for asylum in the first European Union country they reach, and it played a crucial role in sparking the mass migration toward Europe in recent weeks.
You can read the rest of our coverage of the refugee crisis here.