Corruption Shocks—Shocks!—FIFA
The ethics panel of soccer's governing body has banned Jack Warner, its former vice president, for life, citing repeated misconduct.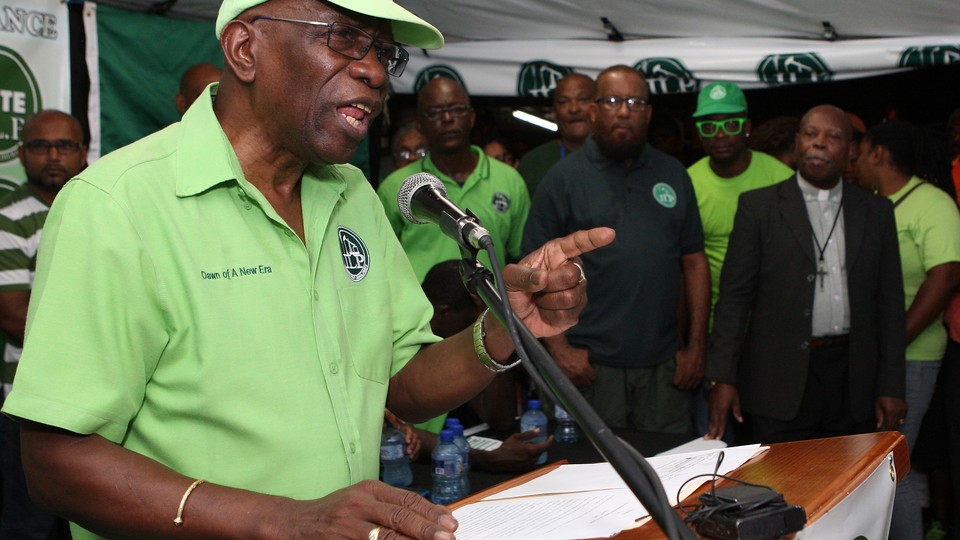 FIFA's ethics panel has banned Jack Warner, a former executive of soccer's governing body, for life, citing repeated misconduct.
Warner, a former FIFA vice president, was one of 14 executives the U.S. indicted in May on corruption charges. Warner, who previously served as the president of the Confederation of North, Central American and Caribbean Association Football—which oversaw the sport in this region—is accused of taking bribes for his vote in the bidding process for the 2018 and 2022 World Cups.
Here's more from the ethics panel:
Mr Warner was found to have committed many and various acts of misconduct continuously and repeatedly during his time as an official in different high-ranking and influential positions at FIFA and CONCACAF. In his positions as a football official, he was a key player in schemes involving the offer, acceptance, and receipt of undisclosed and illegal payments, as well as other money-making schemes. He was found guilty of violations of art. 13 (General rules of conduct), art. 15 (Loyalty), art. 18 (Duty of disclosure, cooperation and reporting), art. 19 (Conflicts of interest), art. 20 (Offering and accepting gifts and other benefits) and art. 41 (Obligation of the parties to collaborate) of the FIFA Code of Ethics.
Warner has vigorously denied the charges against him, and in the process joined a list of public figures who confused The Onion for fact, claiming the charges against him were part of a U.S. conspiracy against FIFA.
"If the FIFA is so bad, why is it the U.S.A. wants to keep the FIFA World Cup?" he asked in the video, referring to The Onion article headlined: "FIFA Frantically Announces 2015 Summer World Cup In The United States: Global Soccer Tournament To Kick Off In America Later This Afternoon."
News of Warner's ban for life comes amid increased scrutiny of soccer's governing body and its longtime president, Sepp Blatter. FIFA has faced allegations of corruption for years. Those drumbeats became more prominent after the 2018 and 2022 World Cups were awarded to Russia and Qatar, respectively. They were capped in May by a joint U.S.-Swiss operation that resulted in the arrests of several FIFA executives in Zurich.
On Tuesday, Swiss authorities said they would extradite one of those officials, Eduardo Li, the former head of Costa Rica's soccer federation, to the U.S.
Last week, the Swiss attorney general's office announced it had opened a criminal investigation into Blatter himself. As my colleague Matt Ford reported:
Blatter faces allegations of criminal mismanagement and misappropriation during his presidency. According to the attorney general's office, the allegations center on a contract Blatter signed with the Caribbean Football Union in 2005.
To put in perspective FIFA's clout and the power exercised by Blatter, its chief, consider this from Matt:
FIFA commands tremendous financial resources and international clout. Blatter sat at the center of the web of regional and continental fiefdoms that shape the world's most popular sport for more than 17 years. Corruption allegations dogged various FIFA officials throughout his tenure, and as recently as last week, but Blatter endured, aided by his mastery of the organization's election processes and his dispensation of patronage to smaller, far-flung national soccer organizations that backed his reign.

That reign ended June 2, days after his re-election, when the U.S. indictments were announced. Blatter resigned the presidency and called for a new extraordinary election to be held. He continues to hold the office until that vote, which is expected to take place in February 2016.
Swiss officials also alleged last week that Blatter had paid Michel Platini, the head of UEFA, about $2 million. Both Blatter and Platini—a former French soccer great who is among the candidates to replace Blatter as FIFA's president in February—have denied the charges.
And earlier this month, FIFA suspended its secretary general, Jérôme Valcke, amid allegations he was part of a scheme to sell tickets for the World Cup above their face value.