Editor's Note:
This article previously appeared in a different format as part of The Atlantic's Notes section, retired in 2021.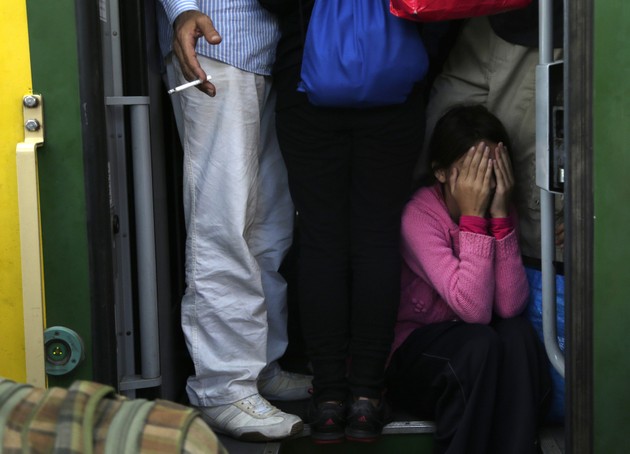 Hungary's prime minister says the migrant crisis that has produced scenes of chaos and desperation at Budapest's Keleti station are "not a European problem. The problem is a German problem."
"Nobody would like to stay in Hungary," Viktor Orban, the prime minister, said at a news conference in Brussels. "All of them would like to go to Germany."
Hungary reopened the Keleti station to migrants today, but said there would be no services to Western Europe. The announcement produced confusion among those hoping to board trains to Germany and elsewhere. More than 2,000 migrants have waited outside the station for days in the hope of boarding a train to Germany.
Some were put on a train that stopped in Bicske, about 20 miles west of Budapest. The town is the site of a refugee camp.
James Mates, the Europe editor for Britain's ITV news, tweeted the events:
The Associated Press reported that the migrants on the train that stopped in Bicske refused to go to the camp, resulting in scuffles with police. Eventually, police began to remove them from the train.
Here's more from the news agency:
The question of how to defuse the human gridlock in Hungary was being hotly debated Thursday in Brussels … . Hungary, which for months had done little to prevent applicants from head west after short bureaucratic delays, now says it won't let more migrants deeper into the European Union. "We Hungarians are full of fear. People in Europe are full of fear, because we see that European leaders, among them the prime ministers, are not capable of controlling the situation," Orban said.

Orban blamed Germany and confirmed his government's plan to send up to 3,500 troops to Hungary's southern border with Serbia, stepping up efforts to stop as many migrants as possible from entering the country. His top aide said 160,000 migrants had reached Hungary this year, nearly 90,000 of them since July 6.
Germany, which is the favored destination for many migrants, favors a system under which the EU's members accept migrants based on quotas. Hungary—which is building a fence along its border with Serbia—and many Eastern European countries oppose such a quota.
Orban dismissed criticism that Hungary's approach to the migrants is inhumane.
"If we would create ... an impression that 'just come because we are ready to accept everybody,' that would be a moral failure," he countered. "The moral, human thing is to make clear: Please don't come."