Migrant Crisis: Hungarian Train Station Blocked
Editor's Note:
This article previously appeared in a different format as part of The Atlantic's Notes section, retired in 2021.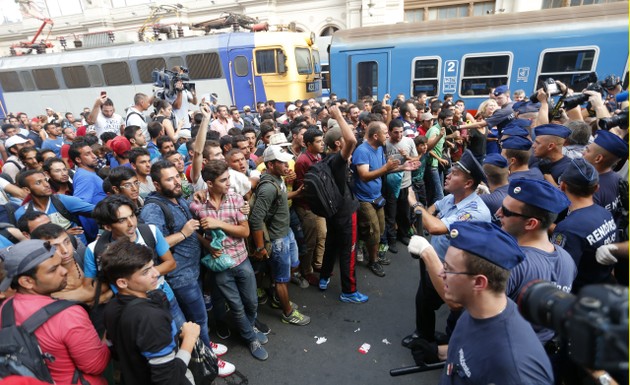 Hungary has closed the main train station in Budapest to migrants—many of them refugees—to prevent them from traveling through the European Union.
The move appears to be an attempt by the country, itself an EU member, to enforce the rules of the bloc, which requires that migrants be first processed in the EU country they enter. Hungary had earlier allowed the migrants to board trains without registering them or checking their paperwork.
Earlier today 3,650 migrants reached Vienna, and many of them boarded trains that would take them to Germany—which is expecting to take in 800,000 refugees this year.
Many of those coming to Europe are fleeing civil wars in Syria and Libya. Others are fleeing unrest in Africa, the Middle East and elsewhere. The flow of people has been described as the world's worst migrant crisis since World War II.
Hungary's decision to close off the Keleti station in Budapest to the migrants sparked protests. They chanted "Germany" and waved their train tickets, the BBC reported:
About 1,000 migrants congregated outside Keleti station, in the east of the city, as it was evacuated on Tuesday.

It was closed briefly and public announcements said no trains would be leaving.

But it soon reopened to non-migrant passengers, with lines of police preventing migrants from going through the main entrance.

The move came amid chaotic scenes after hundreds of migrants had tried to board services to Austria and Germany.

Some complained that they had paid hundreds of euros for tickets, and called for the station to be reopened so that they could continue their journey.

Many of the migrants have been waiting at Keleti station for days. Reporters said they are mainly Syrians, Afghans and Eritreans.
As we have been reporting, 107,500 migrants crossed into Europe last month. The U.N. estimates that the number of refugees and migrants crossing the Mediterranean this year exceeds 300,000.
EU officials will meet in Brussels on September 14 to discuss the crisis, which was exacerbated last week when the bodies of 71 refugees was discovered in an abandoned truck in Austria.