European Countries Make Some Room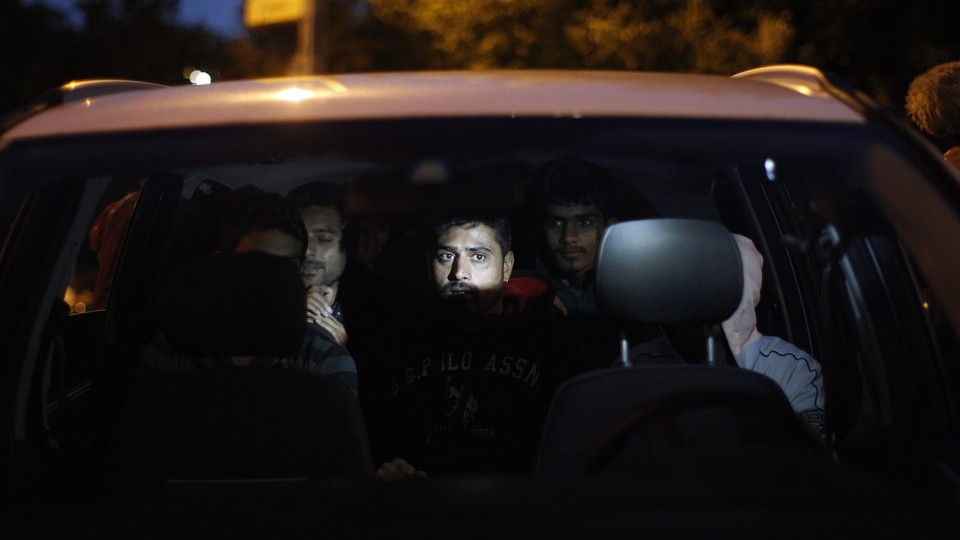 Editor's Note:
This article previously appeared in a different format as part of The Atlantic's Notes section, retired in 2021.
Over the past week, public attitudes towards refugees pouring out of Syria have begun to shift dramatically. Today, leaders in France, Germany, and Britain announced that their countries would step up their efforts to take in refugees:
President François Hollande of France announced on Monday that his country would take in 24,000 asylum seekers over two years, Britain said it would take in 20,000 refugees from Syria, and Chancellor Angela Merkel said Germany would set aside 6 billion euros, about $6.7 billion, to deal with the crisis.
Much of the coverage is about the massive scale of the dislocation: "waves" of asylum-seekers flowing into European countries in a "relentless stream." But journalists have also given us several powerful glimpses from the view of individuals affected by the crisis.
Griff Witte takes Washington Post readers to the Hungary-Serbia border:
When [an 18-year-old Syrian refugee named Monahad] set foot on Hungarian soil, walking past a pair of police officers who barely glanced in his direction, he let out a laugh.

"That's the fence?" he asked, pointing to a low coil of razor wire resting limp on either side of the tracks. "I thought it was two meters high. It's so easy to cross."
The Guardian's Egypt correspondent Patrick Kingsley offers another view from just north of that same border:
In a field 500 metres north of Hungary's border with Serbia, Mouti, a 50-year-old oil engineer, points at the muddy field around him. Several hundred mostly Syrian refugees have been camped here overnight, surrounded by a thin blue circle of Hungarian policemen. They've slept in the cold, if they've slept at all. A man lies unconscious, roused only by a splash of water. Mothers rock their babies, looking miserable.

"This is the so-called developed Europe?" asks Mouti. "It's supposed to be different to the fucking Arab world."
A team of New York Times journalists are following along with migrants and refugees fleeing through the Balkans, filing reports from the journey. One moment captured by reporter Anemona Hartocollis describes a striking turnabout in perceptions for a leader who'd been criticized just months earlier for making a fourteen-year-old refugee cry:
One brother was holding an umbrella, to shade himself from the noon sun. The other was holding up a color photograph of Angela Merkel, the German chancellor.

"This is my mom," the second brother said. "I think she is the only one who cares about us."
(NPR's Soraya Sarhaddi Nelson also recorded an asylum-seeker referring to the German leader as "Mama Merkel.")
Although it's not about the present crisis in Europe, it's worth reading this account from Rukmini Callimachi, an international terrorism correspondent for The New York Times, as she describes her own family's journey to escape communist Romania, more than thirty-five years ago:
It was March 7, 1979, and you needed special permission to leave the totalitarian country; passports were issued only to those who could prove they were returning. That meant that anyone who tried to leave for good was forced to break the law, and the consequences for getting caught made the decision to leave as final and harrowing then as it is today for the thousands of migrants arriving on Europe's shores.

For weeks leading up to our departure, my mother talked loudly about the plans she had for expanding the balcony of our Bucharest apartment. She also cashed in her savings to buy a color TV, the first our family had owned, in the hopes that the Securitate agents assigned to track our family would be fooled into thinking we planned to return. My father agreed to stay back, sacrificing himself in an effort to make it appear as if the family were still rooted in Romania.

The night of our departure, I lined up my stuffed animals and "interviewed" them to find out which ones wanted to come with me to Paris. I decided they all wanted to come, and so I shoved them into a suitcase and struggled to zip it shut, only to be scolded by my mother, who said I could take two at most. I chose a doll and my stuffed rabbit, and then when she wasn't looking, I slipped in a miniature elephant and several coloring pencils.