Cuba Libre
Ahead of Pope Francis's visit, Raul Castro ordered the release of more than 3,500 prisoners. Is the gesture meaningful?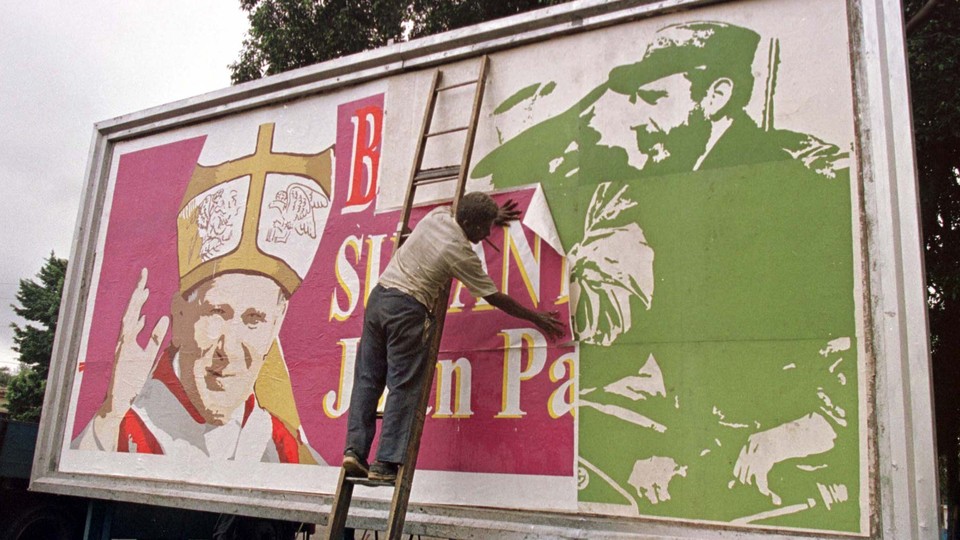 In 1998, a brief in The Atlantic featured this description of Pope John Paul II's historic visit to Cuba:
Over the span of five days the Pope spoke out against human-rights abuses and religious persecution, urged the Cuban government to release political prisoners, and condemned certain of Castro's social policies. But the Pope also blasted the thirty-seven-year-old economic embargo levied on Cuba by the United States, referring to it as "unjust" and partly responsible for Cuba's "material and moral poverty." It remains to be seen whether the Pope's impassioned pleas will have any impact on American foreign policy toward Cuba.
With Pope Francis preparing to make visits to Cuba and the U.S., it seems like a safe bet that, despite some major diplomatic progress, these very same issues will be part of the pontiff's dialogue. His predecessor, Pope Benedict, spoke of similar themes during his 2012 visit to Cuba.
This cycle isn't just rhetorical. On Friday, Cuban media reported that Raul Castro has ordered the release of more than 3,500 prisoners ahead of the pope's arrival, just as he and his brother had done in advance of visits by the previous two popes.
"[P]risoners were chosen for early release depending on the severity of their crimes, amount of time served, and good behavior," the BBC noted. "Among those to be freed are a number of inmates over 60, prisoners under 20 years old with no prior criminal records and inmates with chronic health conditions."
The amnesty is also significant because of its size. Previous papal visits inspired the release of fewer than 3,000 prisoners in (2011) and about 300 prisoners (1998). But the "humanitarian" gesture has also drawn criticism for its relative emptiness given the Cuban government's refusal to include democracy advocates.
For a top-shelf polemic on the prisoner release, check out a response by the Capitol Hill Cubans blog, which charges a staggering number of political arrests in Cuba since a diplomatic thaw with the U.S. was announced last December—a detente that sprung from a huge nudge by the pope.