How the Catholic Church Survived in Cuba
Pope Francis is visiting a country where the clergy found a way to coexist with godless communism.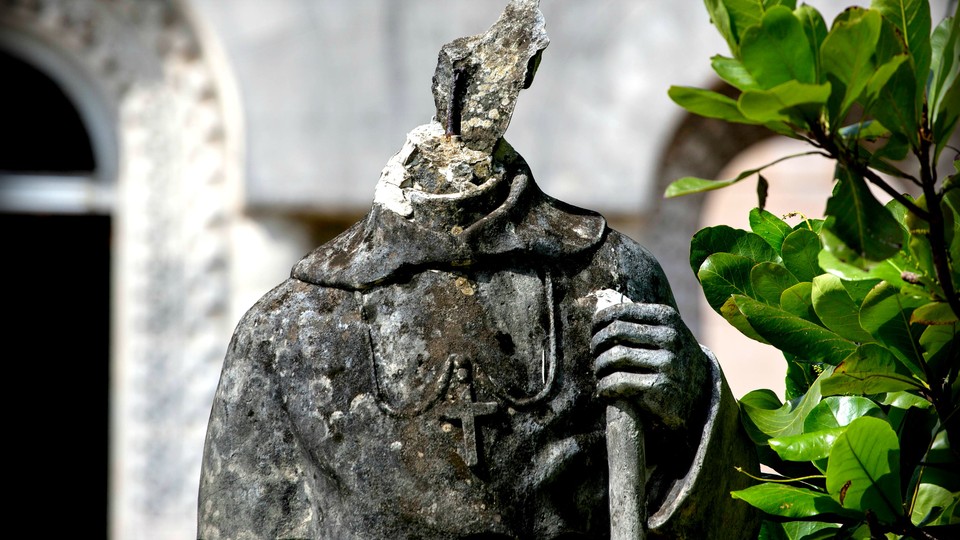 HAVANA—More than five decades ago, Fidel Castro's revolution triggered the sweeping seizure of Catholic Church properties in Cuba.
In one expropriation, someone decapitated the statue of Santo Tomás de Villanueva outside the chapel of the Havana university named for the saint. As the Cuban regime turned Villanueva into a trade school, the headless statue became an eerie symbol for a church shorn of influence. Graffiti scarred the walls of the decaying chapel.
"The Villanueva statue has been headless since 1963," said Archbishop Thomas Wenski of Miami, who has steered aid to the Cuban Church for years. But the larger body of the Roman Catholic Church in Cuba has endured and, recently, grown stronger, despite the combination of careless neglect and open hostility it has suffered under communism. Last year, the government quietly returned the Villanueva statue and chapel to Church officials along with some other properties; last fall, the Church broke ground on its first new seminary since the revolution. And when Pope Francis lands in Havana on September 19, Cuban President Raúl Castro will be welcoming perhaps his most important ally in the effort to halt the crushing U.S. trade embargo on Cuba that has been in place since the statue was still intact.
Through its resonance beyond the secular ideologies of both communism and capitalism, the Church has forged a space in Cuban society that no other organization shares. "Outside the government, the Church is the most important institution in Cuba," Javier Figueroa, a retired University of Puerto Rico professor of Cuban history, told me from his home in Miami.
Across the island, bishops, priests, nuns, and lay workers operate Cuba's de-facto social safety net, which the cash-strapped government, whose revolution was founded on egalitarian principles, cannot deliver for all disabled, elderly, and impoverished Cubans. Pope Francis, who has criticized unregulated capitalism as fostering a "globalization of indifference," has been credited with helping Cuba restore diplomatic ties with the United States. Caritas, the international Catholic aid group, and foreign dioceses are among those combating Cuba's poverty. The Vatican's strategy of engagement with Cuban communism is bearing fruit after more than half a century, and Cuba's state-church dynamic will likely define the kind of economy that emerges in the country.
* * *
Before Fidel Castro initiated his program of persecution against the Church, the brutality and greed of Cuban dictator Fulgencio Batista helped fuel support for revolution among left-wing Catholics in the country. Fidel, who had attended Jesuit schools, often spoke in religious terms. "Those who crucified Christ were the scribes, the rich," he said in 1960, "the demagogues, the exploiters ... because he spoke the truth."
Javier Arzuaga, a Franciscan priest from Spain, was an early proponent of the revolution. His Havana parish included a military prison that housed collaborators of Batista, who was overthrown in 1959. Che Guevara, who led the revolution alongside Fidel, permitted Arzuaga "at any time to attend to the prisoners," according to an interview Arzuaga gave the historian Lillian Guerra in 2008 for a documentary (the producer, Glenn Gebhard, gave me a transcript of the interview, which did not make the final cut). Arzuaga witnessed a kangaroo-court system shuttling men toward execution on an assembly line. He offered to find confessors for the condemned and gave Communion to any man who asked.
"Whether or not those executed were murderers," said Arzuaga, "didn't matter to me. ... I was not there to decide who was good and who was bad but rather to say to them: 'Look, do you believe in the next life?'" He wanted them to have "serenity, a sense of calm as they faced death." He accompanied 55 men to the firing squad: "None of them had to be roped to a post. None of them had to be blindfolded. They all died looking out, straight ahead. Of course, I stood by each one, holding a cross." Arzuaga was so traumatized by his role in the executions that he quit the priesthood and moved to Puerto Rico.
He would not be the last priest to leave. In the spring of 1961, the Cuban government thwarted the Bay of Pigs invasion conducted by Cuban Americans with assistance from the CIA. Four priests had taken part in the operation, which helped catalyze Fidel's plan, already underway, to crack down on the church. He ordered the closure of Catholic schools and Cuba deported 130 priests to Spain that fall. Over the next few years, 3,500 nuns and priests decamped from the island. Regime thugs invaded churches and disrupted religious processions, and priests and lay activists were put in prisons.
"The church was devastated: Its principal source of income, its schools, were cut off, the number of priests had declined from eight hundred to two hundred in just three years, most of the faithful had left, and relations between church and government leaders bordered on hostility," John Kirk wrote in Between God and the Party.
But the Holy See never broke diplomatic ties with Cuba, even though the Vatican considered godless communism its greatest threat. The Church's nuncio, or papal ambassador, Monsignor Cesare Zacchi, courted Fidel with shared meals and scuba diving, unnerving some Cuban bishops and inflaming Miami's growing exile community. "The people have obtained a radical change in their material well-being," Zacchi declared at the time. "There has been a redistribution of wealth ... [and] social justice—something which was not prevalent before."
"Zacchi was ahead of his times," said University of Notre Dame theologian Father Robert Pelton, an authority on Cuba. "Nobody was ready for it, but he was right in his approach—don't distance yourself from the regime, get into stuff but in accord with your conscience. The Catholic Church has to exist with systems that don't agree with it."
* * *
As Cuba's skeletal church crawled through the 1970s, the Latin American bishops' conference championed a "preferential option for the poor." A new movement known as Liberation Theology gave residents of slums and barrios a view of Christ allied with the poor—a mission to seek decent living standards and justice. Meanwhile, Fidel maintained in a 1985 interview with a leftist Brazilian priest, published in the book Fidel and Religion, that "the wealthy class has a monopoly on the Church." Yet Fidel also acknowledged the Latin American Church's leftward shift and stressed dimensions of the revolution that few Christians could disparage: Latin America's highest rate of literacy; widespread education; a free health-care system; the integration of black people into workplaces and society; and more opportunities for the poor.
That same year brought a turning point for Catholicism on the island. The National Cuban Church Meeting, or ENEC in Spanish, promoted a strategy to place the Church back in the public square without challenging the legitimacy of Fidel's movement. "Until ENEC," explained Javier Figueroa, the historian, "the church was weak, confined to saying Mass; it could not go out and evangelize. If you went to church, your kids might not get into the college they wanted or you might not get a certain job. ENEC said, 'Engage the culture, be active in society.'" After ENEC, "gaining space" became a term for incremental freedom as Church publications, speakers, and conferences pushed for greater justice, albeit in careful language. The Church was advocating for bolder coexistence with the revolution.
* * *
A seismic shift came with the collapse of the Soviet Union, which accounted for 80 percent of Cuba's trade. In the 1990s, food scarcity was rampant. "The Cuban government likely calculated that it could safely deregulate religion without great political costs," wrote Harvard legal scholar Jill Goldenziel, and "as a pragmatic means toward economic growth." A 1992 amendment to the constitution called Cuba a "secular" nation, replacing "atheist."
From 1993 to 1997, Caritas and another charity, Catholic Relief Services, sank more than $10 million into parish distribution centers for medicine, diapers, sanitary items, and food. By 1998, the Cuban Catholic Church oversaw 20 childcare centers, 21 retirement homes, and five hospitals, according to the scholar Adrian Hearn.
Wenski, as a priest and not yet a bishop, made his first trip to Cuba in 1996, delivering insulin for juvenile diabetics to Caritas. "This was the beginning of a civil society, if you will, the government reluctantly realizing that they had to talk with people outside the party who weren't dissidents," he told me. "The Caritas people were trying to gain space." By the time he welcomed Pope John Paul II to Havana in 1998, Fidel had adopted his own constructive engagement with a church that yielded the aid money on which his revolution's promises to some extent depended. For his part, John Paul II called the embargo "oppressive … unjust, and ethically unacceptable." He also had a message for Fidel: "A modern state cannot make atheism or religion one of its political ordinances."
* * *
Since his brother retired for health reasons and handed him power in 2006—and since the death of Hugo Chávez in Venezuela crippled one of Cuba's primary patrons—Raúl Castro has engineered shifts in his country's top-down Marxist economy and made major concessions to the Church. As president, he has cut more than 500,000 state jobs, permitting some small businesses, private credit, and real estate in an effort to resuscitate a moribund economy. After Pope Benedict's trip to the island in 2012, Cuba declared Good Friday an official holiday. On a trip to Rome in May, Raúl thanked Pope Francis for his help in the diplomatic breakthrough with America. "I will resume praying and turn to the church again if the pope continues in this vein," he told reporters. "I mean what I say."
Whether a late-life return to the faith happens for the 84-year-old Castro, the Cuban Church has swallowed bitter pills to survive Latin America's longest-running Marxist government. Cuba today has 300 priests, compared to 800 in 1959, when the population was nearly half its present size. The country's Catholic population, estimated to be roughly three-quarters of the total population on the eve of the revolution, declined substantially once Fidel took power, and now hovers around 50 to 70 percent, depending on the source (rates of Mass attendance are far lower).
During his trip to Cuba and the United States, Pope Francis will likely call for an end to the embargo. But the big question beyond the pontiff's visit involves the form that Cuba's post-embargo trade opening might take—how regulated capitalism will work in practice, and how the Church will operate in this new environment. While food shortages in Cuba are no longer as acute as they were in the early 1990s, a vocabulary of hunger is still employed at certain Catholic publications in the country.
"Our country is marked by great limitations in access to information and the exercise of free expression and personal liberty," a 2014 Jesuit study stated. "There is a growing devaluation based on: secularism and atheist education, the anti-Christian character of the majority of social structures, the great economic difficulties, the frustration of the majority of legitimate aspirations, the frustration in having no power to participate in world consumerism."
"The Cuban economy doesn't work and [Cuban officials are] trying to figure out how to make it work," said Archbishop Wenski. "They're not looking to a democratic model, or necessarily [a model] like China or Vietnam. They'd like an alternative. ... Raúl and his people don't want this thing to implode. When they die, they want to be peaceful and in bed."
---
This reporting is part of an ongoing series by the GroundTruth Project called "A Global Church," supported by the Henry Luce Foundation, the Mary Catherine Bunting Foundation, and Dan and Sheila Daley.