Another FIFA Own Goal
Soccer's governing body says it has "released" Secretary General Jérôme Valcke from his duties amid allegations he was part of a scheme to sell World Cup tickets at three times their value.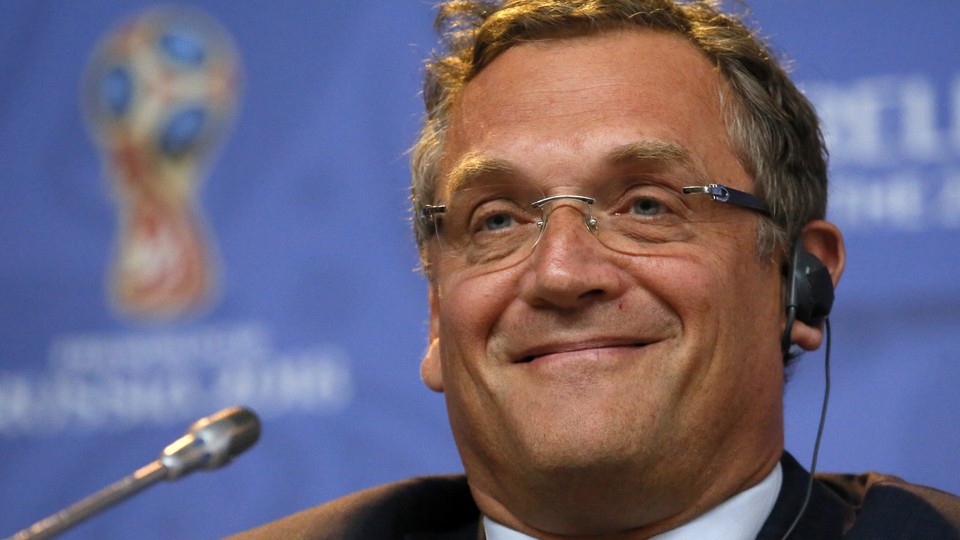 There's big news in the world of soccer: FIFA, the sport's governing body, says its secretary general, Jérôme Valcke, has been "released from his duties" amid allegations published in The Guardian that he was part of a scheme to sell tickets for the World Cup above their face value.
Here's the FIFA statement, in full:
FIFA today announced that its Secretary General Jérôme Valcke has been put on leave and released from his duties effective immediately until further notice. Further, FIFA has been made aware of a series of allegations involving the Secretary General and has requested a formal investigation by the FIFA Ethics Committee.
The Guardian reported Thursday that Valcke, the right-hand man of Sepp Blatter, FIFA's chief, "was to be the beneficiary of an agreement to sell the tickets at inflated prices."  
Valcke has denied the allegations, which were made by a former FIFA ticketing partner. The Associated Press noted that the former partner alleged that plans were made to sell top-tier World Cup tickets at three times their face value. But The Guardian noted that the documents it had seen detailing the allegations "are incomplete, selective and could easily be open to other interpretations."
The scandal is the latest to engulf FIFA and its beleaguered president, Blatter.
Seven FIFA officials were arrested in Switzerland in May, at the request of U.S. officials. They were among those the Justice Department indicted on charges ranging from corruption to money laundering. Those charged included two FIFA vice presidents, though Blatter himself has not been charged. The arrests came just days after he was reelected to a fifth four-year term as FIFA's president. Soon afterward, FIFA said it would select a new president in February 2016.
Thursday's development is likely to increase pressure on Blatter, and it comes just days after Attorney General Loretta Lynch warned more charges may be coming in the investigation into corruption in soccer.