An EU Meeting on Migrants
The gathering comes a day after Germany closed its borders to those without valid travel documents after being overwhelmed by the influx.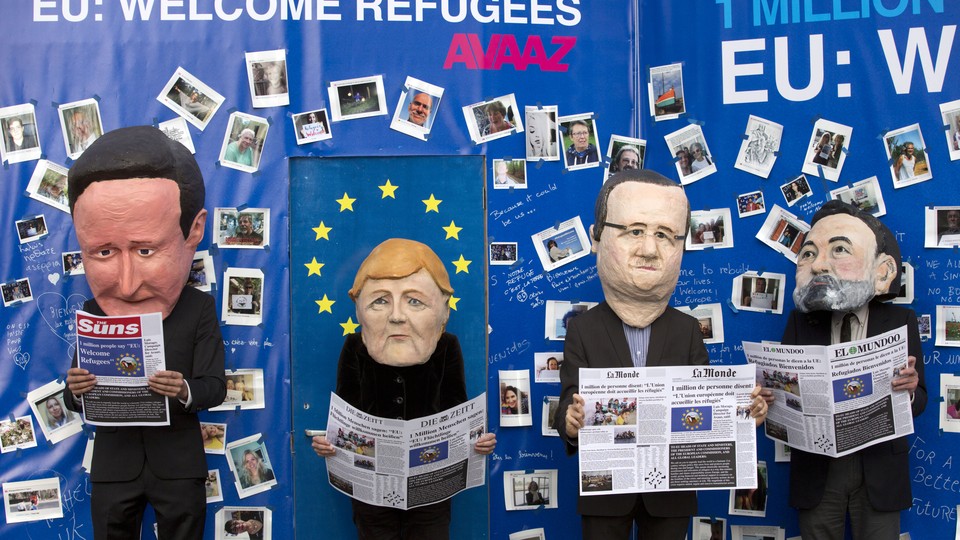 European interior ministers are meeting in Brussels Monday to discuss a controversial plan to distribute 160,000 migrants across the EU's member states.
The meeting comes a day after Germany closed its borders to those without valid travel documents after being overwhelmed by migrants entering the country. Austria and Slovakia followed on Monday.
Europe is in the midst of the worst migrant crisis since World War II, many of them fleeing the civil war in Syria and unrest in other parts of the world. Germany has been the most welcoming of the European nations, and is on track to take as many as 800,000 migrants this year.
The EU officials meeting in Brussels will
vote on a plan
proposed last week to distribute the 160,000 migrants among 23 member states. Germany and France are the plan's strongest backers, but newer EU members such as Hungary oppose it.
As we reported last week
:
Jean-Claude Juncker [the president of the European Commission] told European lawmakers in Strasbourg that the burden of dealing with the asylum-seekers must not be left to Italy, Greece, and Hungary, where they first arrive. He said the bloc must come up with a common list of safe countries of origin that will enable member states to fast-track asylum applications.

Jucker called for a permanent relocation mechanism that will allow the EU to deal with crisis situations more swiftly, for stronger joint efforts to secure the EU's borders, and a legal migration package for the bloc.
Meanwhile, the Austrian government said Monday it is deploying troops to help deal with the influx of migrants, and would tighten its border with Hungary, which has become the unwilling focus of the crisis.
The UN High Commissioner for Refugees said Sunday the various border-control measures announced by European governments "only underlines the urgency of establishing a comprehensive European response." It added:
UNHCR is concerned that the combination of different, individual measures might create a situation where large numbers of refugees seeking in Europe the protection they are entitled to receive in line with international law, will find themselves moving around in legal limbo.