Al Jazeera Journalists Are Pardoned
Mohamed Fahmy and Baher Mohamed were among 100 people ordered released by Egypt's president on the occasion of Eid al-Adha.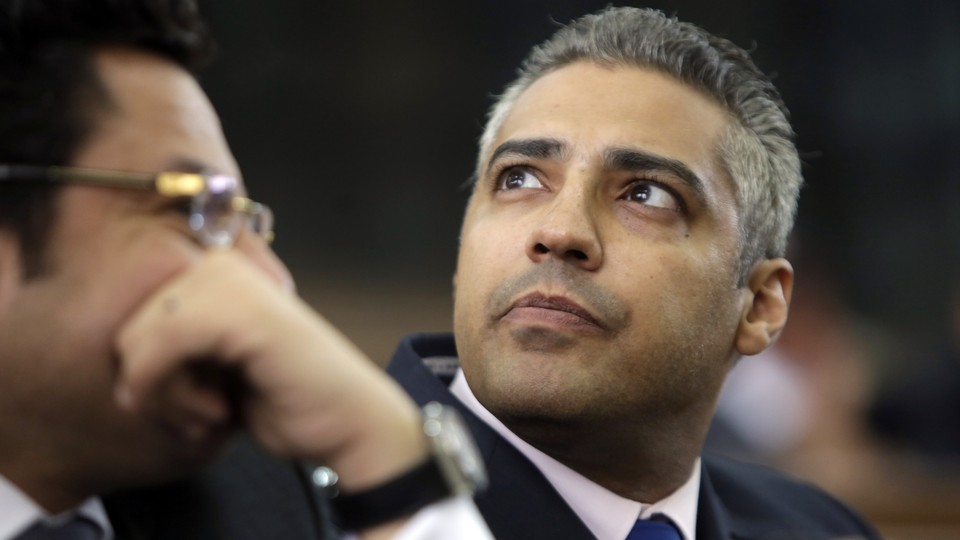 Updated on September 23 at 8:56 a.m. ET
Al Jazeera journalists Mohamed Fahmy and Baher Mohamed were among 100 people pardoned Wednesday by Egyptian leader Abdel-Fattah el-Sisi on the occasion of the Muslim feast of Eid al-Adha.
The news was reported by Al Ahram, the influential newspaper. Fahmy's lawyer, Khaled Abu Bakr, confirmed to the Associated Press his client had been pardoned. It is unclear if the two men have left prison. Fahmy holds dual Egyptian and Canadian citizenship, and it is not yet certain whether he will be remain in Egypt.
Others freed include youth activists Sanaa Seif and Yara Sallam, who had violated Egypt's controversial law restricting the right to protest. But it is the release of the two journalists that is likely to garner most attention in the West as Sisi heads to the UN General Assembly on Thursday.
Fahmy and Mohamed, who were arrested in December 2013, were sentenced last month, along with their colleague, the Australian Peter Greste, to at least three years in prison. Their crime: "broadcasting false news." Greste was deported in February.
As Matt Schaivenza noted last month:
The three were detained in December 2013 during a crackdown ordered by General Abdel Fattah al-Sisi, who wrested control of Egypt from Mohamed Morsi that year and has ruled the country ever since. al-Sisi, who has sent thousands to prison for political reasons, has little tolerance for independent journalism. Earlier this month, Egypt passed an "anti-terrorism" law that imposes steep fines for anyone who strays from government statements in publishing.
Schiavenza previously reported:
Traditionally, international journalists have avoided punishment in Egypt, a country with virtually no history of press freedom. But Al Jazeera aroused al-Sisi's ire with its critical coverage of the former general's coup against Morsi. The network is headquartered in and financed by Qatar, a Persian Gulf emirate whose government backed the Morsi regime.