A Nuclear Threat From North Korea
The Stalinist state says it will use its "steadily improved" nuclear program against the U.S. at "any time."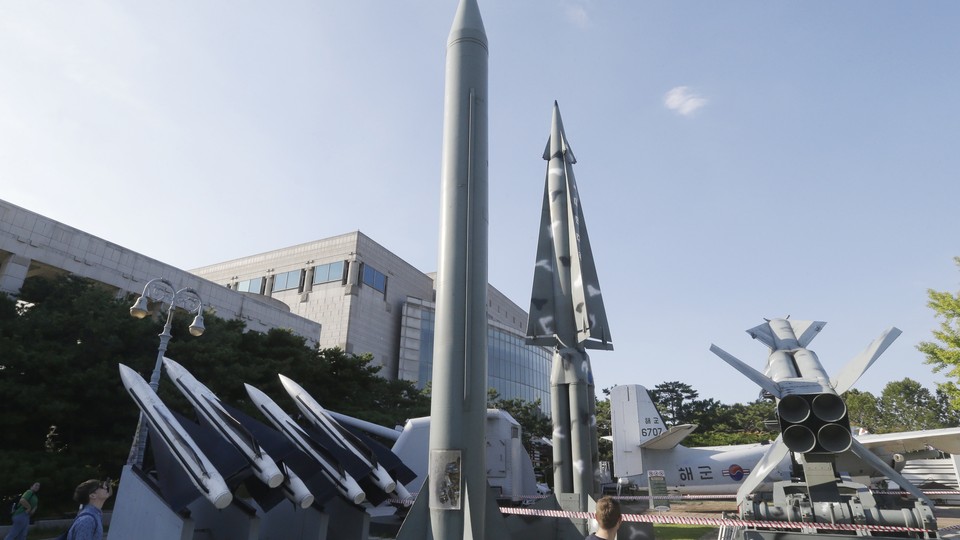 North Korea says it will use its "steadily improved" nuclear program against the United States at "any time," calling the program a response to a "reckless hostile policy" from the U.S.
North Korea's state-run Korean Central News Agency said the reactor at the Yongbyon nuclear facility had been restarted two years ago—along with uranium enrichment. The facility was shut down in 2007 under a deal reached with the U.S. and five other world powers.
"All the nuclear facilities in Yongbyon including the uranium enrichment plant and 5 megawatt reactor were rearranged, changed or readjusted and they started normal operation," KCNA quoted an unnamed director of the North's Atomic Energy Institute as saying. The translation was provided by South Korea's Yonhap news agency.
The Los Angeles Times adds:
Satellite imagery published last week by the North Korea affairs website 38 North suggested evidence of new activity at Yongbyon's plutonium production complex. Yongbyon is about 55 miles north of Pyongyang, the capital.
Pyongyang's threat comes a day after the country said it planned to launch a rocket, insisting that it has the right to conduct space research.
"The world will clearly see our rocket fly high at a time and a place that the North's party will set," KCNA reported.
South Korean media reported that Pyongyang has previous hinted that it would launch a satellite on October 10,  which marks the 70th anniversary of the founding of the ruling Workers Party. In a news report from Washington, Yonhap quoted an unnamed diplomatic source as saying as of September 6, there was no rocket present at the launch tower. The South Korean news agency adds:
Pyongyang has long been accused of using long-range rocket launches as a pretext for test-firing intercontinental ballistic missiles. Experts say long-range rockets and ICBMs are basically the same with differences only in payloads.

The North is believed to have honed advanced ballistic missile technologies through a series of test launches, including a 2012 launch that succeeded in putting a satellite into orbit. That test is considered the most successful so far.

The test also sparked fears that the North has moved closer to ultimately developing nuclear-tipped missiles that could potentially reach the United States mainland. The country has so far conducted three underground nuclear tests: in 2006, 2009 and 2013.
South Korea said a rocket launch would be a "blatant" violation of UN Security Council resolutions that prohibit the North from carrying out such launches. China, North Korea's closest ally, urged Pyongyang to comply with the UN resolutions.
The L.A. Times adds:
The two consecutive days of aggressive statements from Pyongyang could dampen the mood of North-South rapprochement that was created after the two sides agreed to end a crisis that saw an exchange of fire across their border last month.

After days of meetings in August, high-ranking officials reached an agreement whereby Pyongyang expressed regret for a mine explosion earlier in the month that injured two South Korean soldiers, and Seoul agreed to halt loudspeaker propaganda broadcasts it had launched in response.