A Rift Over Migrants
The worst migrant crisis since World War II has exposed such bitter divisions in Europe that it was only a matter of time until someone invoked the Nazis.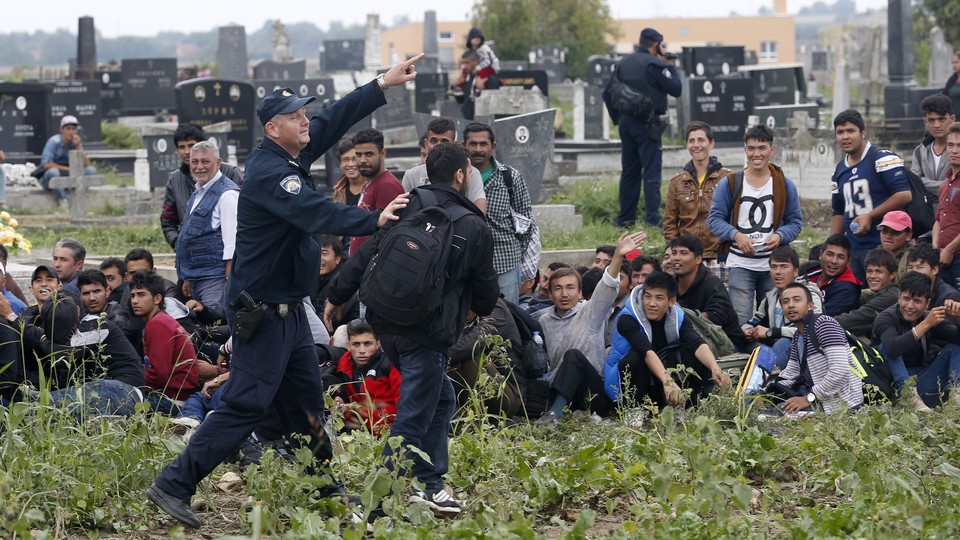 The worst migrant crisis since World War II has exposed such bitter divisions in Europe that it was only a matter of time until someone invoked the Nazis.
That reference came from a Serbian Foreign Ministry incensed over Croatia's decision to ban Serbs and their cars from entering the country:
In their discriminatory character, they can only be compared with measures taken in the past, during the fascist Independent Croatia.
That's a reference to the Nazi-backed Ustaše regime of Ante Pavelic, whose racist policies included the persecution of Serbs.
The dispute stems from the flow of migrants to the EU. Croatia is a member of the bloc; Serbia is not. When their northern neighbor Hungary, also an EU member, closed its border to the flow, some 50,000 asylum-seekers crossed from Serbia into Croatia.
Croatia says it can't cope with that many migrants, and in order to pressure Serbia into sending some of them to Romania and Hungary it closed nearly all of its border crossings with Serbia and then halted cargo traffic from its neighbor. That led to further tit-for-tat steps and the Nazi analogy.
The retaliatory measures by the two former Yugoslav states threaten to undermine whatever goodwill was built up after the bitter civil wars that accompanied the breakup of the former Yugoslavia. But they also make increasingly clear that a resolution of the migrant crisis is unlikely anytime soon.
That became apparent at an EU summit Wednesday at which leaders were unable to forge a common policy to deal with the crisis. But they did agree to give U.N. agencies who work with Syrian refugees about $1.1 billion, and, in the words of The Guardian, "[threw] money at aid agencies and transit countries hosting millions of Syrian refugees and ... [agreed] to step up the identification and finger-printing of refugees in Italy and Greece by November."
The UN High Commissioner for Refugees welcomed the money, but expressed disappointment that "no further measures have been proposed to create more legal pathways for refugees to reach safety in Europe."
One reason for the division is individual EU member states differ on whether they want migrants. Germany, France, and Sweden have been the most welcoming. Central European states such as Hungary have not. Earlier this week, EU ministers agreed to distribute 120,000 migrants among the member states, but via a majority vote—not through consensus as the bloc typically acts. The plan was strongly opposed by Hungary, Slovakia, and other Central European states.
Donald Tusk, the European Commission president who chaired Wednesday's summit in Brussels, warned the worst is yet to come, and he added: "We need to correct our policy of open doors and windows."
The Guardian adds:
Seldom had EU leaders met so divided. And seldom have the stakes been higher in the need to forge common ­positions to cope with the crisis and to limit the damage from months of blame games. The main aim was to cool tempers and try to strike a consensus on what to do. The results were inconclusive and the same issues will dominate yet another summit in three weeks.