A New Prime Minister in Australia
The ruling Liberal party voted to replace Tony Abbott with his rival Malcolm Turnbull.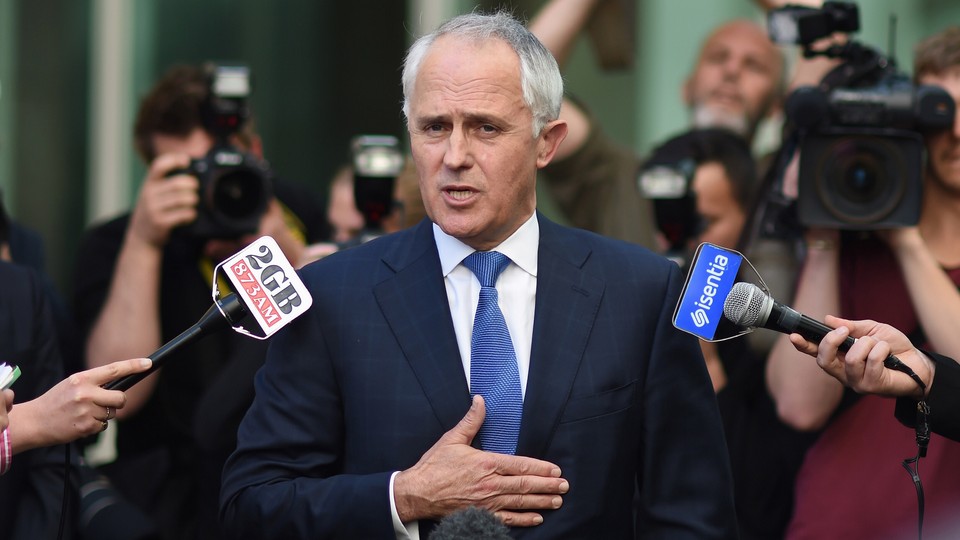 Australia has a new prime minister after the ruling Liberal party voted to replace Tony Abbott with his rival Malcolm Turnbull.
Turnbull defeated Abbott 54-44 to become Australia's 29th prime minister elect.
"There are few things more important in any organization than its culture," Turnbull said after the vote. "The culture of our leadership is going to be one that is thoroughly consultative, a traditional, thoroughly traditional cabinet government that ensures that we make decisions in a collaborative manner."
He said he assumed that the country's Parliament will serve its full term, and added that ministerial changes will follow.
We should note here that unlike the U.S. system of presidential politics where voters ultimately select a candidate for the presidency, in the parliamentary form of government—followed in Australia and many other former British colonies—voters choose a party, whose members then elect a leader. Should that leader become unpopular within the party—as Abbott had become—his fellow party members can replace him. That's what happened in Australia on Monday.
The Guardian adds:
Long-simmering leadership tensions exploded on Monday when Turnbull declared a challenge, arguing Abbott had shown himself unable to make the case for policy change or turn around the Coalition's political fortunes.

Abbott pleaded with his party not to repeat the Labor party's mistakes, and his backers immediately mobilised a counteroffensive, seeking to build momentum during the five hours between Turnbull's declaration and the ballot.

They insisted electorate offices were being "swamped" with calls from Liberal party members aghast that the party would consider removing a sitting prime minister and providing a parade of ministers to urge the party to stick with the current prime minister.
It's a reversal of fortunes for Abbott who had ousted Turnbull in 2009 as the Liberal party leader. But under Abbott, the conservative Liberal party was languishing in the polls behind the left-wing Labor party. The Sydney Morning Herald, in its live blog of the events, reports:
Mr Turnbull is asked if he will change the government's direction on climate change and marriage equality.

Mr Turnbull says he supports the existing policy on climate change but does not directly address the issue of marriage equality.
Environmental groups had criticized Abbott's government for its stance on climate change. The ousted prime minister was also an outspoken opponent of same-sex marriage. Turnbull has previously expressed his support for same-sex marriage, as well as more action to tackle climate change.
Abbott, who became prime minister in 2013, was a deeply divisive figure. He survived a challenge from his fellow lawmakers in February. Turnbull, the prime minister elect, is a former communications minister. The BBC reports that he is "well-liked across the political divide."
Abbott's ouster is part of a recent tradition of sorts in Australia. Turnbull would be the fifth prime minister since 2010.