Twelve Years for the Korean Who Attacked a U.S. Envoy
A court found Kim Ki-jong guilty of attempted murder, violence against a foreign envoy, and business obstruction.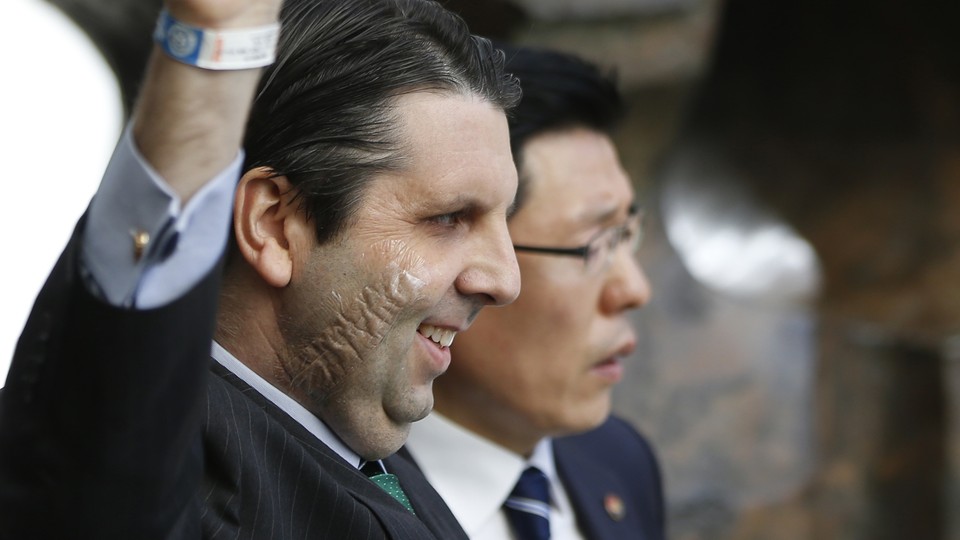 The knife-wielding man who viciously attacked the U.S. ambassador to South Korea in March has been sentenced to 12 years in prison.
Kim Ki-jong, 55, attacked Ambassador Mark Lippert at a breakfast function in Seoul on March 5.  The Seoul Central District Court found him guilty Friday of attempted murder, violence against a foreign envoy, and business obstruction.
As my colleague Adam Chandler
reported at the time
, the attack occurred moments before Lippert was
set to speak
at a meeting organized by the Korean Council for Reconciliation and Cooperation, which advocates for peaceful reunification between the two Koreas.
"South and North Korea should be reunified," the attacker yelled as he gashed Lippert's face and wrist, causing wounds that would ultimately require two-and-a-half hours of surgery and some 80 stitches.
In announcing the verdict Friday, Judge Kim Dong-ah said: "Kim seems to have had a strong will to attack the victim, choosing a knife to repeatedly slash the part of the body that had a direct connection with life."
But as Yonhap, the South Korean news agency, reports, the court acquitted the attacker of charges of "violating the country's anti-North Korea law which prohibits citizens from supporting or praising the North." Prosecutors said they would appeal Kim's acquittal on those charges.
Lippert returned to work soon after the attack. He had not directly commented on Friday's verdict, but CNN quoted a U.S. Embassy spokesman in Seoul saying:
We continue to appreciate the strong support of the Korean people and the Korean government following the attack on Ambassador Lippert in March. This support demonstrates the deep friendship between our peoples.