The First Evidence from Flight MH370
Malaysia's prime minister confirms that a piece of wing fragment recovered in Reunion Island last week is from the missing plane.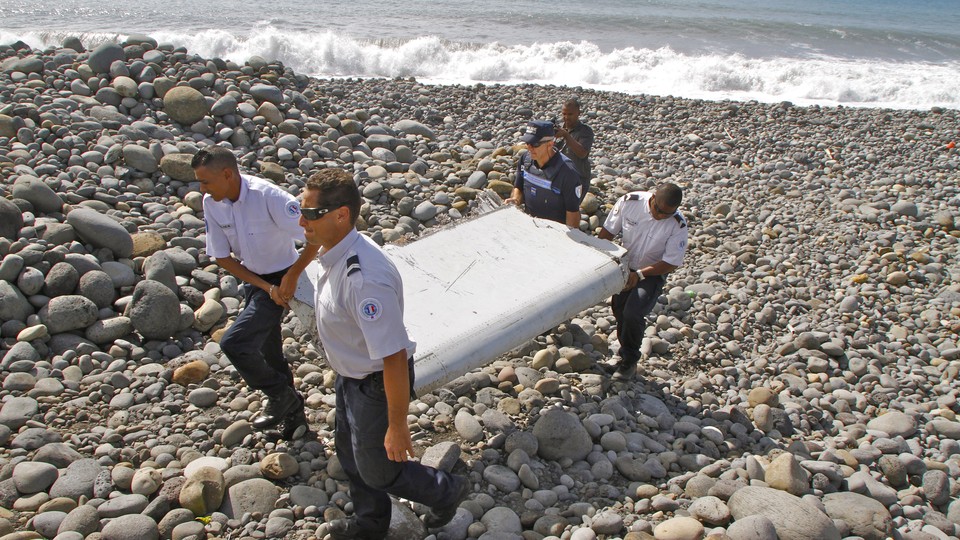 Malaysia's prime minister said Wednesday the fragment of a plane's wing that washed ashore last week in Reunion Island belongs to flight MH370, which went missing more than a year ago with 239 people on board.
"It is with a very heavy heart, I must tell you, a team of experts have conclusively confirmed that debris found on Reunion island is indeed from MH370," Najib Razak said.
Malaysia Airlines Flight 370 was traveling from Kuala Lumpur to Beijing with 227 passengers and 12 crew members on board when it disappeared from radar shortly after takeoff on March 8, 2014. An international search effort to find the aircraft turned up nothing.
"I hope that this confirmation, however tragic and painful, will at least bring certainty to the families and loved ones of the 239 people on board MH370," Razak said Wednesday.
The recovered wing fragment—measuring 9 feet by 3 feet—is called a "flaperon," and it was the first piece of physical evidence discovered since the plane's disappearance. The flaperon from the Boeing 777 aircraft was sent, as my colleague Matt Schiavenza reported last week, to France where investigators determined whether it belonged to the Malaysian Airlines flight.
Razak said an international team of experts had determined that the fragment was from the missing plane.
"We now have physical evidence that on 31 March last year, flight MH370 tragically ended in the south Indian Ocean," he said.
At a separate news conference in Paris, Serge Mackowiak, a French prosecutor, said there "is a very strong supposition" the flaperon belongs to the missing plane.
Although it's now clear what happened to the plane, it's still far from certain where the rest of the aircraft is. As Matt noted:
The discovery in Reunion Island, more than 2,000 miles west from the main search area, doesn't mean the rest of the debris will be nearby: Ocean currents may have pushed other fragments of the plane toward the main search area near Australia, or even somewhere else entirely. And even the recovery of much of the aircraft may not reveal what, precisely, brought the plane down last March.