An Ancient Temple in Palmyra Is Destroyed
UNESCO is calling ISIS's reported destruction of the Temple of Baalshamin a war crime.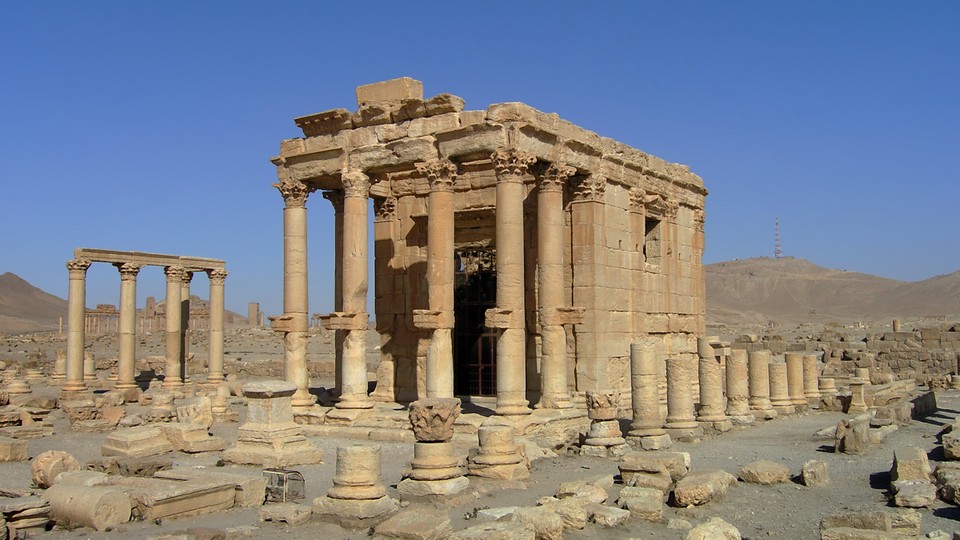 UNESCO is calling ISIS's reported destruction of the Temple of Baalshamin—an ancient treasure in the historic city of Palmyra—a war crime.
Reports of the site's destruction come just days after the Islamic State killed Khaled Asaad, an 82-year-old Syrian expert on Palmyra who refused to divulge the location of artifacts coveted by the militant group. Asaad had run Palmyra's antiquities department for 50 years.
"The systematic destruction of cultural symbols embodying Syrian cultural diversity reveals the true intent of such attacks, which is to deprive the Syrian people of its knowledge, its identity and history" UNESCO Director-General Irina Bokova said in a statement. "One week after the killing of [Asaad] … this destruction is a new war crime and an immense loss for the Syrian people and for humanity."
The Syrian Observatory for Human Rights, a U.K.-based activist group, said in a statement Sunday that ISIS fighters detonated explosives that were arranged around the Temple of Baalshamin. Maamoun Abdul Karim, Syria's antiquities chief, confirmed that account to Reuters. But the two versions differed as to when the temple was destroyed.
The Syrian Observatory for Human Rights said the destruction occurred last month. Abdul Karim said it occurred Sunday.
Palmyra is a UNESCO Heritage site located northeast of the Syrian capital, Damascus, and the temple to the Phoenician god Baalshamin is one of its best-preserved sites. Here's more from the U.N. agency:
Baalshamin temple was built nearly 2,000 years ago, and bears witness to the depth of the pre-Islamic history of the country. …

The structure of the Baalshamin temple dates to the Roman era. It was erected in the first century AD and further enlarged by Roman emperor Hadrian. The temple is one of the most important and best preserved buildings in Palmyra. It is part of the larger site of Palmyra, one of the most important cultural centers of the ancient world, famed for its Greco-Roman monumental ruins, repeatedly targeted by Daesh since May 2015.
As my colleague Matt Schiavenza wrote last week upon Asaad's death:
Gruesome executions are an integral aspect of the Islamic State's ruling style, but this killing illustrates the crucial role antiquities play in ISIS's day-to-day governance. Part of this is symbolic: Muslim fundamentalist groups have long had a contentious relationship with cultural artifacts, particularly those that predate the rise of Islam in the 7th century A.D.