Japan's Leader and the 'Immeasurable Damage' His Country Inflicted in World War II
Shinzo Abe expressed "profound grief" for Japanese actions, but the remarks are unlikely to placate his neighbors.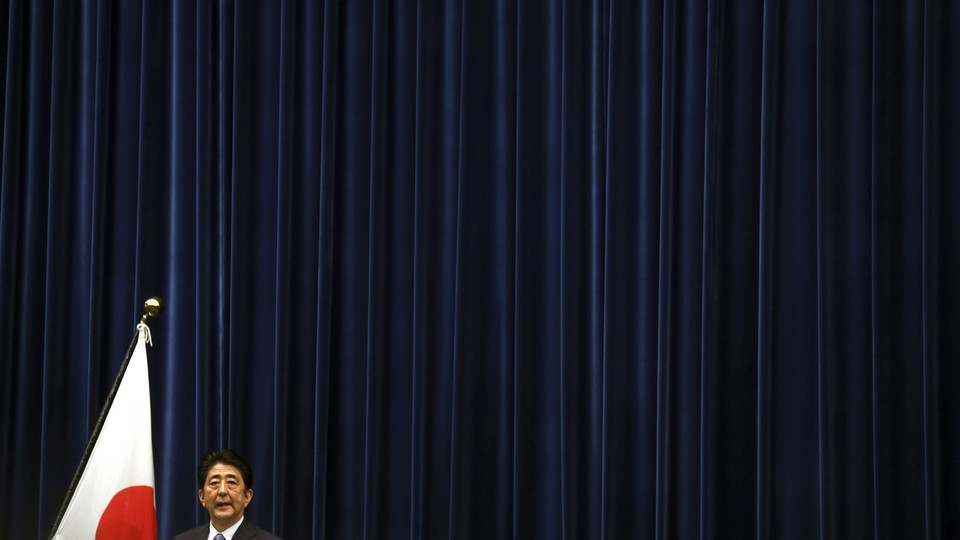 Japanese Prime Minister Shinzo Abe acknowledged Friday, the 70th anniversary of his country's surrender in World War II, that Japan inflicted "immeasurable damage and suffering" on innocent people. But his remarks—which stopped short of an unequivocal apology—were unlikely to placate China, South Korea, and other countries in the region that bore the brunt of Japan's wartime occupation.
"On the 70th anniversary of the end of the war, I bow my head deeply before the souls of all those who perished both at home and abroad," Abe said. "I express my feelings of profound grief and my eternal, sincere condolences."
Abe acknowledged the suffering felt by countries that fought against Japan. He said:
In China, Southeast Asia, the Pacific islands and elsewhere that became the battlefields, numerous innocent citizens suffered and fell victim to battles as well as hardships such as severe deprivation of food. We must never forget that there were women behind the battlefields whose honor and dignity were severely injured.

Upon the innocent people did our country inflict immeasurable damage and suffering. What is done cannot be undone. Each and every one of them had his or her life, dream, and beloved family. When I squarely contemplate this obvious fact, even now, I find myself speechless and my heart is rent with the utmost grief.
Comments by Japan's leaders about the war are closely watched by the country's neighbors. In 1995, the 50th anniversary of the end of the war, Tomiichi Murayama, the Japanese prime minister at the time, expressed a "heartfelt apology" for Japan's "colonial rule and aggression." On the 60th anniversary, Prime Minister Junichiro Koizumi used similar words.
Abe said comments like those from his predecessors "will remain unshakable into the future." But the Japanese leader, a conservative, also wants to look to the future. He has pressed for a more muscular security policy and wants to move away from the country's U.S.-imposed pacifist constitution. He said:
In Japan, the postwar generations now exceed eighty per cent of its population. We must not let our children, grandchildren, and even further generations to come, who have nothing to do with that war, be predestined to apologize. Still, even so, we Japanese, across generations, must squarely face the history of the past. We have the responsibility to inherit the past, in all humbleness, and pass it on to the future.
His remarks, though they were longer than his predecessors' and contained more context, are unlikely to satisfy his neighbors.
Indeed, China's state-run Xinhua news agency called Abe's speech "watered down."
Instead of offering an unambiguous apology, Abe's statement is rife with rhetorical twists like 'maintain our position of apology,' dead giveaways of his deep-rooted historical revisionism, which has haunted Japan's neighborhood relations.