The Latest Victim of the Greek Crisis
Prime Minister Alexis Tsipras, who faced increasing criticism from his own party over the bailout deal, resigned Thursday, and called for new elections.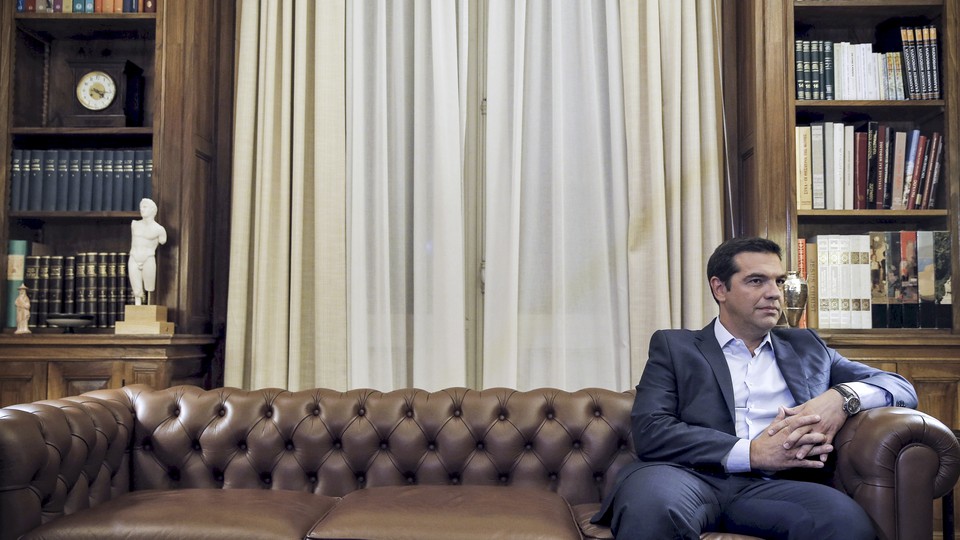 In a televised address to the nation, Tsipras said he would submit his resignation to the president—a move that would trigger elections—and he said the public would decide "with your vote whether we made the right choice" on the massive bailout deal.
Shortly, I will submit my resignation, as well as the resignation of my Government, to the President of the Republic. #Greece

— Alexis Tsipras (@tsipras_eu) August 20, 2015
The popular mandate I received on January 25th has run its course. Now, the sovereign people of #Greece must weigh in.

— Alexis Tsipras (@tsipras_eu) August 20, 2015
Last week, Tsipras successfully navigated the controversial bailout through his country's parliament. But he faced backlash from members of his own far-left Syriza Party who felt the package was against Greece's interests. Nearly a third of the party's members either voted against the deal or abstained.
The package—about $96 billion over three years—calls for tax increases, cuts to Greece's vast public sector, and pension reforms. Greece's creditors—the European Union, the European Central Bank, and the International Monetary Fund—had insisted on the terms without which Greece would have run out of money and faced an exit from the euro zone.  But these were painful concessions for a country that has not recovered from the 2008 global recession.
Tsipras, who was elected in January, was widely expected to call for a vote of confidence in parliament, but the rebellion within Syriza meant he would have likely fallen short of the 120 votes he needed in the 300-seat chamber. Calling for elections, which news reports say could be held as early as September 20, allows him to come back possibly with more support to implement the bailout package. (For an account of how much Greece owes, when, and to whom, please see this interactive from The Wall Street Journal).
The Guardian adds that Greece will be run by a caretaker government until the election is held. The favorite to lead that government is Vassiliki Thanou-Christophilou, the president of the country's supreme court. She would be Greece's first female prime minister.
On Thursday, Greece received the equivalent of $14.5 billion from its creditors—the first installment of the bailout cash. The money allowed it to repay the ECB.