Life in Gaza, One Year After War
Expressions of beauty and pain—in tweets, Vines, and things unseen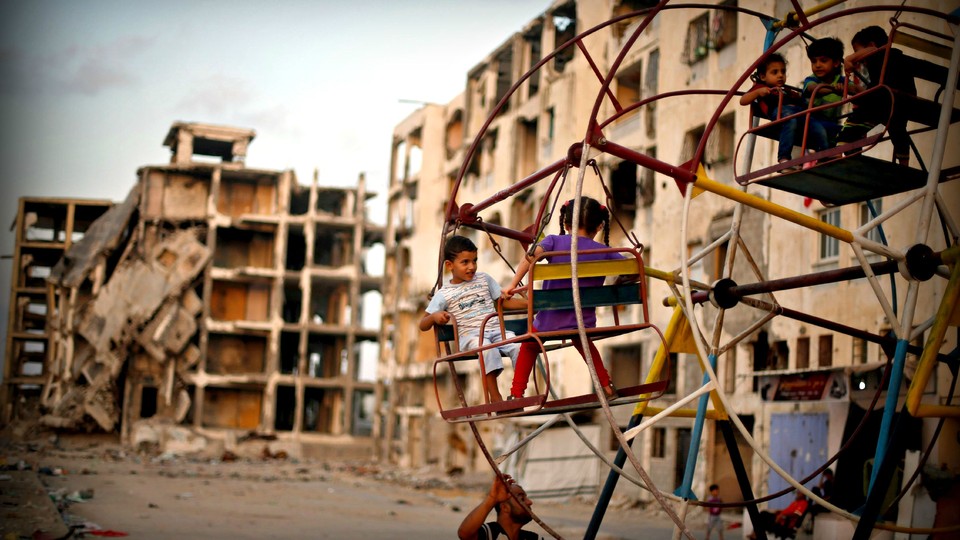 My brain cannot stop dreaming of war, I don't want to wake up this way! Its really annoying and sad. #Gaza :(

— Lara Aburamadan (@laraaburamadan) March 16, 2015
I tweeted this more than six months after Israel's 2014 bombardment of the Gaza Strip. I was not alone among Gazans in my unrelenting suffering. But I am an adult. For children, the nightmares are far worse, particularly for those who have endured three wars in six years. Wednesday marks a full year since the last.
I feel nothing, I just want to cry and scream. It's over!

— Lara Aburamadan (@laraaburamadan) August 26, 2014
Some people here are ruined inside. You can see it in their faces. Others persist, but the anguish of conflict, of losing friends and family, is etched on their faces, too. Some children appear stable, but many are furious with the world and disregard all authority figures in their lives. Others are more determined than ever to make something of lives stunted by Israeli, Egyptian, and American policies.
But positive, constructive lives are difficult to pursue with six to eight hours of electricity every day, or three hours with electricity and 20 hours without it in the Palestinian city of Rafah. Post-war reconstruction is slow.
The closure of Gaza's borders with Israel and Egypt imprisons us, including many who cannot depart for high-quality medical treatment elsewhere in the region. For those with elderly parents or ailing children, this prison is horrifying.
You cannot erase an image or memory from your mind; you must learn to cope with it. I'm not so sure I've learned yet. I have not done the things I love—paint make jewelry, sing—since July 2014. I've tried, but I haven't found the inspiration. The inspiration's buried under carnage and pain.
The sound of Israeli drones incessantly hovering overhead is terrifying, but the bombs—and their promise to bring either an explosion or death—are worse. Gaza's children can easily differentiate between bombs dropped by F-16s, tank shelling, and naval shelling. What kind of childhood is that? I first knew the fear of bombs when I heard them at age nine during the Second Intifada. I learned from my mother, as most Palestinian children do, to always keep a bag with important documents ready in case of an emergency departure. (Today, I am responsible for my own bag from my own house.) And yet the resilience of Gaza's youth, their ongoing zest for life in such difficult circumstances, is inspiring.
Since the 2014 war, I have been using Twitter and Vine to keep those outside Gaza updated about the situation here. I want to show the beautiful side of Gaza—for people to know that Gaza is not only misery and destruction. Most places would descend into chaos if subjected to similar violence and siege. It speaks well of Palestinians that we have endured and not completely turned on each other.
During the war, using just a laptop and Internet connection, my husband Jehad and I decided to livestream the shelling from our 11th-floor apartment, which offered a view of eastern Gaza City and the Shejaiya neighborhood, much of which was eviscerated during the seven-week onslaught. The point of our work, which we posted on Twitter and Facebook, was to make it more difficult for people around the world to say, "I didn't know."
During one night of particularly heavy bombing, we didn't sleep in our bedroom out of fear that the glass windows would explode. I took a mattress and blanket to the living room and tried to make myself feel safe by putting a pillow over my head, all the while feeling sure that I would not wake up the next morning. Jehad and I took turns sleeping and running the livestream. He was only a few meters away from me, but I didn't share my fears with him. We both knew we were afraid.
A livestream can show physical destruction. It cannot show the internal, eternal pain of broken hearts.