Europe's Migrant Crisis: Death Toll in Austria Raised to 71
Editor's Note:
This article previously appeared in a different format as part of The Atlantic's Notes section, retired in 2021.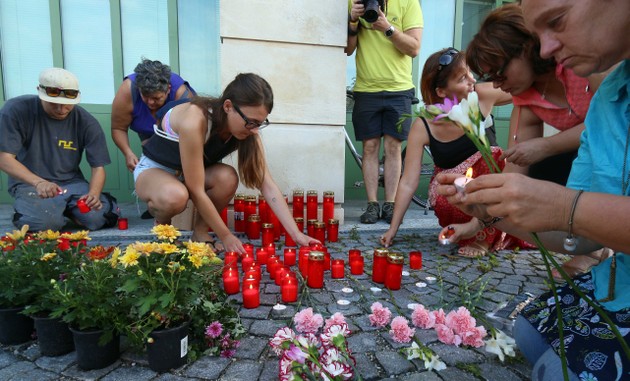 This post was updated on August 28 at 9 a.m. ET
Here's what we know this morning about the bodies that were found in an abandoned truck in Austria on Thursday:
-- Officials now say there were 71 people in the truck, and that it's likely the Syrian migrants suffocated.
-- Three people were arrested in Hungary in connection with the discovery. One of them is reported to be the truck's owner; the other two the drivers.
Authorities say the truck left the Hungarian capital, Budapest, on Wednesday, and entered Austria later that night. Police discovered the bodies Thursday morning when they were called to look into an abandoned truck on the side of the highway.
The bodies were decomposing. Officials initially said the number of people inside was between 20 and 50. Today they said there were 71: 59 men, eight women, and four children.
Hans Peter Doskozil, the police chief in Burgenland province, said today a travel document that was found in the vehicle suggests the migrants were Syrian. He said preliminary analysis showed the refrigerated truck did not have ventilation, and the migrants probably suffocated. They were dead for between 1½ and two days, he said.
"We are talking about a Bulgarian-Hungarian human-trafficking operation," Doskozil said.
As we told you yesterday, the world is in the midst of the worst refugee crisis since World War II. Migrants are trying to escape civil wars in Syria and Libya, and instability in other parts of the Middle East and Africa.
Many of them pay human traffickers large sums of money to take them to a Europe that is increasingly unable to cope with the flow. Here's more from the Guardian:
The EU has found itself overwhelmed by the sheer scale of migration, with a record number of 107,500 migrants crossing the EU's border last month. Chaotic attempts by Macedonian police to hold back refugees last week failed. On Wednesday, the UN's refugee agency said it expected 3,000 people a day to enter Macedonia from Greece until at least the end of the year.

Berlin, backed by Austria, wants a new system of mandatory quotas for refugees across the EU despite the issue being rejected in acrimonious scenes by EU leaders at a summit in June. Germany expects 800,000 asylum applications this year. The EU has also proposed a common "safe countries of origin" list, which would see migrants from these nations swiftly deported.

With the EU's common border policy increasingly dysfunctional, member states are taking matters into their own hands. Hungary is building a new fence along its border with Serbia, though this week refugees got through with relative ease.
Separately, hundreds of migrants are believed to have died when the two boats that were carrying them sank yesterday off Libya.
Ibrahim al-Attoushi, an official with the Red Crescent, said 198 people had been rescued, 82 bodies had been recovered, and about 100 people are still missing. The BBC adds:
The UN says about 2,400 migrants have died trying to cross the Mediterranean to Europe so far this year.

More than 100,000 others have landed in Italy, whilst another 160,000 have crossed to Greece.
Melissa Fleming, a spokeswoman for the U.N. High Commissioner for Refugees, said at a press briefing in Geneva today that the number of refugees and migrants crossing the Mediterranean this year exceeds 300,000. She said almost 200,000 people have landed in Greece; 110,000 in Italy. In all of 2014, she said, around 219,000 people crossed the Mediterranean.