An EU Meeting on the Migrant Crisis
Editor's Note:
This article previously appeared in a different format as part of The Atlantic's Notes section, retired in 2021.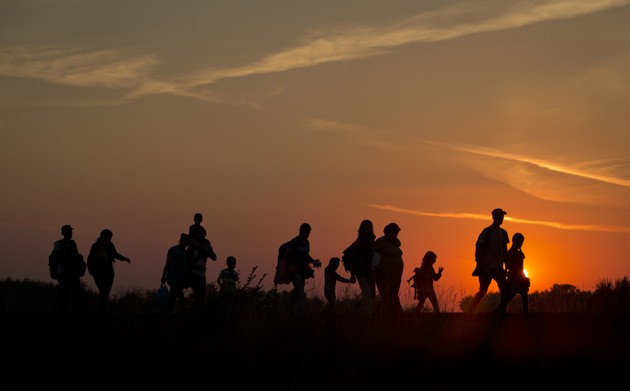 EU officials will meet for an emergency session in Brussels on September 14 as Europe tries to tackle the flow of people—many of them fleeing civil wars in Syria and Libya—into the region.
The announcement comes following last week's discovery in Austria of the bodies of 71 migrants in an abandoned truck, and after hundreds of people died when the boats carrying them capsized in the Mediterranean.
The Luxembourg EU presidency announced the September 14 meeting— which will bring together the bloc's justice and interior ministers—after a special request by Britain, France and Germany.
"The situation of migration phenomena outside and inside the European Union has recently taken unprecedented proportions," the Luxembourg EU presidency said in a statement. It added that the meeting will discuss "the return policy, international cooperation, and investigation and measures to prevent trafficking of migrants."
As we have previously noted, the world is in the midst of the worst refugee crisis since World War II. Migrants are trying to escape civil wars in Syria and Libya, and instability in other parts of the Middle East and Africa.
Many of them pay human traffickers large sums of money to take them to a Europe that is increasingly unable to cope with the flow. Just last month, 107,500 migrants crossed into Europe. The U.N. High Commissioner for Refugees estimates that the number of refugees and migrants crossing the Mediterranean this year exceeds 300,000.
Last week's discovery of the 71 bodies—among them children—put a human face on the issue. As my colleague Uri Friedman noted:
Embedded in … [the] horrific news is a harrowing reality: The 71 migrants who perished en route to Austria were escaping a hell they must have considered far worse than the forbidding truck they crowded into.
The artist Banksy posted his own take on the EU's response the migrant crisis. It's not complimentary.