Editor's Note:
This article previously appeared in a different format as part of The Atlantic's Notes section, retired in 2021.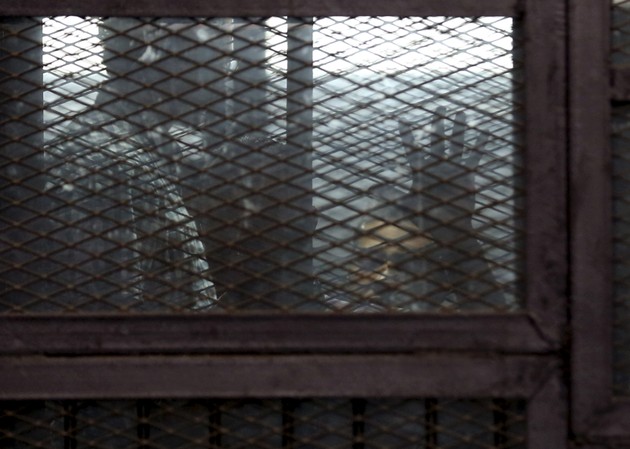 An Egyptian court today sentenced three journalists from al Jazeera to at least three years in prison for "broadcasting false news," a charge that human rights advocates claim is false. The verdict came as a surprise to the defendants and observers alike:
The journalists, Mohamed Fahmy, Baher Mohamed and Peter Greste, had said they were expecting to be exonerated or sentenced to time already served. Egyptian officials have strongly suggested they were eager to be rid of the case, which had become a source of international embarrassment for the government of President Abdel Fattah el-Sisi, highlighting its sweeping crackdown on opponents as well as freedom of expression after the military takeover in 2013.
The two journalists who hold Egyptian citizenship—Fahmy and Mohamed—were remanded into custody while Greste, an Australian, had been deported in February.
The three were detained in December 2013 during a crackdown ordered by General Abdel Fattah al-Sisi, who wrested control of Egypt from Mohamed Morsi that year and has ruled the country ever since. al-Sisi, who has sent thousands to prison for political reasons, has little tolerance for independent journalism. Earlier this month, Egypt passed an "anti-terrorism" law that imposes steep fines for anyone who strays from government statements in publishing.
In February, The Atlantic discussed the geopolitical logic of Egypt's dispute with al Jazeera:
Traditionally, international journalists have avoided punishment in Egypt, a country with virtually no history of press freedom. But al Jazeera aroused al-Sisi's ire with its critical coverage of the former general's coup against Morsi. The network is headquartered in and financed by Qatar, a Persian Gulf emirate whose government backed the Morsi regime. al Jazeera recently shut down a channel dedicated to covering Egypt, a move thought to be a reason behind Greste's release.
Mohamed Fahmy, who holds dual Egyptian/Canadian citizenship, has retained human rights attorney Amal Clooney as his lawyer. On Saturday, Clooney condemned the verdict, saying it "sends a dangerous message that there are judges in Egypt who will allow their courts to become instruments of political repression and propaganda."