China's Response to the Tianjin Explosions
Officials say the toll from last week's blasts is 114 dead and 70 missing, even as criticism of them mounts.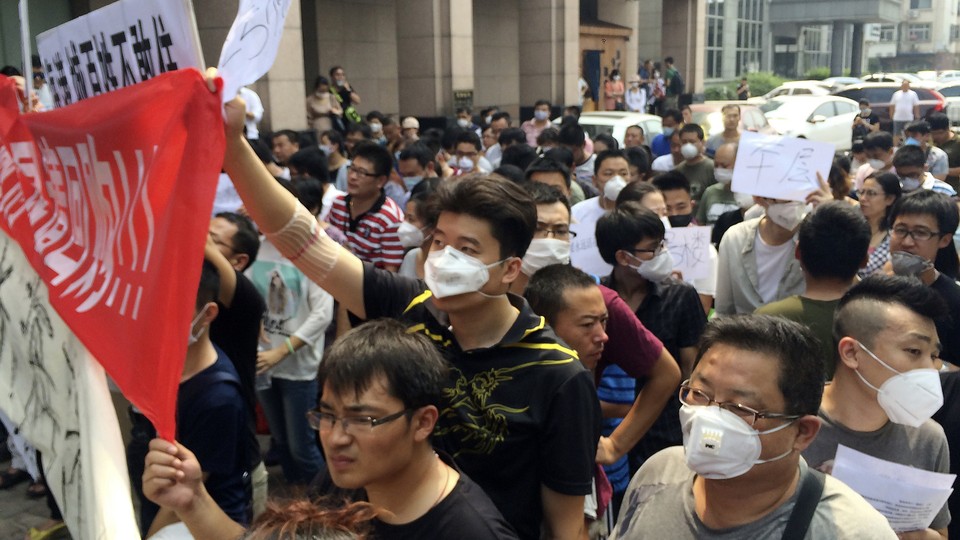 Chinese authorities are still trying to determine what caused last week's deadly blasts in the city of Tianjin. The toll from those explosions, they now say, is 114 dead and 70 still missing.
The explosions on August 12 displaced nearly 6,000 people from Tianjin, and damaged some 17,000 homes. On Monday, a group of about 100 residents whose homes were damaged sought compensation from the government at the hotel where officials have held daily news conferences.
The Associated Press reports that one banner read: "We victims demand: Government, buy back our houses." Another said: "Kids are asking: How can we grow up healthy?"
Public dissent in China is rare, and the government quickly clamped down on Chinese websites for "spreading rumors" about the blasts. But this incident—and the response to it—has prompted questions even in state-run media.
The People's Daily criticized "the way public concerns have been addressed in the press conference held for the Tianjin blasts: things wouldn't have been that hard to explain if officials could speak less jargon, more down-to-earth language and address them in a more candid way."
And the Global Times, in an editorial, said:
During the first dozens of hours after the blasts, there was scant information offered by Tianjin authorities. In the two or three days after the first post-blast press conference, the efficiency of information release was not sufficient either. Until Sunday, no officials above deputy mayor-level showed up once at news conferences. …

Tianjin is not an exceptional case in terms of the inadequate disaster-response work. After the tragedy, officials will be at the scene for rescue efforts but few would show up at press briefings to answer the public's inquiries.
The explosions occurred, as we told you last week, at a warehouse for hazardous material. Sodium cyanide, a toxic chemical, was being stored there in amounts that violated safety rules. Chinese media reported that rules permit the storage of about 10 tons of sodium cyanide. The warehouse, officials said Sunday, was holding several hundred tons, prompting fears of contamination in the port city. The AP adds:
Chinese work safety rules require such facilities to be at least 1,000 meters (3,300 feet) away from residences, public buildings and highways. But online map searches show the Ruihai International Logistics warehouse was within 500 meters of both an expressway and a 100,000-square-meter (1-million-square-foot) apartment complex. Those apartments had walls singed and windows shattered, and all the residents have been evacuated.
At a news conference Monday, He Shushan, the city's deputy mayor who is in charge of work safety, said the sodium cyanide within a 1.86-mile radius of the blast would be neutralized by the end of the day.
Chinese Prime Minister Li Keqiang, in a visit to the area Sunday, vowed to punish those responsible.
"We owe the families of victims, Tianjin people and all Chinese an answer," he said.