China's Currency Falls for a Third Consecutive Day
Despite assurances, the depreciation has renewed fears of a currency war.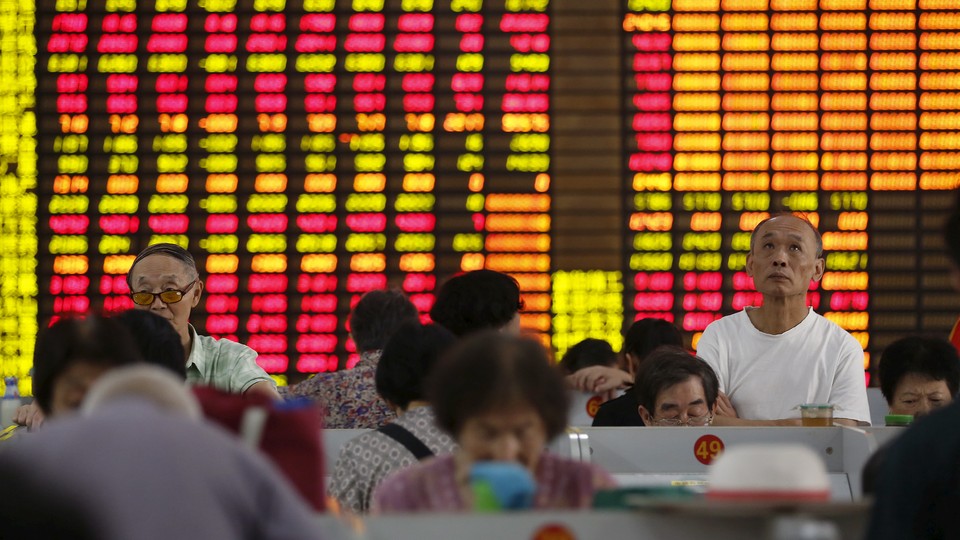 China's currency devaluation continued for a third day Thursday, as the country's central bank set the official exchange rate of the renminbi against the U.S. dollar 1.1 percent lower than the day before. Since Tuesday, when the People's Bank of China stunned markets by announcing the devaluation, the yuan has fallen 4.4 percent, triggering fluctuations in equity markets around the world.
The Chinese government has attempted to allay fears about the drop, claiming the fluctuation is the result of a policy shift designed to make the currency more market responsive. For the past decade, Beijing has established a "soft peg" of the renminbi against the dollar, allowing the currency to maneuver within 2 percentage points of a government-mandated figure. This shift will make the yuan eligible for consideration as a reserve currency, a status afforded to currencies such as the yen, dollar, and euro.
But other observers paint a less rosy picture. In addition to acceding to International Monetary Fund-mandated targets for currency internationalization, a weaker yuan will make Chinese exports cheaper and more competitive in global markets. The currency drop then, in effect, is a form of monetary stimulus. China's gross domestic product is humming along at 7 percent, in line with goals set by the Chinese Communist Party. But the underlying data—such as real estate, construction, and logistics markets—suggest this figure may be artificially high.
The Chinese government has reassured global markets the currency drop is controlled and, most importantly, temporary. But the drop has nonetheless renewed concerns that it may cause a currency war. Here's the Wall Street Journal's Greg Ip:
While on the surface China has moved in the direction of market determination, it is surely not a coincidence that it came when markets were pushing the yuan in the direction the authorities consider essential for economic stimulus. This has the collateral benefit of leaving the Obama Administration tongue-tied. Since in principle the U.S. only wants the yuan to be market-determined, it can't really complain if the result is that the yuan goes down instead of up.
The yuan's fall continues a turbulent summer for the country's economy. In July, Beijing launched drastic interventions to prop up stock markets in Shenzhen and Shanghai, which had fallen considerably after a lengthy bull run.