The Last Bullfight
Members of Colombia's younger generation say they "will not torture for tradition."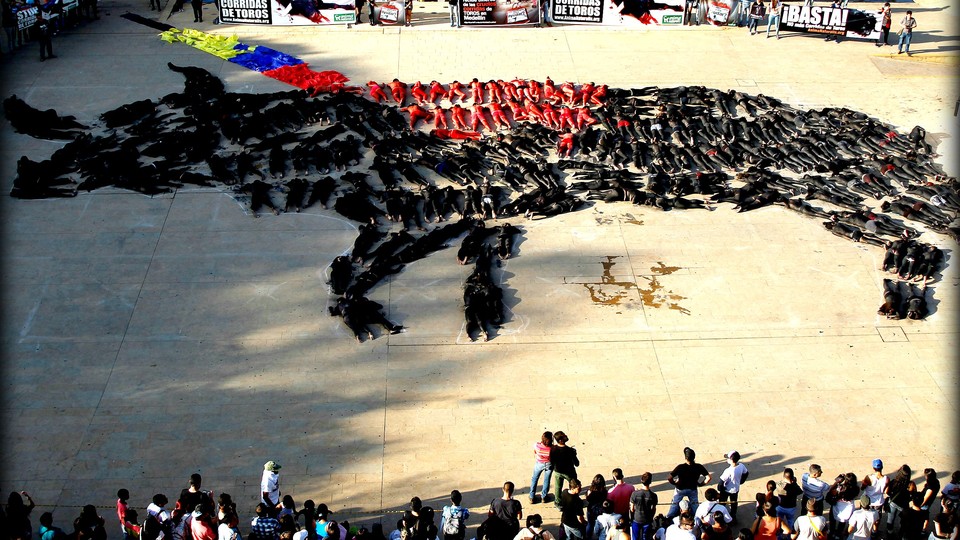 MEDELLÍN, Colombia—On a scorching Saturday in February, hundreds of young men and women in Medellín stripped down to their swimsuit bottoms, slathered themselves in black and red paint, and sprawled out on the hot cement in Los Deseos Park in the north of the city. From my vantage point on the roof of a nearby building, the crowd of seminude protesters formed the shape of a bleeding bull—a vivid statement against the centuries-old culture of bullfighting in Colombia.
It wasn't long ago that Colombia was among the world's most important countries for bullfighting, due to the quality of its bulls and its large number of matadors. In his 1989 book Colombia: Tierra de Toros ("Colombia: Land of Bulls"), Alberto Lopera chronicled the maturation of the sport that Spanish conquistadors had introduced to South America in the 16th century, from its days as an unorganized brouhaha of bulls and booze in colonial plazas to a more traditional Spanish-style spectacle whose fans filled bullfighting rings across the country.
But in recent years, the popularity of what spectators call the fiesta brava has waned in Colombia, and an anti-bullfighting movement has grown. Bullfight fans and animal-rights activists have told me that large-scale bullfights are now only performed in four Colombian cities, and attendance is slipping. According to Luis Alfonso Garcia Carmona, the executive director of the Association for the Defense of Bullfighting (Asotauro) in Medellín, the quality of Colombian bulls and matadors has declined—and with them, Colombia's stature among the seven or so countries in Europe and Latin America where Spanish-style bullfighting is still practiced.
Bullfights in this style consist of three tercios, or stages, in which the bull first endures repeated stabbings from horsemen wielding lances; then piercings by banderilleros carrying colorfully decorated, barbed sticks called banderillas. In the final stage, the tercio de muerte, the matador aims to kill the bull by piercing its heart with a sword thrust between the shoulder blades. Bullfight fans I've interviewed attribute the blow to the sport's popularity to growing international awareness of animal-cruelty issues, as well as rising ticket prices, a lack of innovation in the sport, and even Walt Disney films that make animals seem like human characters.
The Colombian case is just one example of a worldwide decline. Spain's Catalonia region banned bullfights in 2010; Panama did the same in 2012, as did the state of Sonora in Mexico in 2013. Ecuador hasn't banned fights altogether, but the capital city of Quito no longer permits killing the bull as part of the event. France, too, has stopped short of banning bullfights, but in June a French court ruled that bullfighting should be taken off the country's cultural-heritage list.
In Colombia, as elsewhere, the sport's fate reflects a tension between local traditions and international values. As the columnist Julian Lopez de Mesa Samudio wrote in the Colombian newspaper El Espectador:
Bullfighting is the battlefield of two value systems that are seemingly mutually exclusive: On one side is the undeniable cultural heritage of Hispanidad [the Spanish]; on the other hand are the newest animal rights and ecological and environmental values whose importance has increased over the past decade. We are at a crucial moment; a moment that almost never occurs so brutally. We are witnessing the disappearance of a tradition, questionable or not, but after all, a cultural tradition that for many years has been part of being Colombian.
* * *
Across town that Saturday, at Medellín's La Macarena bullring, the city's 70th annual Fair of Bulls ended with a whimper. The last of the eight days of fights had been canceled due to problems with Colombia's matadors' union. (The protesters had come out even so.) Attendance at the previous days' fights had been low in any case; Juan Jose Arias, the commercial director for Cormacarena, the organization that promotes bullfights in Medellín, told me he believed the organization would lose money on the fair, just as it had the year before. And the fair would get no support from the city; Medellín's mayor, Anibal Garivia, cut municipal funding for bullfighting in 2012. The same year, Gustavo Petro, the mayor of Colombia's capital city of Bogotá, went further and tried to ban bullfighting altogether. Colombia's Constitutional Court, however, overturned the ban after finding that it violated bullfighters' rights to artistic expression.
Protests at bullfights are now commonplace, and Colombians have flocked to Twitter to take part in the debate. Ahead of the Constitutional Court decision on Bogotá's ban, anti-bullfighting tweets outnumbered their pro-bullfighting counterparts by the thousands. A 2012 poll reported on Colombian television news at the height of the debate in Bogotá found 87 percent of Colombians in favor of Petro's ban. Some 43 percent of Colombians are younger than 25, and it's from this younger generation that much of the opposition to bullfighting is drawn. This is also a generation that stands a chance of being the first in decades to see a major decline in the violence that has plagued the country, home to the world's longest continuous civil war, for over half a century.
Lying facedown on the sweltering stone of Los Deseos Park in Medellín, one protester painted in red told me the story of going to her first bullfight with her uncle when she was 10. Now 17, she recalled the experience: "I thought it was horrible to see the suffering of the bull. It hurt me when the bull tried to get up and the matador kept taunting it. And the people applauded. It made a mark on me." Of the uncle who brought her, she said, "He's a very closed-minded person. He thinks that humans have no responsibility to animals. He doesn't believe that the bulls feel pain." She said her generation "will not torture for tradition."
* * *
Colombia's most famous anti-bullfighting politician, Medellín city councillor Alvaro Munera, grew up in a family of bullfight lovers, or taurinos as they're known in Spanish. He was 12 when he picked up his first capote (cape); at 18 he won a contract to be a matador in Spain—a major achievement for a boy from Colombia. In the 1980s, "I never entered an arena [as a bullfighter] and had people call me an assassin, a torturer," Munera told me. "We were heroes. People wanted to take photos with us, get our autographs." Munera said that changed with the rise of anti-animal cruelty movements in the 1990s; today, the matador is not the hero he once was.
But Munera had left the ring permanently long before animal rights became an international issue. On September 22, 1984, Munera was fighting in the Plaza de Toros de Munera in Albacete, Spain—an arena that, curiously enough, bore his last name—when a bull named Terciopelo gored him in the left leg and tossed him into the air. When he fell to the dirt, the bull hooked him again, damaging his spine and paralyzing him at the age of 18.
During his four-year physical rehabilitation in the United States, Munera also underwent what he calls a "spiritual rehabilitation" that changed his perspective on bullfighting. In Florida, a friend introduced Munera to his aunt as a former bullfighter who now had to use a wheelchair because of his injuries. "She stood there looking right into my eyes," Munera said, "and without a tremble she said, 'You know what? I love that you are in a wheelchair. I hope you never get up from there because you are a barbarian ... a cruel assassin.'"
It occurred to Munera that many people in the United States probably felt similarly about his former job. "That's when I realized that the person who was wrong was me," he told me. Then, just 10 months after Munera's accident, his best friend in Spain was killed when a bull gored him through the heart. Munera saw that the injuries he and his friend had suffered resembled those that they themselves had inflicted on bulls. In the tercio de muerte, if the matador doesn't manage to kill the bull on the first try, he uses a second sword to break the animal's spinal cord. "It was like the bulls were telling us, 'Look what you do to us, we'll do it to you to see if you like it.'"
Munera returned to Medellín from the United States and became a city councillor in 1998. He has held the post off and on ever since, running on a platform of animal rights and services for the disabled. His efforts have led to the formation of an animal-cruelty police unit that investigates animal-abuse claims around the city, and the creation of what he claims is the first animal shelter in Latin America where animals are not euthanized.
* * *
Bullfighting has its high-profile supporters, in Colombia and elsewhere. The French philosopher Francis Wolff wrote an entire treatise in defense of the tradition, taking issue in particular with anti-taurinos' claims that bullfighting is torture. Wrote Wolff:
The objective of torture is to inflict suffering. That the corrida [bullfight] implies the death of the bull as a consequence of his wounds is undeniably part of its definition. But this does not signify that the objective be the suffering of the bull—no more than fly fishing, hunting, the consumption of lobster, the sacrifice of a lamb during the Feast of [Eid], or during any religious ritual. ... To torture a man, or even an animal, is to attack a being which has been restrained or ... deprived of all possible defenses. Not only is this not the case of the corrida, but completely contrary to its meaning, its spirit and its values. … If the bull were either passive or disarmed, the corrida would make no sense.
Supporters among Colombia's political elite include ex-President and current Senator Alvaro Uribe Velez and Vice President German Vargas Lleras. Inspector General Alejandro Ordoñez has stated that "Bullfighting is a civilizing act. … The suffering of the bull must be understood in its nature. The bull is a warrior and its nature ordered it to die in the fight and because of this you can assume that it would suffer more dying in a slaughterhouse than dying in the bullfighting ring." Taurinos also have strongholds in Colombia's third-largest city, Cali, and Manizales, the coffee-producing city of nearly 350,000, where close to 100,000 people attended its Fair of Bulls in January.
But all this may have no lasting consequence if taurinos fail to influence the next generation of Colombians.
One week after Medellín's Fair of Bulls ended, the local pro-bullfighting organization Asotauro met in a dimly lit Spanish restaurant in the city's upper-class Poblado neighborhood. Between sips of sangria, bullfight fans took turns criticizing the handling of this year's fair and sharing ideas about what could be done to save the culture of the corridas. The gathering of 100 people or so visibly lacked a strong youth presence.
When I asked the organization's silver-haired executive director, Luis Alfonso Garcia Carmona, about the absence of young people, he said, "The kids … you have to approach through social media." Carmona may be right—of Colombia's 46 million inhabitants, 21 million use Facebook. "Unfortunately," he said, "the anti-taurinos are better organized because they receive funds from international animal-rights organizations." Rough measures of social-media success are so far not encouraging for the bullfighters. To date, Asotauro's Facebook page has 922 likes, while the local Medellín Anti-Taurina page tallies nearly 11,000.
But beyond Facebook likes, Colombia's new generation may be in the midst of a broader societal change as the government undertakes negotiations to end a conflict that has killed more than 200,000 people and displaced 5 million since 1962. Should President Juan Manuel Santos ultimately strike a peace deal with the FARC guerrillas that the government has been fighting, this generation could be the first in a long time to live in a Colombia not at war.
"I think there is a new generation that is tired of [all the violence in Colombia]," Jennifer Rivera, a young Colombian professional and admitted animal lover, told me. "The society needs to change, to transform. … This isn't just a discussion about whether an animal dies or not. It has to do with [our society] turning life into a spectacle. … If we want our country to be without violence, then we have to start with the most minimal of things, and this begins with respecting all living beings."