An Explosion in Bangkok
Local news reports say at least 16 people are dead and dozens injured.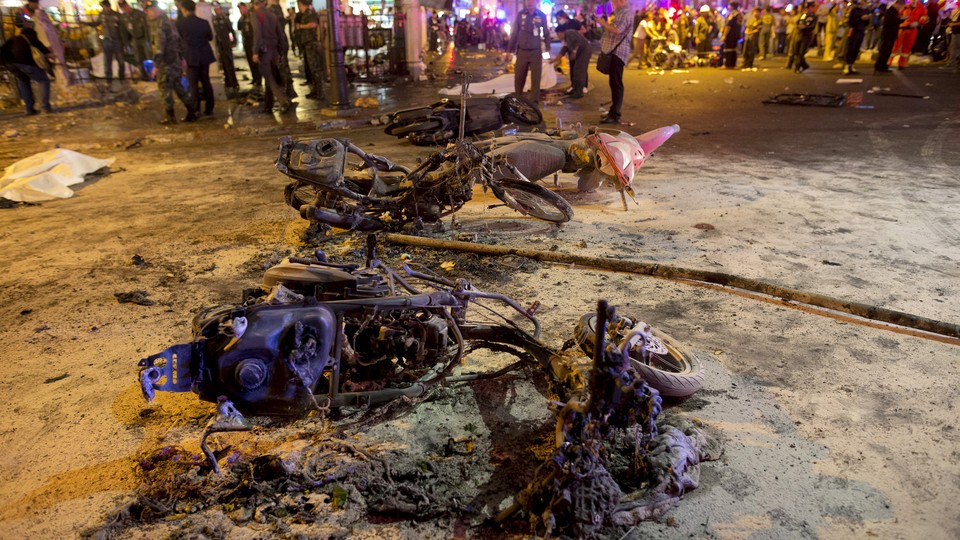 Updated on August 17, 2015, at 12:53 p.m. ET
A massive explosion inside one of Bangkok's most popular tourist attractions has killed at least 16 people and wounded dozens of others, Thai news reports say.
The blast occurred at the Erawan shrine, a Hindu place of worship that is popular among Thais as well as tourists from around the world.
No one has claimed responsibility for the attack, but Thai PBS, the country's public broadcaster quoted Major General Sansern Kaewkamnerd, a government deputy spokesman, as saying those who have lost power were suspected. But Prawit Wongsuwan, the deputy prime minister and defense minister, said it was too soon to say who was behind the attack.
"But it was clear that the perpetrators intended to destroy the economy and tourism, because it occurred in the heart of (Bangkok's) business district," he said.
Thai media also reported that most of the dead and injured are Chinese tourists.
The Bangkok Post reported the death toll as 18 and the number of injured as 117. The newspaper reported that an improvised-explosive device placed inside the shrine's detonated shortly before 7 p.m. local time. A second device placed nearby was defused, news reports said.
It is worth noting that Thailand has a history of political unrest: In May 2014, the country's military overthrew the elected government and seized power. Since then, protests against the junta in Bangkok and elsewhere are common, and while a few low-level explosions have been reported, The New York Times reports, none has been this powerful.