How France Is Rewarding Three Americans Who Thwarted a Gunman on a Train
The friends, who prevented what would have likely been a massacre last Friday, were awarded the country's highest honor.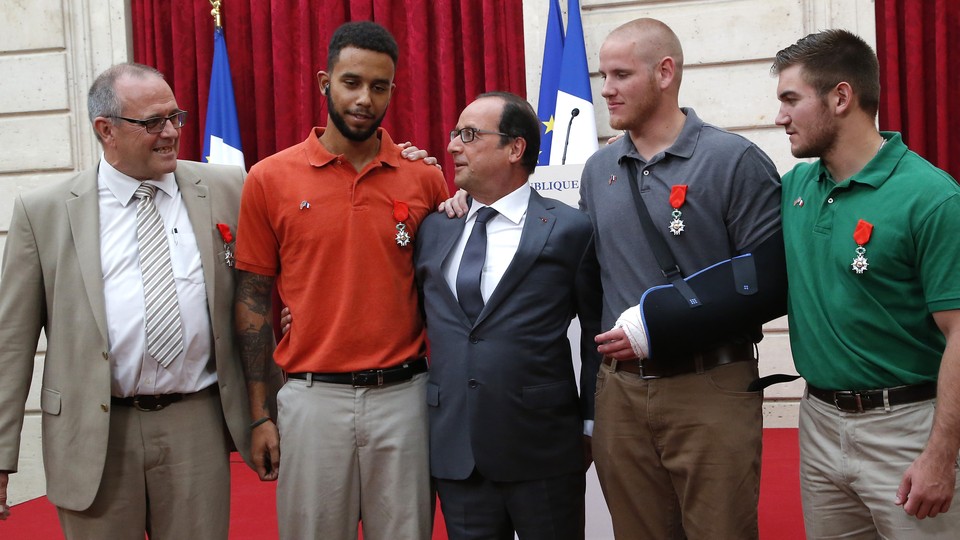 Three Americans who eschewed the title of heroes even after preventing what would have likely been a massacre aboard a Paris-bound train Friday were awarded France's highest honor Monday.
"Your heroism must be an example for many and a source of inspiration," French President Francois Hollande said at a ceremony Monday to honor the three Americans—Airman First Class Spencer Stone, 23; Alek Skarlatos, 22, a specialist in the Oregon National Guard; and their friend Anthony Sadler, 23—and a Briton, Chris Norman, 62. "Faced with the evil of terrorism, there is a good, that of humanity. You are the incarnation of that."
The four men, and others, overpowered the suspected gunman, Ayoub El Kahzani. Hollande said Kahzani was in possession of 300 rounds of ammunition and firearms. The Moroccan suspect in the failed attack is in police custody. French media quote his lawyer as saying Kahzani was not planning a terrorist attack, but was trying to rob a passenger.
If you're just coming to this story, here's a recap from The New York Times:
The three friends were on a tour of Europe that included stops in France, Germany, Italy, the Netherlands and Spain. They had originally intended to spend Friday night in Amsterdam but changed their minds and boarded a high-speed Thalys train to Paris. Shortly after the train crossed the Belgian border into France, they heard a shot, saw a gunman with an AK-47 and rushed to stop him.

A French citizen who was the first to tackle Mr. Kahzani but who has declined to be identified will receive the honor at a later date, as will Mark Moogalian, 51, a passenger with dual French and American citizenship who struggled with the attacker and is recovering from a bullet wound.
Stone was injured, too. The suspect cut his thumb, and the airman wore his left arm in a sling, and had a bruised eye at Monday's ceremony. Hollande pinned the Legion of Honor on Stone and his friends, who were dressed in polo shirts and khakis, a contrast to the highly formal ceremony at the Elysée Palace.
The ceremony was a culmination of French public demand that the men be awarded the honor—created by Napoleon in 1802— for "outstanding merit" for their role in stopping the attack.
"These days you see a lot of celebrities pick up the medal ( … )," France 24's Douglas Herbert reported, "but the actions these men were rewarded for are perhaps the ideals to which Napoleon aspired when he created the award."