A Troubling Execution in North Korea
A vice premier becomes the latest victim of Kim Jong Un's consolidation of power.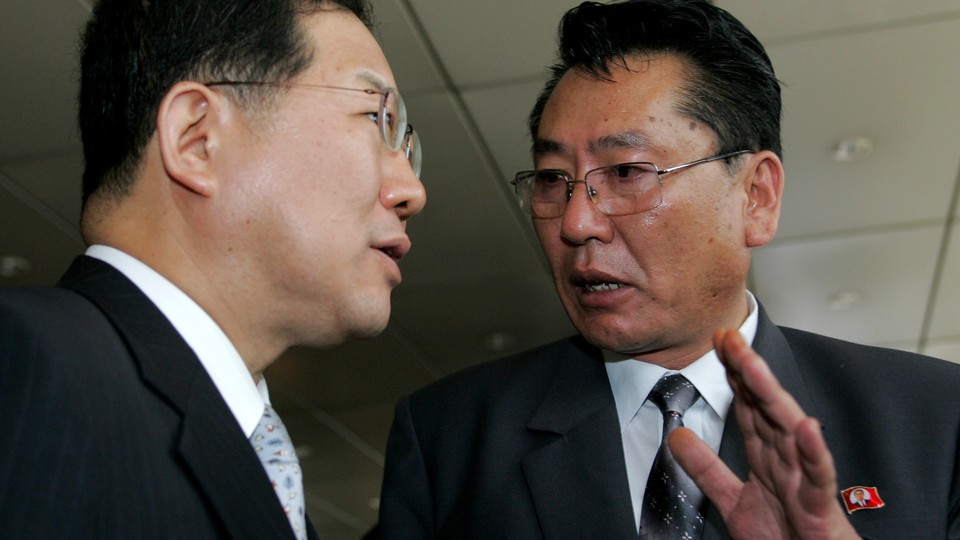 The Internet had fun Tuesday at the expense of Tinder, whose social-media team did not take kindly to a recent Vanity Fair profile of the online dating app. In one of a series of tweets, Tinder claimed users in China and North Korea used the service though both countries ban Facebook, which Tinder requires in order to sign up.
In North Korea, so few people have access to the Internet that a joke spread saying Kim Jong Un, the country's youthful leader, must be the one swiping right. But the portly dictator apparently has more important considerations on his mind. On Wednesday, South Korea's Yonhap News Service reported that Choe Yong-gon, one of North Korea's vice premiers, was killed in May under direct orders from the leader. Choe, last seen in public in December, was a key official who represented North Korea in trade talks with the South in the mid-2000s.
Confirming news events in North Korea—whose government rarely publicizes the deaths of key officials—is an inexact science. But if confirmed, Yong-gon would be one of more than 70 North Korean government officials to lose his life after Kim assumed control of the country following his father's death in 2011. Most notably, in 2013 Kim had Jang Song Thaek, his uncle and the country's second-most powerful official, killed following suspicions Jang was plotting a coup. Others have met their demise after offenses that are almost comically minor. In April, Defense Minister Hyon Yong Chol was reportedly killed after falling asleep while Kim was delivering a speech. Choe, meanwhile, attracted Kim's ire for questioning the leader's forestry policies.
North Korea has been a police state since its inception in 1945, and official purges are a necessary byproduct of the country's political system. But their acceleration under Kim has sparked fear the "hermit kingdom" is enduring a period of relative political instability. Unlike his father, who was designated Kim Il Sung's successor 14 years before assuming office, the relatively unknown Kim Jong Un was thrust into power following a brief stint in the public eye. Having inherited his father's government, Kim has set about reshaping North Korea's leadership in his own image: In the first two years of his reign, he has replaced half of the country's 218 top officials.
In many ways, North Korea is a more open society than it was in the 1990s, when a devastating famine claimed as many as 2.5 million lives. While all but the country's elite lack access to the Internet, cross-border flows with China have brought ordinary North Korean in closer contact with the outside world. Traders have smuggled in smartphones that, while disconnected from the Internet, at least provide North Koreans with an idea of how their neighbors in China and South Korea live. The information blockages that once thoroughly isolated the populations have lifted, if just a bit.
Nevertheless, in diplomatic terms North Korea is as isolated as ever, and the country still struggles to meet the basic needs of its 25 million citizens. It is suffering from its worst drought in nearly a century, and close to a third of the country's rice paddies have dried up. Imagining a North Korea in which people have access to services like Tinder may not be so far-fetched—but a North Korea where top officials don't suddenly vanish still seems further off.