A Suspect in the Thai Bomb Attack
Police circulated images of a man seen in a security video moments before the blast that killed 20 people.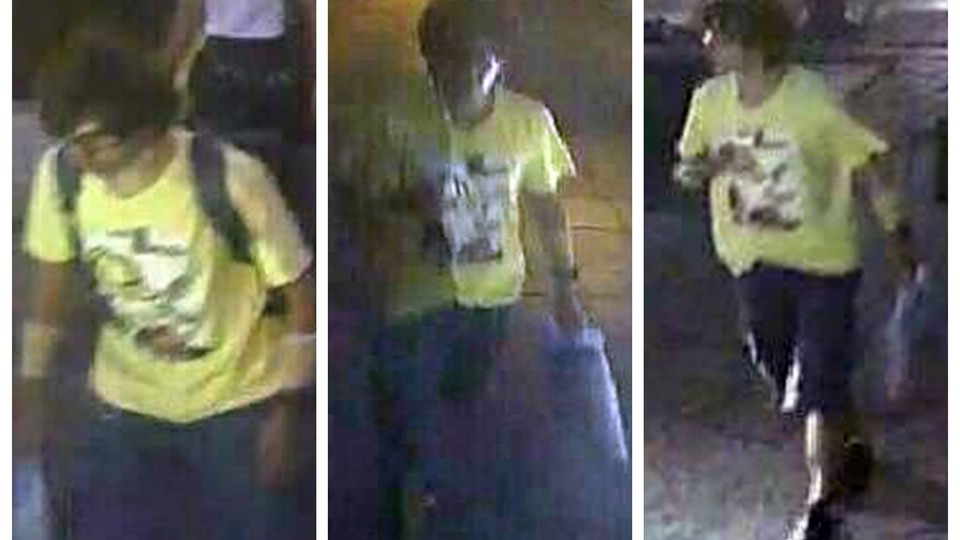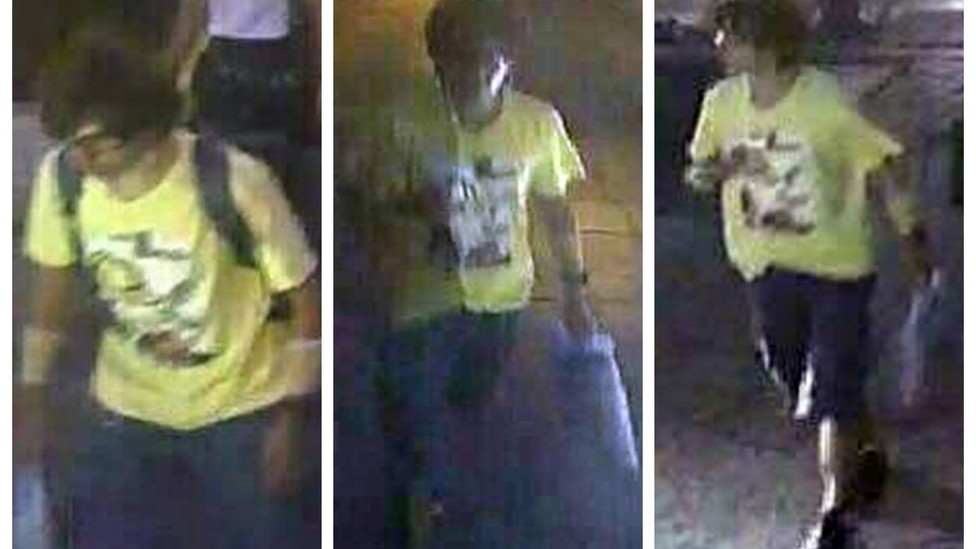 Thailand's leader is calling Monday's bomb attack at a popular shrine in the capital, Bangkok, the "worst incident that has ever happened" in the country. Prime Minister Prayuth Chan-ocha's remarks came as police attributed the explosion to a man seen in a security video.
Officials raised the toll from the attack to 20 dead and more than 100 others wounded.
Police released several images of the man seen in a security video apparently from the Erawan Shrine. In some, the man who is wearing a yellow T-shirt is carrying a backpack; in later images, he is seen without the backpack. Police described the man as a "suspect."
Police Lt. Gen. Prawut Thavornsiri later told the Associated Press: "The yellow shirt guy is not just the suspect. He is the bomber."
Chan-ocha, the prime minister, said in a televised address to the nation that the government will quickly "find the perpetrators and bring them to justice."
Before Monday's Cabinet meeting he said: "This is the worst incident that has ever happened in Thailand. There have been minor bombs or just noise, but this time they aim for innocent lives. They want to destroy our economy, our tourism."
Thailand's economy is heavily reliant on tourism, and the explosion at a popular attraction is likely to have an impact. Of the 20 people killed in the attack, Thai officials said, five were Thai, two Malaysian, two Chinese, two from Hong Kong, one from Singapore.  Eight victims are still unidentified. One hundred and seventeen people were hurt in the blast.
Hong Kong advised travelers to avoid nonessential trips to Thailand. The Chinese Embassy in Bangkok urged its citizens in the country
"to strengthen awareness of their surroundings, attend to their travel safety and make rational travel plans."
Chinese tourists are the biggest group of foreign visitors to Thailand.
Investigators at the scene of Monday's blast collected evidence from the scene. No one has claimed responsibility for the attack.
Defense Minister Prawit Wongsuwan said Tuesday investigators were close to determining who was behind the blasts.
"It is much clearer who the bombers are, but I can't reveal right now," he said. "We have suspects. There are not many people."
Meanwhile, police said there was an explosion Tuesday at a ferry pier in the capital. There were no injuries.
As we said Monday:
It is worth noting that Thailand has a history of political unrest: In May 2014, the country's military overthrew the elected government and seized power. Since then, protests against the junta in Bangkok and elsewhere are common, and while a few low-level explosions have been reported … none has been this powerful.