Europe's Migrant Crisis: A Grisly Discovery in Austria
Editor's Note:
This article previously appeared in a different format as part of The Atlantic's Notes section, retired in 2021.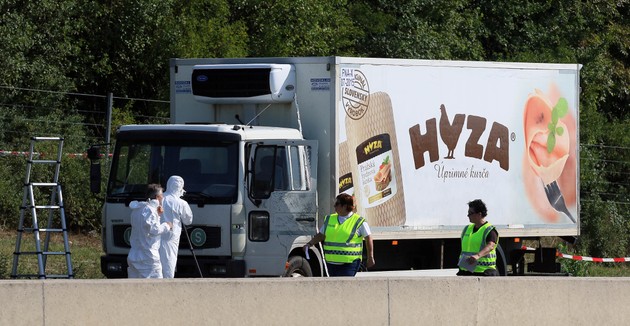 Austrian authorities say up to 50 migrants were found dead today in a truck abandoned on the side of the highway in the eastern part of the country.
The discovery coincided with a meeting in Vienna in which European leaders discussed the worst migrant crisis since World War II.
Hans Peter Doskozil, who heads the police department in Burgenland district, said the deaths occurred some time ago. He said the bodies were decomposing, and that there are at least 20 of them. The toll could rise to between 40 and 50, he said.
"We can make no concrete assumptions about the origin or cause [of death]," he said. "We can assume, however, that they are refugees."
Local media reported the refrigerated truck was abandoned Wednesday on the side of a highway between the towns of Neusiedl and Parndorf. It was discovered by a road worker who noticed a liquid dripping from the back. Police are looking for its driver.
The truck had Hungarian plate , and was previously owned by a Slovakian poultry company that said it sold the vehicle last year. Hungarian officials say the vehicle is now registered to a Romanian.
European officials said the discovery underscored the need for united action on dealing with the continent's refugee flow.
Angela Merkel, the German chancellor, who is attending the Vienna meeting, said she was "shaken by the awful news."
"This reminds us that we in Europe need to tackle the problem quickly and find solutions in the spirit of solidarity," she said.
Johannes Hahn, the EU's enlargement commissioner, tweeted:
"Just another terrible incident, illustrating the urgent need for quick and determined common action". 2/2

— Johannes Hahn (@JHahnEU) August 27, 2015
Last month, a record 107,500 migrants crossed into the EU. The crisis has been sparked by the civil wars in Libya and Syria, as well as unrest in the Middle East and Africa. The migrants are aided by smugglers who transport them into Europe often via trucks. European officials are deeply divided on how to tackle the issue.
Austria and Germany want quotas that would ensure the migrants are distributed among the bloc's 28 members states. But other European countries, notably the U.K., strongly oppose this plan.