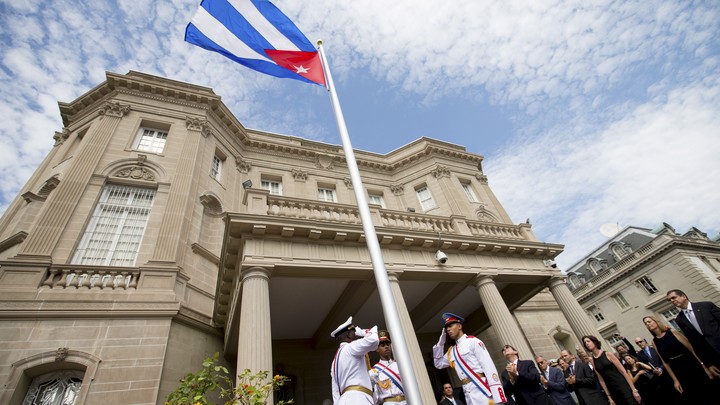 On Monday, the State Department announced that "the U.S. Interests Section officially became U.S. Embassy Havana" which, in non-diplospeak, means that America and Cuba have formally restored diplomatic relations. In Washington, D.C., Cuban Foreign Minister Bruno Rodriguez re-inaugurated the Cuban Embassy 54 years after it closed.
The reestablishment of ties between the U.S. and Cuba comes weeks after President Obama announced a "new chapter" between the two countries and an imminent plan to reopen the embassies. Diplomatic relations between the U.S. and Cuba have been frozen since January of 1961—seven months before the president was born.
The State Department released a video of the Cuban flag being placed among the row of foreign banners at the department's Foggy Bottom headquarters, in the space between the flags of Croatia and Cyprus.
The diplomatic thaw between the two countries started last December when Obama announced, at the urging of Pope Francis, that the U.S. would pursue normalization of relations. Since then, industries ranging from Major League Baseball to Carnival Cruises have jumped at the possible business opportunities. Airbnb and late-night television have already gotten a head start.
American public opinion polls comfortably favor normalizing ties with Cuba. Still, Monday's milestone was not universally welcomed. Chronicling his opposition for CNN, Marion Smith of the Victims of Communism Memorial Foundation noted a "cruel coincidence" in the timing. "In 1959, the same year that Fidel Castro's forces proclaimed victory in Havana," he wrote, "Congress designated the third week of July as Captive Nations Week to express America's solidarity with citizens trapped under oppressive communist regimes."
As Reuters reported, the response at the ceremony on Washington, D.C.'s Embassy Row also gestured at the complexity of the history as well as the issues that remain unresolved between the two nations. "As the flag was slowly raised, there were competing chants from the crowd outside the gates. 'Cuba si, embargo no!' shouted one group. 'Cuba si, Fidel no,' yelled a much smaller group."
We want to hear what you think about this article. Submit a letter to the editor or write to letters@theatlantic.com.
Adam Chandler
is a former staff writer at
The Atlantic
. He is the author of
Drive-Thru Dreams: A Journey Through the Heart of America's Fast-Food Kingdom
.