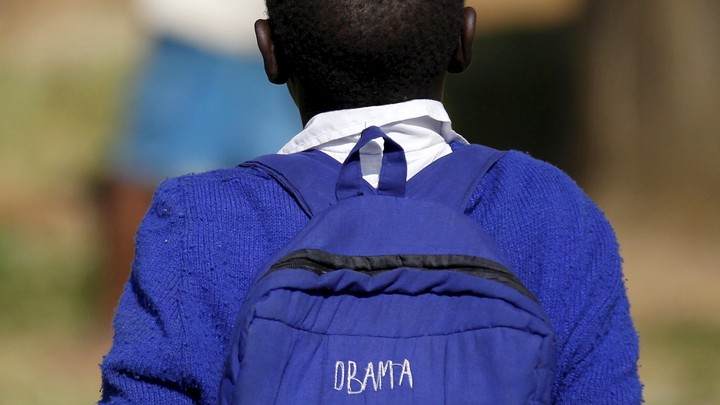 President Obama's impending visit to Kenya isn't just noteworthy because it is his father's ancestral homeland—it will also be the first trip to the country by a sitting American president. Accordingly, as Wangui Kimari wrote at the website Africa Is a Country, Kenya is abuzz with Obama-themed investment expos, rugby matches, and merchandise—not to mention homophobic rhetoric.
"[18] University of Nairobi students have said they are going to kill themselves and 31 female students said they would urinate on the tree that Obama planted last time he was there in 2008 if he does not visit the university," Kimari noted. "Secondary school students at Senator Obama Secondary School are imploring for Obama to visit them and fittingly change the school name to President Obama Secondary School."
"The Obama craze has spared no sector, from mobile phone ringtones offering extracts from his speeches, to bespoke billboards highlighting products of all kinds in the light of the president's arrival," CNN noted.
Nor, apparently, has the craze spared the very ground beneath Nairobians' feet. The capital city's grass is now trending on Twitter, due to an ill-timed, $500,000 public-works effort by Evans Kidero, Nairobi County's governor, to "beautify" Nairobi ahead of the American president's visit. Kidero, in what he called a "spirit of entrepreneurship," arranged to have grass planted along major roads just days before the president was set to arrive—not leaving the seeds enough time to sprout. As Nairobi residents encountered signs planted in muddy tracts to keep off of grass that wasn't there, the #KideroGrass hashtag was born.
Governor @KideroEvans spray paint #KideroGrass green. @Pawa254 will donate free spray cans :-) pic.twitter.com/ABWIRfjfEp

— Boniface Mwangi (@bonifacemwangi) July 21, 2015
#KideroGrass RT @vancemuriu: Kindly note, the grass is greener on the other side. If you can't see it, you are looking at the wrong side.

— Milonare (@milonare) July 21, 2015
Obama's expression when he sees #kideroGrass and is told that it was planted this week... pic.twitter.com/7wgbPMMbkr

— ♫••SexSpeare ••♫ (@BaronKimaru) July 21, 2015
If you think you have alot to handle in your life, just remember there is grass in Nairobi being forced to grow in 1night!! #KideroGrass

— CollinsKevs (@collinskevs) July 21, 2015
Obama: Great work with the beautification of Nairobi Gov. Kidero Kidero: Grass- ias 😂😂😂 #KideroGrass #Icanteven

— Anita Nderu (@AnitaNderu) July 22, 2015
some withering reassurance. "Honorable Kidero, the Governor of Nairobi, don't worry, plant it, it will grow."
Eventually, Kidero just owned it:
Thank you @UKenyatta for keeping the faith & continued support. #KideroGrass will definitely grow.

— Dr. Evans Kidero (@KideroEvans) July 22, 2015
We want to hear what you think about this article. Submit a letter to the editor or write to letters@theatlantic.com.
Adam Chandler
is a former staff writer at
The Atlantic
. He is the author of
Drive-Thru Dreams: A Journey Through the Heart of America's Fast-Food Kingdom
.