Obama Teaches Africa to Fish
The president visited the region as yet another donor, not an equal partner.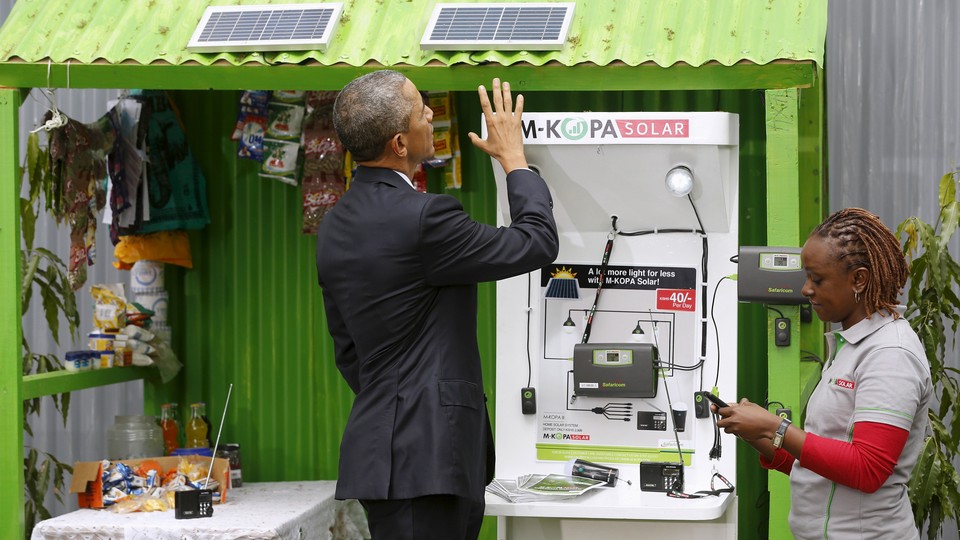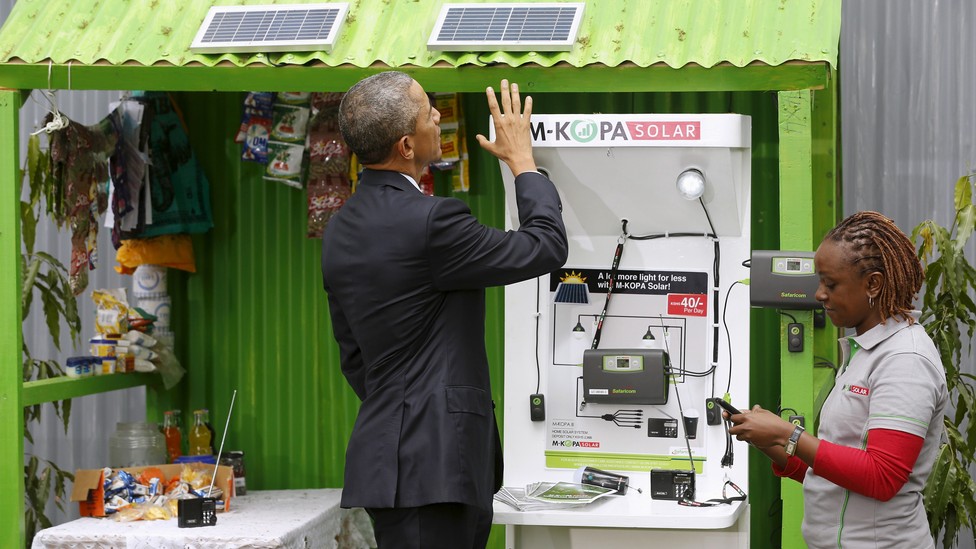 On Tuesday, Barack Obama spoke to the delegates of the African Union at the organization's headquarters in Addis Ababa, Ethiopia. Standing at the podium in Mandela Hall, the U.S. president declared that "The world must recognize Africa's extraordinary progress. Today, Africa is one of the fastest-growing regions in the world. Africa's middle class is projected to grow to more than 1 billion consumers." As president, he said, "I've worked to transform America's relationship with Africa—so that we're truly listening to our African friends and working together, as equal partners."
But much of the rest of Obama's time in Ethiopia and Kenya in recent days suggested otherwise—that the U.S. government still views the region like a benefactor views a difficult charity case. At the moment, China is a far more significant source of economic engagement in Africa. That engagement may be hard-nosed, but it is providing needed imports and infrastructure to a region growing at 4.5 percent this year, according to the International Monetary Fund. The U.S. government is right to push for security and human rights as well as provide aid and humanitarian assistance focused on the region's most impoverished. But it has lagged in building the trade and investment ties that could benefit both American firms and African development.
Obama left Kenya over the weekend having delivered a blunt message about the country's record on gay rights, gender equality, and corruption. He called for the country to continue "down the path of a strong, more inclusive, more accountable and transparent democracy." He then arrived in Ethiopia and delivered a softer rebuke of that government's record on civil and political rights.
In both countries he also focused on his signature electricity-access initiative for the region, Power Africa. He spent time in Kenya at the Power Africa Innovation Fair looking at solar systems for the home that could power a few lightbulbs and recharge a mobile phone. In Ethiopia, Obama suggested at a press conference that his administration's approach to development work was "instead of just giving a fish, we teach you how to fish." In that spirit, U.S. experts were advising the Ethiopian Energy Ministry on "off-grid, smaller models of development that are sustainable and are not dependent on constant financial flows from the West."
It's laudable that Obama used his stature to call out rights abuses in Africa. Indeed, given the human-rights record of Ethiopia's regime, he shouldn't have visited the country at all—let alone referred to the government as "democratically elected"—and should have instead condemned from afar the 100-percent vote share supposedly gained by Ethiopia's ruling party in the last election. But asserting that Ethiopians need Americans to teach them how to fish, and combining that with the intimation that small-scale solar solutions powering a pair of lightbulbs—in other words, marginal quality-of-life improvements—are all that many in the region can aspire to, is condescending in the extreme. Ethiopia's current electricity consumption is 51 kilowatt hours per person per year. No wealthy country sees per-capita electricity consumption lower than thousands of kilowatt hours per year, the vast majority delivered over the electricity grid connecting consumers to power plants. Neither Kenyans nor Ethiopians should be expected to subsist on less.
Meanwhile, the United States isn't living up to Obama's rhetoric about equal partnership with a focus on expanding anemic trade or closing big investment deals with African countries. For example, compare U.S. and Chinese activities in the Kenyan energy sector. During Obama's visit to Kenya, General Electric, with the support of the U.S. government's Overseas Private Investment Corporation, signed a $155-million deal to build a 100-megawatt wind-power station in the country, increasing Kenya's current energy production by about 5 percent according to World Bank data. Since the launch of Power Africa in 2013, OPIC's support for the energy sector in Kenya has also included providing $46 million in insurance for another wind farm that may generate 310 megawatts of power.
By contrast, the Industrial Commercial Bank of China is providing a $1.2-billion loan to help construct a 1,000-megawatt coal-fired power plant in Kenya. The Chinese government's Export-Import Bank is also supporting a 50-megawatt solar facility and an extension of Kenya's national grid to connect with Lamu Port, strengthening electricity supply along the country's north coast. China's recent financing in Kenya is worth more than six times U.S. energy support there under Power Africa, and the Chinese deals will deliver two and a half times the electricity that America's will. The picture is even worse in Ethiopia, where the United States has yet to back a major investment in the energy sector under Power Africa, whereas China has been busy building out the electricity grid and constructing hydroelectric facilities in the country.
Energy is a symbol of a broader problem: While the United States has no investment treaty with Kenya or Ethiopia to protect investors from government expropriation, China signed one with Ethiopia in 1998 and one with Kenya in 2001. Twenty percent of Kenya's $14 billion in merchandise imports originate in China, compared to 2 percent originating in the United States. In Ethiopia, China generates more than 20 percent of the country's $11.5 billion in imports, compared to America's 4 percent. The laggard status of the United States on trade and investment is a pattern that extends region-wide.
At the press conference where Obama was discussing fishing lessons, Ethiopian Prime Minister Hailemariam Desalegn was asked what he wanted from the United States. He replied: "As far as the economic cooperation is concerned, I mentioned that Ethiopia is one of the vibrant economies, which is rising. And we need—you know, we don't want to put all our eggs in one basket. We need a comprehensive quality investment from every corner of the globe." There is a strong desire in the region for serious economic engagement from countries beyond China. Yes, Obama visited Africa this past week, but he came largely to advise and cajole, to condition aid and call for change—not as the partner many Africans seek.