What's in the Iran Deal?
Years of talks have produced an agreement over the Islamic Republic's nuclear program. A look at some of the details and reactions.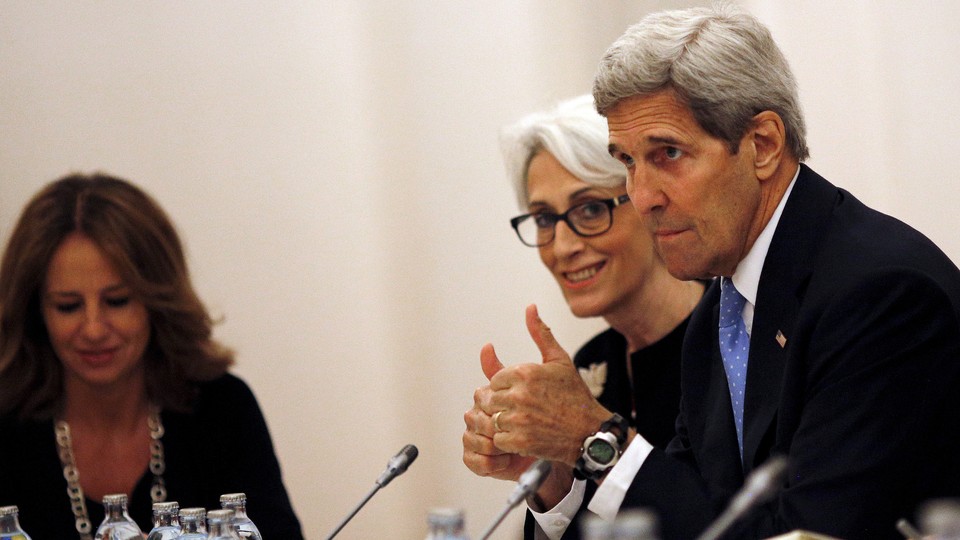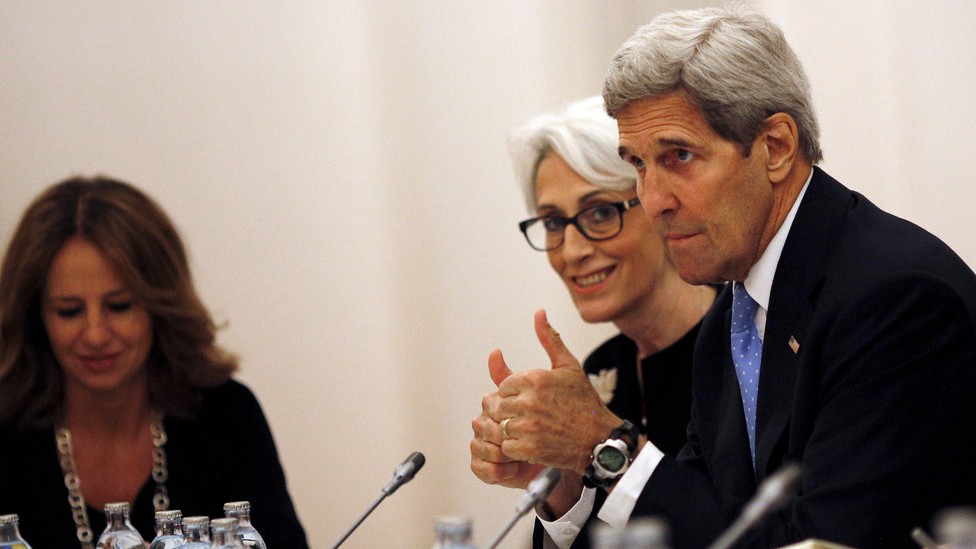 Updated at 1:31 p.m.
On Tuesday, following nearly two and a half years of negotiations, Iran and six world powers struck a nuclear agreement. Under the accord, "sanctions imposed by the United States, European Union and United Nations will be lifted in return for Iran agreeing long-term curbs on a nuclear program," Reuters reported. While details of the agreement are still being parsed, this outcome is consistent with the basic parameters of a framework agreement signed between Iran and the six world powers in April in Switzerland.
Background
Although that framework only sketched out the contours of a deal, it was both embraced and derided around the world. My colleague Jeffrey Goldberg called it President Obama's "least-worst option," in that it would restrict Iran's nuclear program over the course of a decade, but also "formalize[d] Iran's status as a potential nuclear-threshold state by allowing it to maintain a vast nuclear infrastructure." Western allies of the United States described the deal as a historic breakthrough, while Russia praised it for reflecting President Vladimir Putin's suggestions. Israel was among the most vocal in its opposition to the framework, calling it a "a very bad deal," while Saudi Arabia and the Gulf Cooperation Council states were less vocal, but also displeased. Others expressed pessimism that the deal could last. In the United States, many Republicans blasted the framework, while some Democrats were nervous enough about it to vote with their GOP colleagues on a measure that would require Congress to approve any final agreement.
Because negotiations extended past a few initial deadlines, Congress, which goes on recess in August, will have 60 days to review the agreement, 30 days longer than if the deal had come in on time. As negotiations crept to a finish, Republican leaders in the House and Senate reiterated that the deal would be a "tough sell," although, as my colleague Russell Berman notes, "it won't be easy for Congress to stop the agreement" because blocking it would require a two-thirds majority. In an interview in The Atlantic earlier this month with Kathy Gilsinan, Farzan Sabet, a visiting fellow in the Department of Government at Georgetown who runs a blog on Iranian politics, explained that opposition to the deal within Iran is also unlikely to scuttle it, because any announced agreement would almost certainly have been approved ahead of time by Ayatollah Khamenei, Iran's supreme leader.
Negotiators failed to meet their deadlines because of thorny issues, such as the potential lifting of a United Nations arms embargo against Iran, a move that the U.S. and others oppose; the timing of sanctions relief, which Iran lobbied to have go into effect immediately; and how much access international observers would have to monitor Iran's nuclear capabilities.
Speaking from the White House Tuesday morning, President Obama told reporters that the Iran deal is "not built on trust. It is built on verification."
He also vowed to veto any legislation aimed at undoing it. In Vienna, the European Union's head of foreign policy, Federica Mogherini, told reporters the accord is "not just a deal, but a good deal, and a good deal for all sides."
Some in Congress and elsewhere will ultimately disagree with that. We will update this post as new information becomes available.
Reactions
As observers pore over the details of the 150-plus page
Joint Comprehensive Plan of Action
, released by the Russian foreign ministry on Tuesday, they will be looking at what mechanisms the deal has in place to limit Iran's ability to build up its nuclear program in the long term as well as to ensure it doesn't cheat on the agreement in the short term.
The strengths are that we definitely buy 10 to 15 years in terms of deferring an Iranian nuclear weapon. The main weaknesses are that Iran will be a nuclear threshold state at year 15 and the gap between that and nuclear weapons will be small.
The sniping over the deal began quickly, as Israeli Prime Minister Benjamin Netanyahu called the agreement a "

mistake of historic proportions

." Iranian President Hassan Rouhani

seemed to respond on Twitter

, warning Iran's neighbors, "Do not be deceived by the propaganda of the warmongering Zionist regime." House Speaker John Boehner also condemned the deal, saying that it "will only embolden Iran." He added, "
Instead of stopping the spread of nuclear weapons in the Middle East, this deal is likely to fuel a nuclear arms race around the world."
Critics of the deal also point to Iran's pernicious extracurricular activities, specifically its involvement in regional wars that pit it against the United States and its allies. With sanctions relief perhaps giving Iran access to $150 billion, Iran will be less constrained in playing patron to groups like Hezbollah.
"With this very large pot of money, the regime will be able to fund both domestic works and foreign adventures in Syria, Yemen, Lebanon, Iraq, and elsewhere," Jeffrey Goldberg
noted on Tuesday
. Adding to that dynamic, the nuclear deal includes a
list of military leaders and organizations
whose names will be removed from the sanctions roster. That list includes Qasem Soleimani, the head of the Iranian Revolutionary Guards' elite Quds Force, whom one former CIA official described to
The New Yorker
's Dexter Filkins as "the
single most powerful operative
in the Middle East today" for his role in directing Bashar Assad's war in Syria and his past efforts to fight American soldiers in Iraq.
Details
One key feature of the deal is that it exchanges sanctions relief for Iran with limits to its fuel stockpile and nuclear-production capacities. Iran will have to remove two-thirds of its installed centrifuges and store them under international supervision. It will also have to reduce its stockpile of enriched uranium by 98 percent for 15 years.
Should Iran fail to hold up its end of the bargain, the agreement arranges for a panel involving all seven countries that participated in the nuclear talks to vote on whether to put sanctions on Iran back in place. A simple majority can approve them, which means that if Iran, China, and Russia vote against the so-called "snapback" of sanctions, they can be overruled.
Meanwhile, the agreement affirms that "under no circumstances will Iran ever seek, develop, or acquire any nuclear weapons." To make sure Iran complies, it also guarantees that the International Atomic Energy Agency will monitor Iran's nuclear facilities for the next 25 years:
These measures include: a long-term IAEA presence in Iran; IAEA monitoring of uranium ore concentrate produced by Iran from all uranium ore concentrate plants for 25 years; containment and surveillance of centrifuge rotors and bellows for 20 years; use of IAEA approved and certified modern technologies including on-line enrichment measurement and electronic seals; and a reliable mechanism to ensure speedy resolution of IAEA access concerns for 15 years.
As for the United Nations arms embargo against Iran, it will be lifted after five years and restrictions on Iran's ballistic missiles will be eased after eight years. According to Colum Lynch and Dan de Luce at Foreign Policy, the American concession on this issue, which may alienate some of the president's allies in Congress, is ultimately what led to Iran to give in on the limits to its nuclear program outlined in the accord. The issue of the arms embargo was initially left out of the April framework agreement.
Another controversial provision of the agreement hinged on what will happen to Arak, a heavy-water reactor in Iran that many fear would allow Iran to develop enough plutonium to make a nuclear weapon. In the president's statement on the nuclear deal, he said that "Iran will modify the core of its reactor in Arak so that it will not produce weapons-grade plutonium." Iran's state media framed the provision this way: "Arak Heavy Water Reactor will continue its work and remain intact, to be modernized, and equipped with latest technology."