What If Africa Was a Bar?
A Twitter hashtag invites Africans to say what they think of each other.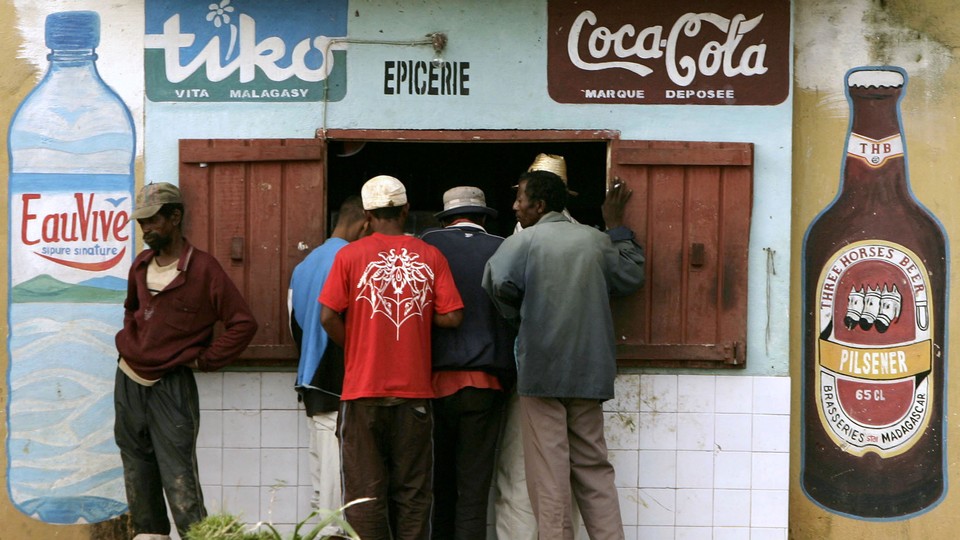 There's something maddeningly reductive, but also surprisingly instructive, about trying to sum up a country, a complex collective of thousands or millions of people, in just a few words. I direct you to the Reddit prompt "How would you describe your country in 3 words?", which attracted such replies as "Long, south, spicy" (Chile); "Is not Australia" (New Zealand); "Soccer, Butts, Corruption" (Brazil); "Armed melting pot" (America); and "Stroopwafels, windmills, and wooden shoes" (the Netherlands, and technically five words). The exercise surfaces stereotypes and ignores nuance, but can also whittle perceptions of a nation down to their essence and teach a thing or two along the way. Stroopwafels, for the uninitiated, are thin waffle cookies with a caramel-like filling. They look delicious.
Something similar has been going on ever since Siyanda Mohutsiwa, a writer in Botswana, sent out the following tweet on Monday:
She moved the discussion along with a jab at South Africa's racial divisions:
And so the Twitter hashtag #IfAfricaWasABar was born, with further digs at South Africa's haughtiness on the continent:
There were references to Rwanda's improbable post-genocide prosperity, and its famously pristine streets:
And swipes at newfound, flashy, precarious wealth in various countries:
As well as at ongoing economic woes:
There were expressions of insecurity and obscurity:
Plus allusions to the corrosive legacy of colonialism:
And to the new economic hegemon in the region:
There were mentions of territorial tensions:
And of efforts by power-hungry political leaders to extend their time in office:
Hashtags like #IfAfricaWasABar, Mohutsiwa observed in a YouTube video, can help people in the region talk about themselves and their neighbors in "a lighthearted, not hateful, not angry type of way. I do really believe in pan-Africanism and I don't think it's an idea that is dead or an idea that should remain in the '60s." Her goal, she added, was to "travel around Africa through the perceptions of other Africans as much as possible, and through the perspectives of other Africans as much as I can, without having to leave my country."