How to Render the International Criminal Court in Art
The artist Bradley McCallum sought to visually capture the gravitas associated with bringing bad actors to justice while acknowledging that individuals on trial were presumed innocent.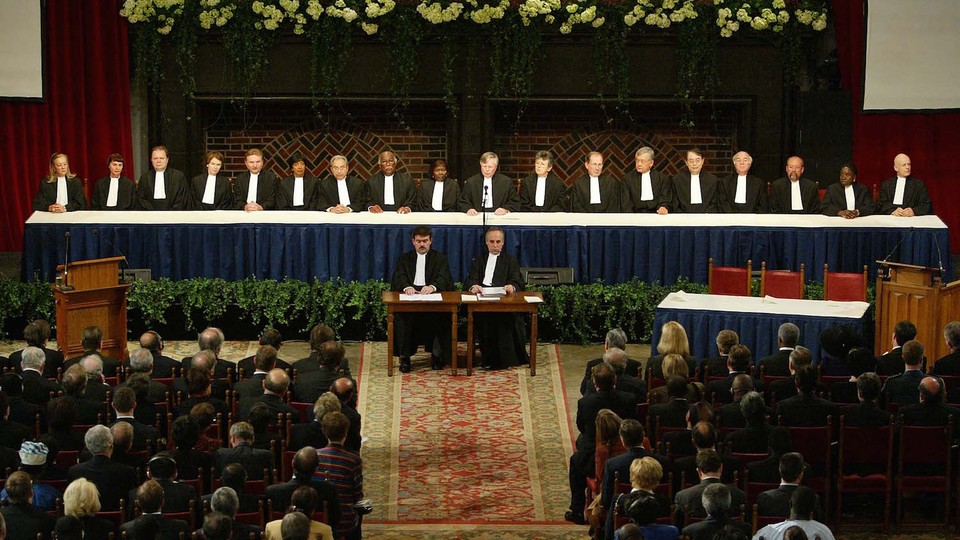 How might aspects of the International Criminal Court be captured in art? This week, I'm sharing a variety of responses to the question, "What insight or idea has thrilled or excited you?" This installment comes courtesy of Bradley McCallum, a conceptual artist and social activist who pondered and then answered that very question.
He writes:
I was in The Hague for the celebrations commemorating the 10th anniversary of the International Criminal Court when I was first inspired by the sheer scale and immense bureaucratic framework. I was also struck by the U.S. absence from this court. Back in my studio, I began to create an oil painting of Thomas Labanga based on a photograph taken at the moment he was found guilty of recruiting child soldiers in the Democratic Republic of Congo––the first verdict rendered by the ICC. The portrait is of a powerful man whose impunity was put to an end.

Fast-forward a year.

I established an artist residency with the Coalition for the ICC to further develop this work into a series of large-scale photo-realistic paintings of individuals as they stood trial at the ICC and related tribunals.

While these works reference classical portraiture, they do not celebrate the subjects, but intend to capture the complexity associated with international justice. However, the visceral impact of the first painting was lost as this series developed. And at this critical juncture, I had to reframe the idea of portraiture to connect to the gravitas of defendants' actions while acknowledging that their presumption of innocence is a central principle of the courts.

I found my inspiration in the works of other artists: Warhol's "Reversals," Gerhard Richter's "Portraits of War Criminals," and the historical Grisaille paintings. I revisited the source images used for the initial paintings, and inverted the images, to create black-and-white paintings of the subjects. The highlights became dark and the shadows bright to create a solarized scan of the subject's soul, haunting and abstract. Paired with the colored portraits, they create a compelling diptych.

This parallel body of work represents a visual breakthrough that transforms the project from a document to a timeless image that speaks metaphorically.
Email conor@theatlantic.com to share an idea or insight that has thrilled or excited you.