Germany Wins a Negotiation Battle, but May Lose a PR War
The country's tough tack with Greece seems to be hurting its strong reputation.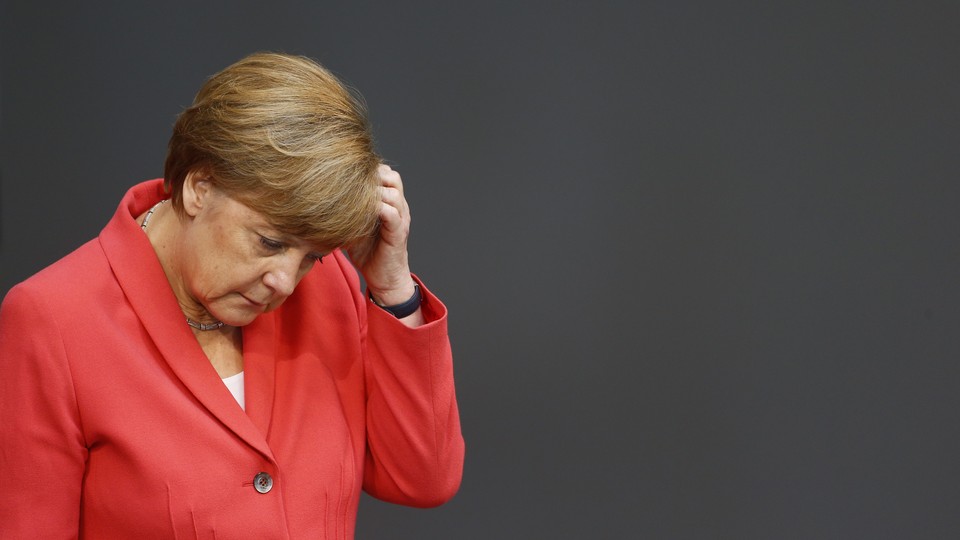 It's rare that footage featuring Angela Merkel, the preternaturally subdued German chancellor, goes viral. But on Thursday, Merkel's encounter with Reem Sahwil, a 14-year-old Palestinian refugee in Germany, managed to captivate and enrage people across the Internet.
On a program called "Good Life in Germany," Sahwil told the chancellor about how she and her family had at one point been threatened with deportation back to Lebanon. "I have goals like everyone else," she said in fluent German. "I want to go to university, that's a goal I want to achieve."
Looking stunned by the statement, Merkel paused before uttering, "Politics is hard sometimes." As she attempted a difficult explanation of how Germany's asylum policy cannot accommodate all of the thousands of people seeking refuge, the teenager broke out in tears. In an uncomfortable exchange, Merkel approached her and tried to comfort her, stroking her head.
Even before the incident, for which Sahwil has forgiven her, Merkel was having a tough week. While Germany handily won concessions in its negotiations with Greece over a bailout, there's an international chorus proclaiming that the country took too harsh a tack with economically crushed Greece. "This week has been fantastic for German public diplomacy. All that was missing was Merkel making refugee children cry," the writer Evgeny Morozov told the BBC.
Germany wasn't the only party involved in the negotiations with Greece; however, as Europe's biggest economy as well as Greece's primary creditor, the country has been Greece's most prominent adversary in months of contentious talks. Merkel has specifically been accused of humiliating Greek leader Alexis Tsipras.
For the past few years, Germany has been in a period of unprecedented popularity. Last year, the country beat the United States to the title of the world's "best nation" in The Nation Brands IndexSM, a worldwide survey of national perceptions of different countries. In 2013, the BBC's Country Rating Poll ranked Germany the world's most popular country.
But as The Washington Post noted, Germany's recent actions have been maligned in several places across the euro zone, not just Greece:
France's daily Le Figaro declared that "conditions were imposed on a small member state that would have previously required arms." In a commentary that sneered at Merkel's "half smile" after the deal was reached, Britain's Guardian newspaper argued that rather than being cruel to be kind, the terms of the bailout were simply "cruel to be cruel."
Over the weekend, the hashtag #ThisIsACoup spread across Europe, and was endorsed by The New York Times's resident op-ed-page economist Paul Krugman as a description of what he called the "complete destruction of national sovereignty" imposed on Greece in exchange for rescuing it from bankruptcy.
The perceived harshness of the deal has also seen a backlash in Germany. "The German government destroyed seven decades of postwar diplomacy on a single weekend,"Germany's Spiegel wrote of last week's negotiations. The country's Green Party representatives also had some sharp words, with its budget spokesman saying that "Germany has made a historic mistake."
Nevertheless, Merkel remains extremely popular in her country, and her approval ratings are still high after nearly a decade in office. Part of her appeal to Germans is the dry and deliberate way in which she handles highly emotional issues. That includes fraught bailout negotiations as well as the issue of asylum. Criticism of that approach seems to strike a nerve within the country.
"This country is having a hard time getting used to this leadership role, to being in the driver's seat," Joerg Forbrig, an expert at the German Marshall Fund, told Time. "For Germans the role of a leader, or a benevolent hegemon, is acceptable. But our skin is super thin when it comes to the reactions you elicit in that role."