A Winter Olympics in a City Without Snow
The IOC's selection of Beijing as the host of its 2022 games is met with a lukewarm response.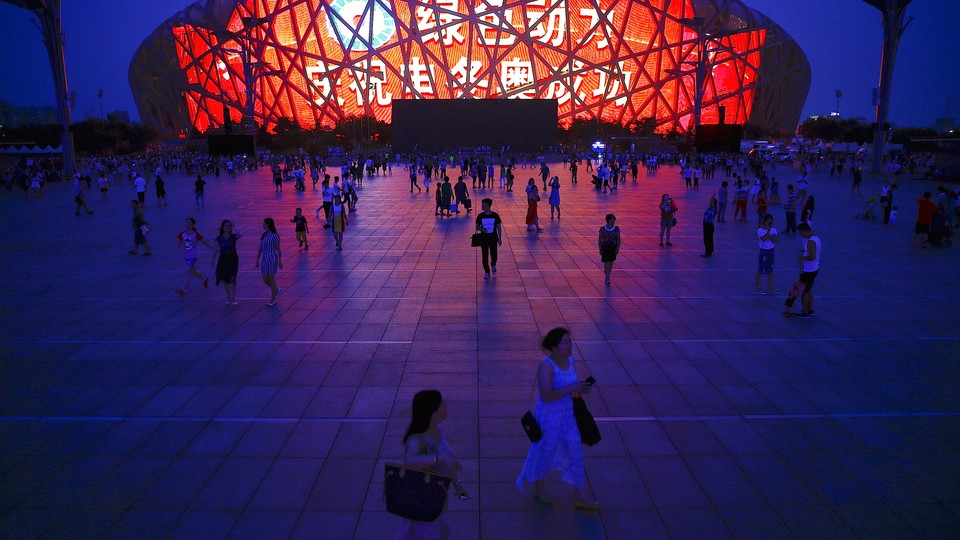 When the International Olympic Committee selected Beijing on Friday as the host for the 2022 Winter Olympic Games, the Chinese capital became the first city to have hosted both the Summer and Winter games. This, most likely, isn't coincidental: Beijing's hosting of the Summer games in 2008 was generally considered a success, and Almaty, the Kazakh city whose bid placed second, lacks comparable experience.
A closer examination of Beijing's 2022 bid, though, reveals the selection is far more peculiar than it seems at first glance. One reason: It barely snows in Beijing. China's northern plain is extremely dry, and what precipitation that falls in the capital tends to occur during the summer. Beijing's Olympic planners have assured the IOC this won't be a problem—the country will simply use artificial snow to accommodate events, such as skiing, that require it.
But no amount of fake snow can cover up China's lack of tradition in winter sports. Part of this is socioeconomic: Much of China's population is poor by developed-world standards, and the equipment costs of winter sports tend to be prohibitive.  
Another issue is the peculiar nature of how sports function in China. Most top Chinese athletes—think basketball's Yao Ming—are selected from a young age and placed in state-run sports academies, where they receive extensive training in addition to receiving an education. Traditionally, China has centered its attention on summer sports like table tennis, swimming, and gymnastics, rather than sports like skiing, ice skating, and hockey. In recent years, skiing has become a popular sport among China's wealthy—but much of the population remains unable to take part.
Then there's China's political climate, which, if anything, has grown more repressive since 2008. In the past seven years, the Chinese government has banned Facebook, Twitter, and Instagram, and has restricted speech on the social networks it allows to operate at all. Imagining an Olympics where athletes and spectators are cut off from Facebook is difficult in 2015—and may be even less plausible in 2022. For the second time in 14 years, the IOC has awarded the games to a country with a poor human-rights record.
"The 2008 Beijing Games have put an end—once and for all—to the notion that these Olympics are a 'force for good,'" Sophie Richardson, China director at Human Rights Watch, wrote at the time.
Kazakhstan is little better. The country is a classic post-Soviet autocracy, one where Nursultan Nazarbayev has ruled without opposition since independence in 1991. But Almaty, its largest city and former capital, nonetheless had several advantages over Beijing. It's an international winter-sports destination and already possesses the infrastructure Beijing will have to build from scratch. Almaty's plan to hold every event within a 20-mile radius of the Olympic village would have made it the most compact games in three decades. And, not least, the city has ample natural snow—a point Almaty's planners made repeatedly in its promotional materials.
Almaty took the bad news in stride Friday, and expressed a desire to bid for the games in the future. But is hosting the Olympics worth it? China dazzled the world in 2008 with state-of-the-art Olympic venues like the "Bird's Nest" stadium and the Water Cube, but seven years later, these structures remain underutilized and burdened with debt. In order to prepare for the 2022 games, Beijing will again construct many new venues—making it questionable the city will be able to finance the event within the confines of its $3.066 billion budget.
For China, though, the Olympics have always been about more than money. In 2001, Beijing's victory in obtaining the '08 games sparked wild nationwide celebrations and a sense that the country had "arrived." This time, however, the response was far more tepid.
"We are not that enthusiastic about it because it is not the Summer Olympics but only the Winter Olympics," Wu Xiaowen, an accountant in Beijing, told the Times. "We don't play or watch those games."