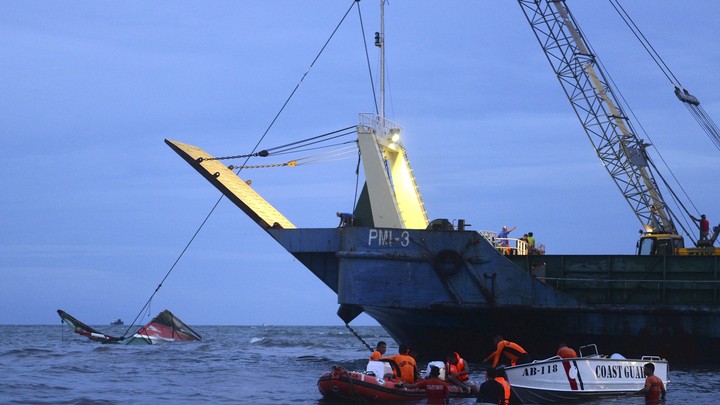 Just before noon on Thursday, a motorized outrigger canoe carrying 189 people set off from Ormoc City, a town in the Philippines' Leyte Province. Beset by inclement weather and high winds, the MBCA Kim-Nirvana capsized just 650 feet from shore, causing passengers to scramble to safety. One-hundred twenty-seven managed to survive the incident, while at least 36 have died. Another 26 remain missing. The incident was the world's most fatal maritime disaster since February, when 68 died after a passenger ferry sank in Bangladesh.
A tropical country of nearly 100 million situated across more than 7,000 islands, the Philippines is particularly susceptible to disaster at sea. Thursday's capsizing was the 14th major ferry accident in the country since 2000 and the deadliest since 2008, when the sinking of the Don Dexter Kathleen claimed 44 lives. In 1987, a collision between the Dona Paz, a passenger ferry, and an oil tanker resulted in the death of over 4,000 people—the worst peacetime maritime tragedy in history.
Stormy weather often plays a large part in maritime disasters. But many Philippine ferries are also old and poorly maintained, and overcrowding is common. According to the Philippine Red Cross, the majority of the passengers on the MBCA Kim-Nirvana were of modest means: farmers, fishermen, or "ordinary businessmen." More affluent Filipinos can afford to travel by sturdier ships or airplane.
Investigators have not yet determined an official cause of the capsizing. National attention remains focused on search and rescue operations. Armand Balilo, a spokesperson for the Philippine Coast Guard, said that the windy conditions contributed to the disaster, according to Reuters. But, he added, "the sea condition was manageable."
We want to hear what you think about this article. Submit a letter to the editor or write to letters@theatlantic.com.
Matt Schiavenza
is the senior content manager at the Asia Society and a former contributing writer for 
The Atlantic
.